Moyes welcomes another endangered peer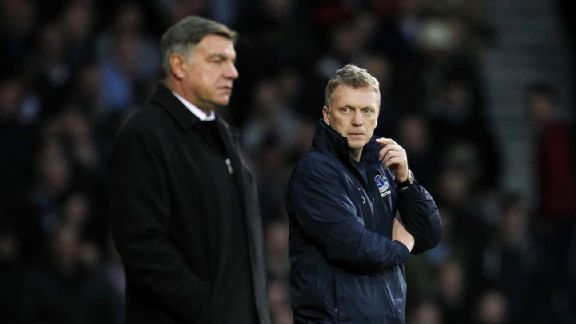 IAN KINGTON/AFP/Getty ImagesIf David Moyes, right, thinks he's having a tough season, all he needs to do Saturday is look over to the other dugout, where he'll find a very much under-pressure Sam Allardyce.
The problem with this football thing is that someone's got to win and someone's got to lose. This has been a brutal period for the football managers whose results have been wobbly. Andre Villas-Boas at Tottenham and Steve Clarke at West Bromwich Albion have been given the heave-ho this week in the harshest of circumstances. Malky Mackay at Cardiff stands at the precipice. In the opposition dugout Saturday at Old Trafford will be Sam Allardyce; West Ham United manager, Premier League stalwart and man on the edge. Happy Christmas one and all.

Allardyce has achieved something at West Ham that eluded even Sir Alex Ferguson. He has found a way to make United academy graduate Ravel Morrison play decent football in the first team.

In Manchester, Morrison found himself in trouble with the law on several occasions and never broke through into the senior team. His talent was venerated at the club and people spoke of him as being a 'new Paul Scholes.' Despite this, Fergie eventually lost patience with him and his attitude and shipped him out to the Hammers. This season he has scored five goals and is knocking on the door for an England call-up.

United fans were hugely relieved to see Adnan Januzaj sign an extended contract earlier in the season having seen Morrison go. A glance over at Serie A sees Paul Pogba in fine form for Juventus, much to the chagrin of the Old Trafford faithful. But you can't win them all. There is a man called van Persie in United's squad too. He was not trained in England's northwest.

Morrison's old youth team sidekick Danny Welbeck has had an eventful week. After scoring two goals against Villa last Sunday he can expect to start again. "I want some more goals, I can tell you that," the striker said this week. Despite their lowly position in the table, West Ham have a miserly defence and have conceded six fewer goals than United. The strikers will need to be sharp to get on the scoresheet.

Manchester United are looking to win four consecutive games for only the second time under David Moyes. To do that, the home side will need to be adventurous in attack. Too many times this season United have been cautious and attempted to hold on to narrow leads. On Wednesday night against Stoke, there was evidence of the old gung-ho approach to forward play against similarly obdurate opponents. The fans will want more of the same Saturday.

West Ham, who also won their cup tie Wednesday, have come to Old Trafford with their backs to the wall in the past. In 2007, they arrived with United as champions and seemed doomed to relegation. Carlos Tevez scored and saved the Hammers' bacon. Going into Saturday's match, Allardyce's side sit 17th -- they are just as desperate for points now.

A look at United's home form gives the visitors cause for optimism. Old Trafford has only witnessed three United victories out of eight appearances in the league this term. If Moyes wants to stay away from uncomfortability, that needs to improve instantaneously. He will be hoping Welbeck and chums are up to the job.

Mark Payne is the author of "Fergie's Last Stand," now available in paperback.