Evra, as ever, proving a leader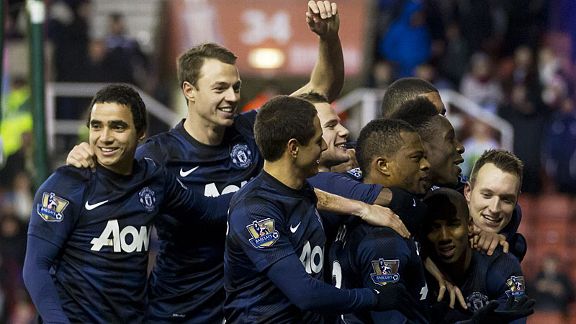 APManchester United celebrate Patrice Evra's second goal in the Capital One Cup win at Stoke.
One of the most notable features of the last few weeks at Manchester United has been the rallying cry of Patrice Evra.

At 32, the France left-back has endured more challenges in his career than most, so his words carry more authenticity than most. Evra, after all, has spent the last few months facing questions over his future at Old Trafford, with his new manager making repeated attempts to sign Leighton Baines; he has responded with some of his best form for three years.

Most recently, too, he has used his considerable attacking talents to decisive effect. On Wednesday, late in the Capitol One Cup game at Stoke, he cut inside onto his weaker right foot and produced a curling strike that could have drawn an approving nod from Alessandro Del Piero. The goal, the second in a 2-0 victory, took Manchester United into the semifinals, where they will face Gus Poyet's Sunderland.

- Nani injury 'worse than first thought'
- Welbeck targets increased strike rate

Perhaps Evra's strike was more of a surprise than it should have been; after all, he's often scored goals people wouldn't expect him to. Like Fabio Cannavaro, he is a defender who despite his height is frequently excellent in the air, and every now and then will conjure a majestic header. This capacity to produce whatever the team needs to get the job done has been Evra's trademark at Old Trafford.

Few predicted, following his calamitous debut against Manchester City, that he would be one of the team's key points of reference eight years later. Yet here he is, as ebullient as ever; so much so that he recently lambasted a similarly swashbuckling full-back, the World Cup-winning Bixente Lizarazu.

One of the highlights of United's uneven season has been the emergence of some of the team's new leaders, as well as reminders of some of the team's old ones. Adnan Januzaj has given several indications that he will be one of the team's inspirations for years to come, while Evra's career provides a case study in taking the initiative.

The man who has appeared in four Champions League finals with Monaco and Manchester United, winning one, is often criticised for his positional sense, which at times makes Barcelona's Dani Alves look tactically conservative. Several of his left-wing raids have come at great risk to his own team, and sometimes to great cost -- witness, for example, the opening goal conceded away to Braga in the Champions League last season, where he was caught woefully high up the pitch. Yet more often than not his attacking surges have given the team essential impetus, at a time when their wingers have been sorely out of form.

Skills aside, Evra's abrasive attitude is one for which he is much-loved by many Manchester United fans, and may be of the greatest use to David Moyes -- ironically, even as the coach tries to replace him. As they rebuilt their team after an almost unbroken period of success, Liverpool's chief failing was that they failed to acquire players with the right winning mentality.

Evra, with his irrepressible spirit, is the epitome of a Manchester United player: endlessly combative and competitive, aware that his brimming trophy cabinet owes as much to graft as it does to guile. If players had to attend job interviews before applying to work for Manchester United, Evra is the type of guy you'd want on the interview panel. When Moyes is again allowed access to his club's chequebook, it is to be hoped that he has signings with Evra's fierce determination in mind.