Stoke offer a chance for United to build momentum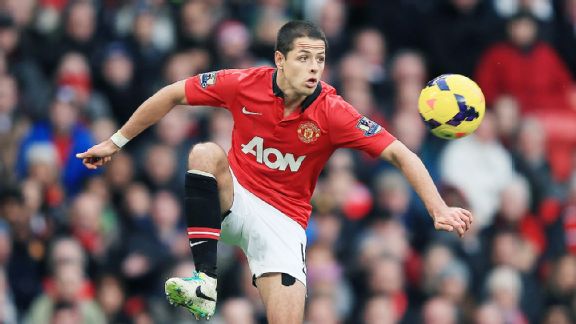 Richard Heathcote/Getty ImagesStriker Javier Hernandez could be in line for a start when Manchester United face Stoke in the Capital One Cup on Wednesday.
Here it is at last: the proverbial cold, possibly wet night at Stoke, and the question is whether Manchester United can do it. All of a sudden, the Capital One Cup has assumed a greater importance for the Old Trafford club. They are emerging from an impressive Premier League performance against Aston Villa, who were perhaps pressed and harried into looking far more apathetic than they appeared. This trophy is a chance for the champions to begin some winning momentum, and also to provide previously maligned members of the squad with much-needed action. With his mind on the schedule of four games in the next 10 days, David Moyes has expressed a desire to rotate his players, and there are several who would most usefully benefit from more game time.

- Mitten: Striking situation for United
- Report: Moyes to rotate squad

Given Moyes' concern about the ruthlessness of some of the challenges that Adnan Januzaj has thus far encountered, it might make sense to swap him for Nani. Hernandez should probably not start, as Danny Welbeck needs to play regularly to develop a run of scoring form. If Manchester United retain their 4-3-3 formation, it is also a shape which will suit Hernandez well from the bench, with a winger close to either shoulder.

Against Aston Villa, Antonio Valencia looked as happy as he has been in months, and so his appearance from the start alongside Rafael would suit Manchester United well. If Moyes wishes to keep Rafael fresh, then this is a good moment to use Fabio, who was on the bench at Villa Park and who would provide more attacking impetus than Chris Smalling. Rafael's twin has had a minor odyssey of a career so far at Old Trafford, arriving as the more promising talent but then languishing on loan at QPR. On potential alone, though, the only reason that Alexander Buttner is starting ahead of him would seem to be that the Brazilian is ring-rusty.

This is a good moment, too, to bring Wilfried Zaha into the fray. A start would be premature here, since his first two outings of the season have amounted to around half an hour in total (the 1-0 home defeat to Newcastle in the Premier League, and the win at Aston Villa). Moyes finally seems to be easing him into the action, and though it was somewhat odd to see Ashley Young brought on ahead of him in Birmingham, he should be among the primary substitutes here.

The other interesting issue here relates to whether Moyes retains Wayne Rooney in midfield alongside Tom Cleverley and Ryan Giggs. Cleverley gave maybe his best performance of the season against Aston Villa: Being in a three-man formation allows him to fetch and carry possession over short distances, keeping the ball moving through the middle of the field as a useful foil for Rooney. Giggs may have difficulty playing a second game in a row so soon after Sunday, but his mobility is key to this configuration. On this basis, Marouane Fellaini may again find himself on the bench. Shinji Kagawa, meanwhile, remains a fitness doubt.

This game, of course, is a reunion for Stoke manager Mark Hughes with his old club. Much has passed since Hughes' departure from Old Trafford, with the former fan favourite no longer a beloved figure, and so the game will not be short of spite, at least from the stands. The home team are lying 13th in the Premier League, perhaps still smarting from a 4-0 defeat to Moyes' old club Everton, and so a victory here would be welcome punctuation for what is looking like a difficult season. The aerial threat of Peter Crouch makes the retention of Phil Jones alongside Jonny Evans at centre-half the most sensible option.

This is a game where Manchester United -- though their hosts will mount an obdurate challenge -- should eventually prevail, with supporters hoping that Welbeck will emerge in Robin van Persie's absence as the goal-scorer his club need him to be. Stoke's home form in the past six games -- two wins, three draws and one loss -- has been reasonable, and so it's difficult to see a greater margin of victory than a single goal.