Striking situation for Man United up front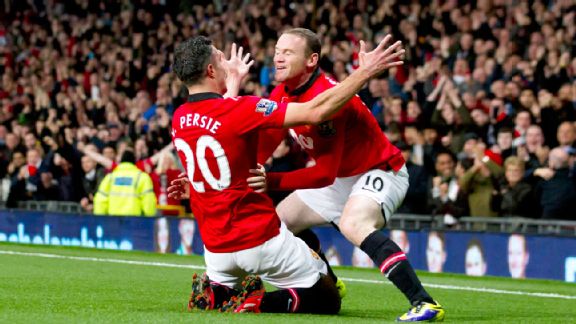 AllsportVan Persie and Rooney have each scored 10 goals this season.
Robin van Persie was recently asked if he saw himself as a No. 9 or 10. Or, to be precise, who was "9" and who was "10" out of him and Wayne Rooney.

The Dutchman would have been within his rights to describe himself as a 9. It's clear to see that he usually plays in front of Rooney in Manchester United's 4-2-3-1 formation, yet the man from Rotterdam answered that he saw himself and Rooney as "9.5s".

That's a new one for the false 9 geeks who overcomplicate a simple game, but it illustrates his line of thinking.

To van Persie, he and Rooney form an equal partnership, one in which they need each other to get the best from each other.

It hasn't always been so. Asked why Rooney wasn't at his best earlier this year, a senior United coach told me, "Wayne is adjusting to not being the main man around here anymore."

- Jolly: Squad players deliver
- Okwonga: A grand day out

It wasn't a criticism, more a statement of how he saw Rooney at the time. Things have been much better this season.

Van Persie also loves playing with Rooney. If there's a criticism of the pair, it is that the sum of their parts should make for the greatest strike force in world football, but one would need to don the reddest of tinted spectacles to assert that.

They had a solid first season together, not a great one, for they were seldom at their best at the same time. In United's biggest matches last season -- against Real Madrid -- Van Persie missed chances in the Bernabeu, while Rooney's unsatisfactory form saw him left out of the home leg.

There was a time when the England striker rivalled Cristiano Ronaldo in status, but his pursuit of personal excellence could never match that of the Portuguese. Whose could?

Rooney had a mediocre season by his standards last term, while van Persie was excellent. The roles have been reversed this term, with mitigation for injury.

Van Persie has been out for a month. It is a big blow for United during a period packed with games -- nine in December alone – and is another interruption in what has been an injury-blighted season for him.

He has not always been happy with life under David Moyes, but van Persie does not want to leave United. He did have issues with training, but there are two sides to the story. The club correctly pointed out that to blame training for his injuries was not fair, for his prior injury record was debatable.

A consensus has been reached: Just as United allowed Ryan Giggs and Edwin van der Sar to listen to their bodies and trusted their professionalism, so van Persie will have more leeway in the way he trains. It should make for a better environment for all, though the latest injury is a blow.

At least van Persie wants to practice to the best of his levels. Moyes has received much of the abuse for United's poor results, and while he has made mistakes, too many of his players have let him down in training and games.

Everyone has had a chance but some haven't taken their opportunities. There's significant room for improvement from players like Javier Hernandez, Ashley Young and Shinji Kagawa, plus players in the much-maligned central midfield positions.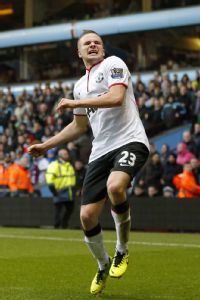 Adrian Dennis/AFP/Getty ImagesCleverley celebrates his first league goal since Dec. 15, 2012.
Not without reason, Tom Cleverley has been on the receiving end of that criticism, but he was excellent in Sunday's victory at Aston Villa, in which he was able to celebrate his first league goal in a year. A central midfielder for Manchester United should not be going a year between goals.

Cleverley's close friend, Danny Welbeck, was a two-goal star at Villa Park, and if he can continue that form it will offer some compensation for van Persie's absence.

Welbeck too has been censured for his profligacy. He was the non-scoring goal scorer who fans wanted to do well because he was homegrown and also because they saw how highly rated he was by those who knew him best.

When asked recently, hypothetically, which one United player, if any, he would sign if he were a manager, Rio Ferdinand replied "Danny Welbeck" without hesitation:

"I can see in a couple of years that he's going to be a top, top player," said the defender, explaining his less-than-obvious choice.

"He's got speed, he's brave. He's got technique, heart and desire. Within two years I can see him adding the goals: the only thing missing from his game. He's got to play like he did in Madrid [when he scored United's goal] week in, week out."

Welbeck is popular among fans who want the local player to excel, but he's not yet a hero. There have been times when he's come close: He scored 12 goals in 2011-12, including one in a Manchester derby FA Cup victory at the Etihad and a winner at Arsenal in a key league game a few weeks later. But a paltry return of two goals last season kept the doubters doubting.

His brace at Villa Park will win him more credit among fans. When I spoke to him in preseason, Welbeck maintained that he wanted to "score lots of goals and win lots of trophies" this season. Which striker doesn't? He also claims that he "might throw in something a little bit cheeky" with regards to a new hairstyle.

Such has been United's poor start to the campaign that most fans would settle for a single trophy in Moyes' inaugural season, even if it is the Capital One Cup. The team will be backed by 5,000 fans at Stoke on Wednesday in a last-eight encounter that is being taken very seriously by Moyes, who will play a strong lineup.

Anyway, I have to go. The Champions League draw has just been made and there are February flights to Athens to be booked for the last 16.

Last year, at the same stage, Real Madrid came out of the hat. After winning their group so convincingly this season, United can consider a tie versus Olympiakos a fitting reward for their efforts in Europe so far.