Untouchable RVP the architect of triumph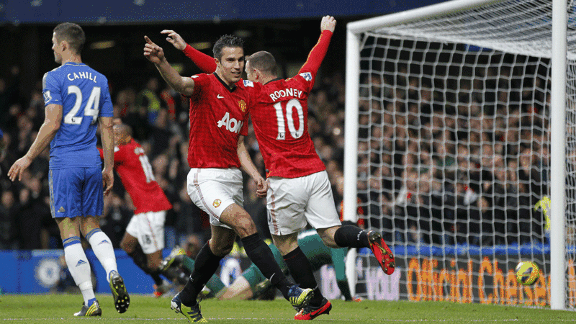 GettyImagesRobin van Persie forced Man Utd's first goal and scored their second
For the first hour, this game was the sweltering encounter it had promised to be. Unfortunately, two quick-fire and draconian sendings-off for Chelsea will dominate the postmatch debate. Despite the disastrous refereeing, though, this sumptuous game of football proved one thing beyond doubt: Robin van Persie is the signing of the season.

Finally, a Manchester United team took the field fired up and focused. In doing so, it simply had too much for Chelsea. So far this season, both of these sides have been lustrous up front but generous at the back. On more than one occasion, United have leaned on their new Dutchman to dig them out of trouble, and he was the architect of all three of their goals in London.

- Hernandez secures controversial win
- Evans: Ref right to send off Torres
- Clattenburg denies Chelsea spirited comeback

Van Persie is the most complete player Manchester United have had since Ronaldo. He scored a hat trick here for Arsenal last season and could have done the same for United on Sunday. Whenever he is on the field, the Red Devils look dangerous. The opener, which dinked in off David Luiz's backside after an RVP shot had hit the post, was the opening salvo in a whirlwind of United pressure.

Sir Alex Ferguson wanted to pull a tactical trick on his opposite number, and the inclusion of Ashley Young could not have been expected. United lined up in a 4-2-3-1 formation with Wayne Rooney joining Young and Antonio Valencia with a brief to buzz around up field, causing problems. In many ways, this was an exact mirror of the formation that has brought Chelsea such success this season. There was one key difference, though: aggression.

Rafael Da Silva and Valencia tore Ashley Cole apart in this opening period, to the point that it almost seemed cruel. Then you remember that it's Ashley Cole. It is as if the United men took personal affront at transfer rumours linking Cole with United. Valencia is a wonderful mix of style and substance, and in tearing Cole apart, he achieved something that not even Ronaldo managed to do.

On one of the Ecuadorian's forays forward, he blasted a ball across, which an unmarked van Persie gratefully slotted into the net. It was all too easy at that point for the Mancunians, and United dominated the opening exchanges of the game in midfield with superior passing. The combination of Tom Cleverley and Michael Carrick gave them more assurance and allowed them to switch from attack to defence very slickly. Putting Rooney in the mix centrally is genuinely disconcerting for opponents.

Despite United's excellent football, David de Gea was always likely to be important, and when the inevitable wave of Chelsea pressure came, the Spaniard was ready. It is hard to think of another goalkeeper capable of the stunning reaction saves he makes regularly. He had an excellent first half at Stamford Bridge, and Chelsea's pressure before halftime was unremitting.

Chelsea are still an impressive outfit, and Juan Mata delivered when it mattered. His goal from a free kick on the stroke of halftime was unstoppable, and he had a hand in the Chelsea equaliser early in the second half. Then this great match became farcical.

Branislav Ivanovic's sending off seemed avoidable. There wasn't a huge amount of contact, but he impeded a scoring opportunity and left the referee with no choice. The chance itself looked fairly innocuous, and one can only assume that the big Serb panicked.

Torres' sending-off two minutes later was incredibly harsh. Jonny Evans was the most surprised of all; his expression suggested he expected to be penalised for the foul. The players were all a little nonplussed by the send-off. It makes no sense to this correspondent, and it ruined what had been a very enjoyable game until that point.

Alas, things became coloured by bitterness and recrimination after that. Cole embarked on a notable dive in an attempt to get Rooney sent off, and the ugly part of football started to encroach on a game that had promised so much.

Chicharito took the field and seemed destined to score. He netted United's third here in February, and he netted the third again on Sunday. Once more, he was indebted to a rebound from an initial attempt from van Persie. This is a happy hunting ground for the Mexican, and he has surely played himself up the pecking order at Old Trafford.

United just about deserve this, but all anyone will remember are the send-offs. It is definitely good fun being a United fan nowadays, but they won't always be as fortunate as they were at Stamford Bridge. With Robin van Persie in the ranks, though, they are making their own luck.

Follow Mark Payne on twitter.com/markjpayne.