Manchester United have a grand day out at Villa Park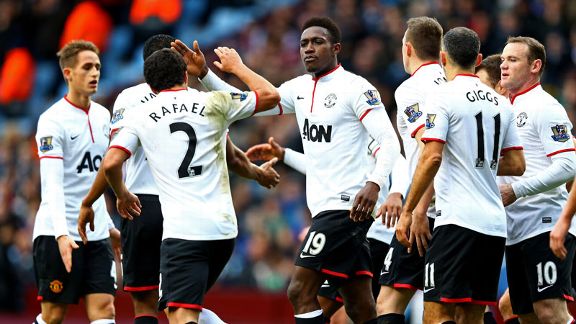 PA PhotosTwo-goal hero Danny Welbeck celebrates his opening goal against Villa.
Manchester United's potentially worrying fixture at Aston Villa turned out, in the words of that Wallace and Gromit film, to be "A Grand Day Out." The key tactical feature of this 3-0 victory was David Moyes' decision to deploy Wayne Rooney in midfield as part of a 4-3-3 formation, from which the England forward provided a display of passing that recalled the accuracy of Paul Scholes. Rooney's playmaking, where he dropped so deep that he was almost taking the ball from the toes of his centre-backs, was central to this triumph.

On four occasions in the first half alone, after Aston Villa had begun brightly with two early efforts, he found Antonio Valencia wide on the right from 40 yards. It was as if he had heat-seekers in his laces. Ahead of him, Danny Welbeck was flanked by Valencia and Adnan Januzaj, where he produced a complete centre-forward performance. He scored twice in two minutes, with finishes that recalled Gary Lineker at his most clinical: one a right-foot volley after a soaring Januzaj header had found its way to him off a post, the second slid in with his left foot after a low cross from Valencia.

- Welbeck double inspires United win

This lead, coming halfway through the first half, actually arrived against the run of play, and was the platform for an ultimately untroubled victory. Given a few of the negative noises and performances that have come out of the club this fortnight, this was the most refreshing of performances. Moyes even found time in the second half to introduce Darren Fletcher to the fray, who made his first appearance for Manchester United since Boxing Day 2012.

This game was also a form of vindication for Tom Cleverley, who scored the final goal in the second half and looked far more comfortable in this three-man configuration than he has in the starting 11 for several months. Cleverley's strike, a confident drive at the near post following the most subtle of reverse passes from Rooney, seemed to give him a greater appetite still, and he tested Brad Guzan with a powerful shot late on. The hope will be that this showing gives him the impetus to score more in the coming weeks.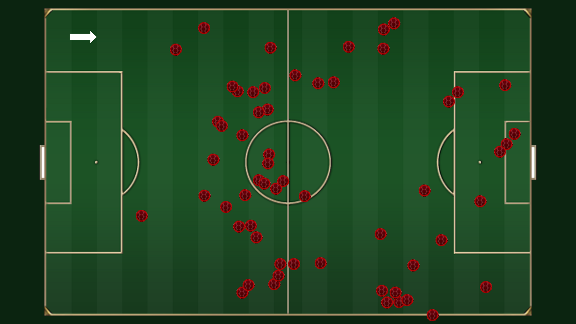 Other / ESPN statsThe destinations of Wayne Rooney's passes against Aston Villa.
The relative narrowness of Manchester United's front three gave a greater run of the wings to Rafael and Patrice Evra, who both overlapped to impressive effect. Rafael, in particular, allowed Valencia to cut into the box more, where his distribution was markedly better. Too often this season, Valencia has tried to slash balls into the area from far out on the right flank, but here he used his speed with the best results, surging past his man on the edge of the 18-yard box and cutting it back to the top of the area. Rooney and Welbeck were close to being beneficiaries on both occasions. Rafael, meanwhile, provided the cross for Januzaj's header which led to the opening goal, and generally demonstrated why, alongside Pablo Zabaleta, he was the Premier League's outstanding right-back last season.

Aston Villa, it must be said, were abject in many areas. That might be because Manchester United pressed the ball with a vigour that has been unfamiliar this season; it might also be because several of their players chose this afternoon to have a spectacular off day.

Christian Benteke was energetic but his touch lacked precision; Gabriel Agbonlahor was comfortably policed by Phil Jones, who was dominant at centre-back; and Villa's midfielders offered as much resistance as the ticket barriers on the DLR. Villa fall to 11th, whilst Manchester United rise to eighth, 10 points behind Arsenal.

Encouragingly, there were moments when the champions seemed to be enjoying themselves, whether that was Januzaj running into a thicket of Villa players and somehow coming out of it with a free kick, or the sprightly Ryan Giggs moving the ball fluidly through midfield. It is interesting that Manchester United seem to find their swagger on away days, which might have something to do with the uncertain atmosphere at Old Trafford of late. The away fans, as ever, were in spectacular voice.

Of course, there are ongoing issues: Javier Hernandez was absent as was Shinji Kagawa who, Moyes said, is still unwell. Wilfried Zaha came on later than Ashley Young, which was somewhat surprising, but perhaps he is just being eased into the side. And it remains to be seen what role Darren Fletcher will play this season, given that his return potentially provides the midfield with a much more secure axis than it has at present.

For now, though, these questions will rest, and the team will return to Manchester with a sense of relief, and even just a swell of pride. After the worries of the past few days, they have certainly earned it.