Van Persie injury invites Kagawa and co to step up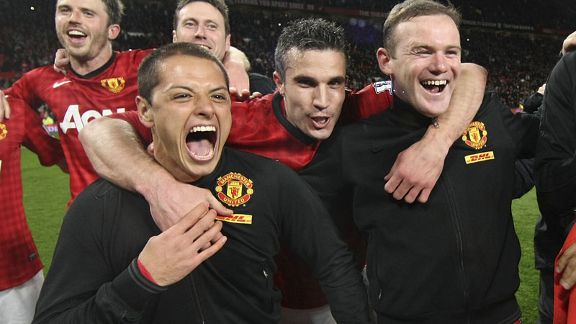 GettyImagesRobin van Persie's injury offers chances to others.
So Robin van Persie will be unable to play for Manchester United for a month. His thigh injury means that he will miss eight games, six of which are in the Premier League. The club are thus left without the striker who gave them 26 league goals as they claimed last season's championship, and many of their supporters are left despondent.

Van Persie has been a talismanic figure since he arrived at Old Trafford and his outstanding finishing has endeared him to fans as much as his unexpectedly bullish demeanour when defending his team in interviews. His absence is as important emotionally as it is tactically. With him in the team, United are far more likely -- as was the case last season -- to win games in which they have been without the upper hand for long periods.

Fans seeking some solace can note several things. The first is that this represents an opportunity for van Persie finally to have a proper rest, since he has not looked fully fit since the season started.

However, David Moyes will take considerable criticism for the thigh injury, with the widespread suspicion that it was aggravated due to his intensive training methods. To make matters worse, Moyes admitted that he wanted to take van Persie off against Newcastle after an hour or so, but declined, because "everyone would have said 'What are you doing?'" That particular quote is revealing as it suggests that Moyes, far from being the stubborn and resolute decision-maker of gruff Glaswegian stereotype, is highly susceptible to public opinion. It is not an admission that many managers would make, at least not so openly, and gives some impression of the pressure that he is feeling currently.

The second thing to note is that United's best attacking performance of the season -- the 5-0 win away to Bayer Leverkusen in the UEFA Champions League -- came without van Persie in the team (or actually the matchday squad). The star attacking players that day were Wayne Rooney, Shinji Kagawa and Ryan Giggs, the former two of whom should be the regular starting duo in the team's forward line.

Van Persie's injury has presented Kagawa with the chance that he and his advocates have craved since he arrived at Old Trafford: a run of games at his preferred position of No. 10, with the responsibility of dictating the team's attack. With Adnan Januzaj and either Nani or Antonio Valencia to either side of him, with Rooney up ahead, this is an ideal and necessary moment for him to show the very best of his ability.

Now that van Persie's absence has been confirmed, it is time for other players in the squad to take a more senior role. Tom Cleverley confessed earlier this week that several of his performances this year had been average; his role, in bringing the ball through midfield to Kagawa, will be vital. With van Persie out of the team, there is actually an opportunity for greater fluidity and mobility in attack, but that will only emerge if Cleverley's passing demonstrates more ambition than it has in recent games.

At times against Newcastle, the impression left was of a rock-climber earnestly scrambling left and right, looking vainly for a foothold to help him make progress. He and his fellow midfielders, including Kagawa, will also have to make goal scoring an explicit responsibility of theirs (which, it must be said, Cleverley has been vowing to do since last October). Currently, they offer little threat in this area; something that Kagawa, given his pedigree under Juergen Klopp at Borussia Dortmund, will be particularly keen to redress.

Van Persie's absence also presumably means more games for Javier Hernandez and Danny Welbeck, though it is preferable that they are rotated with Rooney and no one else. Welbeck has struggled in wide positions this year, while Hernandez is not a winger and does not make plays very well from the No. 10 position. Perhaps, too, the team will see more of Wilfried Zaha, whose arrival for a cameo in the loss to Newcastle was his first Premier League appearance of the season. The Dutchman's injury therefore presents a significant opportunity to several players in this squad, Kagawa above all. On Sunday against Aston Villa, his month-long audition should begin.