Phil Jones setting example on and off pitch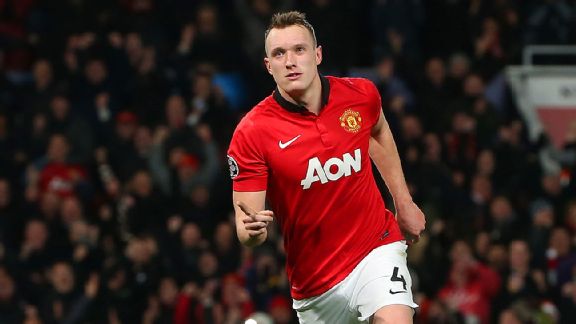 Matthew Peters/Man Utd/Getty ImagesPhil Jones spearheaded United's Champions League triumph over Shakhtar.
It seems like there's too much talking at the moment. Well, at least too much of the wrong kind: It's all a little bit too downbeat. Prior to the 1-0 home defeat in the Premier League against Newcastle, David Moyes commented that, "We are going to make it as hard for them as we possibly can," which was hardly the most rousing call to arms. Following the match, he admitted that, "In recent games we have not finished games in the way we would have liked to."

He could have been referring to the fact that the away side had, somewhat chasteningly, indulged in a period of keep-ball in the closing stages of their victory as the Toon Army sang, "Geordie Boys, we're taking the piss." This negativity, to which he has fallen prey in the past couple of months, seems to be catching. After the same defeat, Jonny Evans remarked that, "Obviously the lads have lost a bit of confidence in their play. You can tell that with the possession and creativity."

- Payne: Jones stops Man Utd's rot
- Brewin: Three things: Man United-Shakhtar
- Bennett: Everton fans familiar with Moyes methods

Last week, too, Rio Ferdinand made a series of apparently innocuous comments. Speaking to BT Sport about Moyes, he said, "This manager's a bit different in that he doesn't name the team beforehand ... You don't really get to know the team. The old manager used to give you a kind of a little bit of an idea if you'd be playing and stuff. When you know you're playing the intensity goes up a little bit more on match-day and that's what you need to try and make sure you're doing even if you don't know you'll be playing to try and get to that intensity you'd be at when you know you're playing."

None of these phrases seem all that bad by themselves, but they add up to a worrying trend: that leading figures at Manchester United are talking themselves into a lull. Too many statements emerging from their mouths are evolving into prophesies of doom. For one thing, Ferdinand should know better, given his extensive experience, not to say anything in public which might lead to criticism of his manager's methods in public. And Evans should know better than to give his opponents licence to pour forward, and make his own job even harder. Though his team defeated Shakhtar Donetsk, they were overwhelmed for much of the first half, and were saved only by poor finishing by the visitors. Oh, and by Phil Jones.

Jones, as ever, provided the answer to some of Manchester United's current problems: not only with his excellent performance on the field, but his postmatch interview. "We know we've had a disappointing couple of weeks but probably we can start going on a run now," he said. "Hopefully we can kick on from tonight. I know we've said that in the past but it's really time we did start kicking on."

There it was: selective honesty, no despondency, and ending in optimism. Perhaps even the beginnings of a siege mentality, where little leaves the dressing room and whatever does leave is ultimately positive in nature. Look at what Jones says. No talk of being so worried about your form that you're unable to keep the ball or complete passes in the attacking third. No talk of being so worried that you might not be picked that you're excessively stressed when you do get to play. And no comforting words to your future opposition that when they do eventually play you you're going to make it tough for them. No, the message from Jones is that "we're coming for you, whoever you are." And it's that bullishness which, even if it's not currently coming out of the players' boots, should be certainly coming out of their mouths.