Phil Jones stops Man United's rot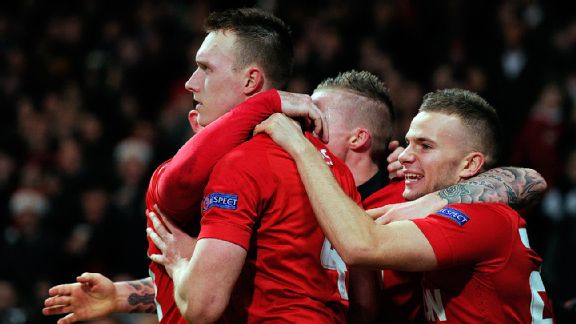 Andrew Yates/Getty ImagesPhil Jones' goal gave Man United fans a reason to cheer vs. Shakhtar.
It is all hands on deck at Manchester United right now, but Old Trafford was not packed to capacity for the visit of Shakhtar Donetsk. The last time United lost three consecutive games at home, President John F. Kennedy was alive, yet it was the fate they risked in this sixth Champions League match. With Wayne Rooney as captain, United secured the 1-0 victory over Shakhtar that sent them through to the last 16 of the Champions' League.

Whereas Everton and Newcastle were both able to play on the counterattack, Shakhtar had to go for the win. If there were hopes this would leave them more open, they proved ill-founded. Shakhtar goalkeeper Andriy Pyatov was not worked hard for his money, and United managed only one attempt on target in the first half-hour. Meanwhile, the Ukrainians had five in the same time frame.

The injury-ravaged nature of United's defence did not go unnoticed. Shakhtar hustled the home side's defenders and attacked with speed and venom at every opportunity. They were under instructions to run at a United back line not accustomed to its makeup, and the young Brazilians in Shakhtar's forward line enjoyed the task.

- Report: Man United 1-0 Shakhtar

The first gilt-edged chance fell to Alex Teixeira, whose quick break and curling left-foot effort missed by an inch. United were darn lucky not to concede. The impact that could have had on confidence was potentially catastrophic.

In the United goal, David de Gea somewhat fumbled a kickout after 15 minutes and nearly gifted the ball to the visiting forwards. Nerves continued to jangle. Shortly afterward, Rio Ferdinand was caught in possession and nearly caused United to concede another cheap goal. There was no denying that United were being outplayed.

Ashley Young has been much maligned as a United player yet there is the occasional reminder that he is actually quite skillful at times. The ex-Villa man is certainly capable of more trickery than Antonio Valencia.

Both sides of Young's character were on display at Old Trafford, where he found himself closing in on more than one simple scoring opportunity. One arced lob over the keeper when through on goal was the clearest chance of the match. It bounced wide with Rooney facing the open goal 3 yards to Young's right. It would have been easier to pass. Minutes later, he shanked a shot wide with the goal at his mercy.

Two minutes later, Adnan Januzaj plucked the ball out of the sky in the 18-yard box and unleashed a shot on the turn at the keeper. The young man in the No. 44 shirt is the great hope at the moment around these parts. His confidence belies his age and is an example to his more experienced colleagues.

David Moyes may have mentioned something similar at halftime as the home side emerged after the break a more composed bunch. All of a sudden, United started keeping the ball better and Shakhtar started to run out of puff. Phil Jones has been bursting forward all season and was destined to score at some point. He netted United's first Old Trafford goal for four hours with a rasping drive from the centre of the area. Relief burst through the crowd.

Although not full of swagger, the men in red began to strut once more. United didn't give away as many silly free kicks in dangerous areas as they have in recent outings. This was a fact welcomed by the home support, and Oleksandr Kucher's late yellow card for dissent was symptomatic of the shift in mood.

United were not wholly convincing in victory, but the rot has been stopped. Alexander Buttner deserves special mention for a marauding, attacking performance from full-back, but Shinji Kagawa served only to divide his critics further.

As the clock ticked down, Moyes' expression held its seriousness. There is no joy to be found in this excellent qualifying tally from the group stages. The real problem is making it back next year. It is in the Premier League where the real battle awaits.

Mark Payne is the author of "Fergie's Last Stand," now available in paperback. Follow him on Twitter @MarkJPayne.