Transitional trouble for Man United's players under David Moyes
If you asked Manchester United's first team players to name the most talented footballer at the club, one name would triumph: Robin van Persie.

Heads rose when the Dutch international walked into the first team dressing room at the training ground in the summer of 2012. Top players like to be playing with even better players, and van Persie didn't disappoint with the form which followed, scoring 30 goals in his first season.

"I saw the nodding heads and looks of approval from every player," former goalkeeping coach Eric Steele said. "Even if they said nothing, their body language said it all. This wasn't a player being promoted from the youth ranks, nor someone few had heard of. This was a bona-fide, top-class forward at the peak of his career and United had signed him from a huge club. Robin's arrival lifted everybody because he's a fantastic player."

Sir Alex Ferguson had sold the United dream to van Persie and the club were highly confident that he wanted to join, despite more money being offered by other clubs, including Manchester City.

- Moyes accepts blame
- Miller: Squad clearout needed
- Brewin: United slump into crisis

The player wanted to win trophies and to play for Ferguson, a manager who couldn't stop winning the trophies that had dried up for Arsenal. Van Persie didn't want to spend his time doing "commercial." That is, working with many of United's business partners to promote their products. Nor did he want to do media. He'd become sick of the sound of his own voice at Arsenal, where he told journalists that there was no reason why the club couldn't win the league ad nauseam.

Van Persie wanted to let his football do the talking, which he did with great effect as United won a 20th league title. With that in the bag and the Dutch star anticipating more silverware, Ferguson dropped his bombshell. As he told them he was leaving, Ferguson said, "I hope I haven't let some of you down, because you may have joined thinking that I would stay."

This is what he'd led van Persie and Shinji Kagawa to believe when they'd joined the club nine months previously.

"That was correct at the point I said it," Ferguson stated.

The players were shocked by the announcement. Many had only known life under him. The day of his retirement announcement, the squad went to Chester Racecourse for their annual end-of-season day out and spoke about Ferguson's replacement. They wouldn't be making the decision, but David Moyes was not the first choice, yet by midafternoon it was clear to the players that the then-Everton manager would be their new boss.

There was uncertainty about their future, though more for the coaches they had worked with than themselves. That proved to be right: Steele, Mike Phelan and Rene Meulensteen would be replaced by men Moyes brought in from Everton.

The players disappeared on holiday and looked forward to the season ahead. Officially, David Moyes would start his new job on July 1.

While United's newly appointed executive vice-chairman Ed Woodward said that the title winners needed "little retooling," Moyes told friends that he had a huge task at Old Trafford, the implication being that a major reworking was in order. He was awarded a six-year contract to undertake that.

The manager continues to maintain that position. There are people within the club who would agree with him, even people who worked with Ferguson who will claim the current slump "has been coming for two years."

They feel that it was a miracle the team won the league last season, but was it? The squad was stocked with top-class players who not only claimed the title by 11 points, but also could count themselves unlucky not to beat Real Madrid in the Champions League.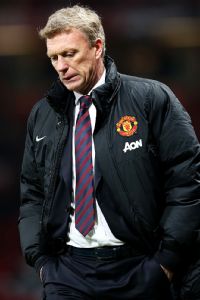 Matthew Peters/Man Utd/Getty ImagesAfter a difficult first five monts in charge, Moyes has much to ponder.
Before he started his job, Moyes spoke informally with senior players about the future. After taking the hot seat, he wanted to study the squad he inherited rather than rush into making several new signings.

For their part, the players adapted to the new regime of double training sessions in preseason and, publicly, spoke positively about the future. They were convinced that United would return the title.

When I spoke to Rio Ferdinand about it in Japan in July, he said, "Chelsea and [Manchester] City, I don't see anyone else challenging us for the title. Tottenham and Arsenal might have a little push, but I can't see anyone breaking into that top three."

Those comments were made before Arsenal signed Mesut Ozil and United only signed Marouane Fellaini at the end of the last transfer window, but the league has not shaped up in the way United expected. After 15 games, the club that have not finished outside the top three since 1991 are ninth, having already lost five games, the same number as in the whole of last season. The goal difference is just plus three.

Things have not gone to plan for Moyes, the club or van Persie. There were rumours that he'd handed a transfer request in last week. He hasn't (did Wayne Rooney?), but there's much room for improvement in the relationship between the Dutch striker and his new boss.

Rivals know this, though links to Barcelona are nothing more than speculative at present. Not that United will or need to sell one of their few world-class players. Instead, they want to buy them and have money to spend.

There have been positives for United, such as the European form, the emergence of Adnan Januzaj, yet the league table doesn't lie. Many fans, who have gorged on sustained success, have never known anything like it.

Opinions are divided. In a poll on the website of the United We Stand fanzine, 27 percent said that Moyes was the right man for the job and that the club should stick by him, 47 percent said they were not sure and that he should be judged at the end of the first season, while 25 percent said the club should get rid of their new manager now.

United fans have been supportive of Moyes in matches, but supporters of other clubs and many in the British media are enjoying the struggles after years of dominance. It's now the norm for visiting fans at Old Trafford to sing "Sacked in the Morning" to the manager. However, he won't be sacked and will be given time to build his United.

The longevity is unusual: no manager at a top club in Europe gets time to build their team. They inherit sides and coach them. New signings are chosen by sporting directors. At Old Trafford, Moyes has all the power for, as the banner on the Stretford End denotes, he's "The Chosen One." Chosen by Ferguson, no less, yet he's still to earn the respect and the trust of the fans who support him. Expectations, not unreasonably, are high.

Confidence has dropped among the players who have faced all eight teams above them, only managing to beat one. That can have a debilitating effect and Moyes must lift his team. He's under immense pressure to get his side playing in the league, to shut games out, and to add another dimension and fluidity to their play.

He has some excellent footballers at his disposal, but those players need to interpret his tactics and way of thinking. He and his coaches spend a lot of time discussing tactics at the training ground each morning, but their methods have yet to consistently translate to the lush fields outside, let alone the stadiums in which Manchester United play.