After Rooney's return to form, what happens next?
"Anyone would think that Rooney's playing for a new contract," opined the journalist over in Germany to cover Manchester United's 5-0 victory over Bayer Leverkusen last week.

It was a sly, as well as wry, comment and one for which the hack's cynicism could be forgiven given Wayne Rooney's history of agitating for more at United.

Rooney has been, by a distance, United's best player so far this season. Game after game, he has received the club's man of the match award, with the latest coming after Sunday's 2-2 draw at Tottenham. Seemingly fitter, leaner and more productive, he's an early contender for footballer of the year.

When he speaks to the media after matches, Rooney does so with self-effacing diplomacy. He compliments teammates and plays down his own role. He knows that what he says is just as important as what he doesn't, that anything can be open to misinterpretation. He'd rather say nothing at all, like he did for most of the summer when speculation about his future rumbled on.

Rooney denies that he ever wanted to leave Old Trafford, yet fans and his teammates were firmly under the understanding that he wanted to depart M16 after nearly a decade of success. If his colleagues asked him why, they were told that things had gone on which they knew nothing about.

Sir Alex Ferguson had chosen to depart with a dig at Rooney for wanting to go and while the striker chose to say nothing, his people briefed journalists behind the scenes. The semantics will never be agreed, but United remained adamant that he was going nowhere. Privately, they were never going to let him join a domestic rival and such were Rooney's wages and his form at the end of last season, no queue of foreign suitors existed who were going to pay Lionel Messi- and Cristiano Ronaldo-level wages for a player who wasn't in the same class as either.

- Hirshey: Rampant Rooney rescues Man United
- Okwonga: More ground lost
- Premier League team of the weekend

I spoke recently to the club's chief executive, Ed Woodward, about Rooney and asked him if the summer shenanigans had been dealt with in the right way.

"Absolutely," he replied. "It was very important from day one that we made our position very clear. There were a lot of conversations and meetings. I'm delighted that he's still wearing red."

Did he fear Rooney would go, as his teammates believed?

"No," replied Woodward. "I wanted to click my fingers and for it to be September 3. He's irreplaceable and phenomenal to watch."

Irreplaceable. That's a very strong word to describe a player. What happens if Woodward is tasked with replacing him? Because, on the form shown this season, there will be few who can match Rooney.

Woodward's position never shifted. And even when fans turned, those who'd worked with Rooney, such as United's former goalkeeping coach, Eric Steele, stuck by him.

"Wayne got a great goal to get us back in the 2011 Champions League final," Steele recalled in August. "Just remember that, fans, when you're screaming for him to leave. Just remember who stepped up when Robin [van Persie] went nine games without scoring last year. I'm a big supporter of Wayne."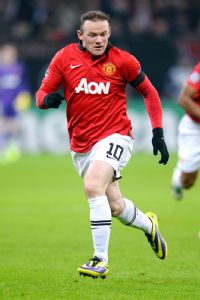 Lars Baron/Bongarts/Getty ImagesWith 207, Wayne Rooney ranks fourth on Man United's all-time goal scorers list.
When asked what had gone wrong, Steele said: "I don't think anything has gone wrong. He's had 10 years at Manchester United when he's been the highest profile player at the club. [David] Beckham was on and off the field, [Ryan] Giggs is unbelievable for what he does on the field. And Wayne's brash and upfront, but he just wants to play every game as he has since he was 17. He's played some football in that time and led the line for club and country."

Being dropped for the second leg of the Champions League tie against Real Madrid in March had not gone down well with Rooney.

Asked why he wanted to go, Steele said: "I just think [Wayne] sees a new challenge. Is there anything wrong with that? He's won everything there is to win at United. He hasn't spoken out against United, hasn't come out and said he wants to leave, but people are slamming him. If he goes, he'll have to go in front of a camera and explain himself. If he doesn't, he won't."

As for those United fans criticising him?

"If he scores a great goal or a goal in a big game, then that will stop," he said.

Steele was correct on every count. It was hard to find a United fan who supported Rooney in July and August. To those who saw the issue in black and white, it was simple: If he didn't want to play for the club then he could, in Mancunian parlance, do one.

Those fans didn't forget that he asked for a transfer in October 2010, when they thought he was prepared to join Manchester City. True heroes, they reckoned, didn't ask to leave. That's a fan's one-eyed view, but a few players who have signed contract after contract to stay at the club felt the same. But why should Rooney share that loyalty? He's an Evertonian, not a lifelong United fan.

In the summer, the often overlooked fact he comes from Liverpool was suddenly used as a pejorative against him. To many on social media, where empty vessels often make the most noises, he was a "Scouse [insert expletive here]."

However, at the first league game of the season in Swansea, the reality among fans -- real people in real life, as opposed to the angry and anonymous online -- was different. In rainy South Wales, two thousand hard-core United fans, the majority of whom watch the team home and away in person, were largely supportive of Rooney.

He wasn't expecting it. His people -- that is, his agency and the media advisors who work for it -- had worried about a backlash, but they didn't need to. Rooney looked as miserable as the weather at Swansea, but what did that matter when he performed so well to set the template for the season ahead?

His teammates appreciated his efforts, too. He's hugely popular in the dressing room, though several didn't rate his conduct over the summer. But then, do you agree with everything your work colleagues do?

So what happens now? United fans are singing his name again and if Rooney had not played as well as he has this season, his team would likely be lower than eighth. If he was worried about not being the main man at the start of the year, having been superseded by van Persie, he can feel he now at least has parity as the end of 2013 approaches, with both players currently on 10 goals so far this season.

If that sounds stupid then that's because it is, but big egos are prevalent in any football team. Given their combined talent, Rooney and van Persie could be even better together.

United want Rooney, 28, to stay. His current contract has 18 months to run. If he's feeling vengeful, he could let that run down and leave for a massive signing-on fee elsewhere, though only Manchester City, Chelsea, Monaco, Paris Saint-Germain, Barcelona and Real Madrid could afford his wages.

If he is not, he could stay where he is loved. Though it is a love that Rooney has tested close to its limits, several times.