Raucous draw at White Hart Lane lets Arsenal slip further away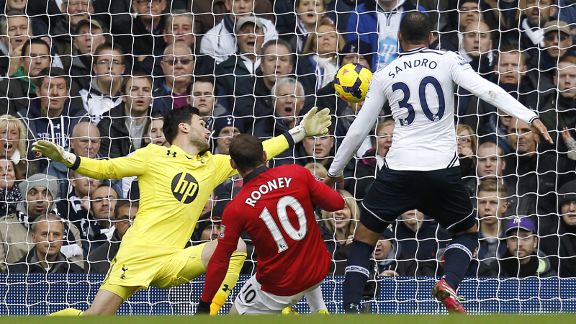 GettyImagesWayne Rooney scores Man United's first goal against Tottenham.
Both Manchester United and Tottenham Hotspur were left scrapping for a 2-2 stalemate on the shore, while Arsenal's ship drifted further beyond reach. Wayne Rooney, with two goals -- one an alert finish from Kyle Walker's miskick, the other a penalty driven slightly nervously down the middle -- showed again how many fewer options his club's attack would have, had he been sold to Chelsea in the summer. This, though a game the away side started with impressive purpose, was one where they were not wronged to emerge with just a point.

Spurs, as might have been anticipated, were apparently playing from a place of pride after last week's 6-0 humiliation at Manchester City, and could have been leading by two or three goals come half-time. Central to their attacking efforts in that period was Aaron Lennon, who started ahead of England winger Andros Townsend and gave Patrice Evra a migraine in a matter of minutes. His elusive running across the French left-back has been a common occurrence in recent seasons; the only odd thing about it was that, in the 15 minutes or so after halftime, he then failed to attempt or complete a single pass. His substitution by Andre Villas-Boas marked one of the more contrasting performances of the season.

- Brewin: Three things - Spurs versus Man United
- Fitch: Spurs take step forward

One of Lennon's colleagues, Kyle Walker, endured a match of similar contradictions. Having opened proceedings by running onto a through-ball and greeting it with a first touch that looked more like a clearance, he then stepped forward after about 20 minutes to administer a free kick, earned by a Jonny Evans foul on Paulinho. He stepped up with furious power but little guile, but the defensive wall before him showed all the structural integrity of a net curtain, and the ball skidded on past David De Gea. Fifteen minutes later, though, Walker would return to the naughty step, tamely volleying a Phil Jones cross into the path of Rooney from eight yards. Rooney provided the equaliser as the right-back looked on in horror.

It wasn't all Walker's fault, though. Lennon was denied by De Gea, Michael Dawson's volley was deflected away by Rooney, and then Roberto Soldado, having received a pass of Pythagorean perfection from Paulinho, thrashed it high over the crossbar -- the equivalent of being handed a glass of the finest wine, only to spill it all over the carpet. When the 26 million pound forward was withdrawn, he looked as despondent as the similarly expensive Marouane Fellaini must have been feeling on Manchester United's bench.

What of Manchester United, though? Well, David Moyes may be feeling a slight sense of regret. He again selected Chris Smalling at right-back, even though Rafael was on the bench. This may have been a reward for the England international's goalscoring turn against Bayer Leverkusen in midfield, and showed Moyes' desire, as far as he can, to retain players who are in form. Smalling's attacking shortcomings were negated somewhat by the vigorous movement of Antonio Valencia, who was one of his team's best players, but there is still a feeling that Rafael would have offered more -- that is, to say, if he was fully fit.

Ryan Giggs, perhaps being rested after his excellent but presumably exhausting performance in midweek, made way for Tom Cleverley, who is proving a less impressive deputy with each passing match. Most confusingly, Danny Welbeck was selected ahead of Nani, who had a fine game against Leverkusen. This again saw Shinji Kagawa at number 10, but the Japanese playmaker struggled to make a difference and Welbeck added little defensively on the left, ahead of the tormented Evra.

Despite these hitches, Manchester United actually managed to build some encouraging play, and according to Squawka, completed twice as many passes as Spurs in the opening period (215 to 111) -- a statistic that, however, also says a great deal about the swift and dangerous counter-attacking style that Spurs were playing.

The second half of the match was one that both teams approached with aplomb, knowing that a draw would push them further behind a resurgent Arsenal. Yet they could not get clear of each other. Sandro, on a rare foray forward, supplied one of the goals of the season: A turn inside Cleverley onto his right foot, and then a strike that was not so much a shot as a warp drive, arriving in the top-right corner of De Gea's net before the Spaniard even had time to shuffle. As ever this season, though, Rooney dragged his team back into contention, putting away a penalty after Hugo Lloris was very harshly considered to have brought down Welbeck. The penalty, given by Mike Dean, looked to have no more robust a claim under continued viewing; a luxury, of course, which Dean did not have.

The closing moments of the match yielded several corners to Spurs, as well as one or two needless free kicks for them outside Manchester United's area, but no more goals. Jermain Defoe, Nani, Ashley Young and Javier Hernandez were all brought on as attackers who might affect the game's direction, but this was an arm wrestle destined to remain, frustratingly, at 90 degrees. Both teams now look up at Arsenal, who sail nine points away.