Man United meet Spurs as managers feel the heat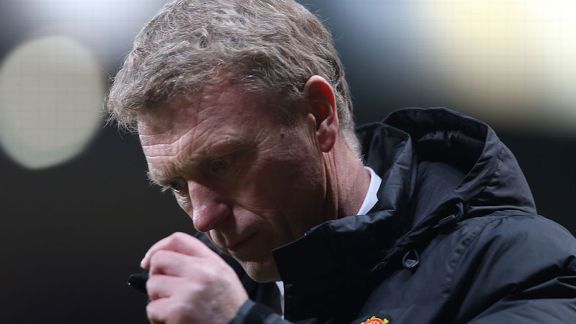 GettyImagesDavid Moyes could do with a win after dropping points last week.
At some point, one of the teams around the top of the Premier League table is actually going to go on a run of victories that will pull them clear from the pack.

Defending champions Manchester United have huffed and puffed, like many of their peers, but not got the wins yet. Despite a current run that sees them unbeaten since September, fans are still not satisfied. Down at White Hart Lane, Tottenham supporters feel much the same way. The clubs meet on Sunday with the pair far below their desired position in the table, out of the top four.

- Giggs and Jones, the not-so-odd couple

The Tottenham board, who spent big in the summer, said this week that they had "expected a title challenge" this season. Despite the aforementioned overhaul of their squad, manager Andre Villas-Boas finds himself under pressure not only to start producing the wins but also goals, with just nine in 12 league games. The sight of archrivals Arsenal at the top of the Premier League while Spurs struggle is obviously hard to take too.

Villas-Boas and David Moyes have several things in common; not only are they both charged with ensuring the success of enormous football clubs, they are also blamed when everything does not go perfectly. Management is a thankless task.

Football managers are entitled to be a lonely bunch. They are often left to deal with the ramifications of decisions made by other people and if anything goes wrong, as it often does, they are the first for the chop. To compound matters, they are scrutinised beyond reasonable levels and judged on the actions of 11 different people once a week.

On Wednesday, Manchester United recorded their biggest away win in Europe since 1964, but most of the credit went to Ryan Giggs because of the astrological fluke of his 40th birthday landing a few days hence. Manager Moyes might be forgiven for waving his hand to remind people who picked the team.

Similarly, Villas-Boas took his team to the top of the earth -- well, Tromso, anyway -- and secured a victory in sub-zero conditions that, according to reports, he needed to save his job. Yet Villas-Boas is not to blame for the departure of his star player, Gareth Bale, and the fact the seven new signings brought have not immediately jelled like United's class of '92. Tottenham have obtained more points at this stage of the season than they did last year.

Manchester United remain a work in progress. Giggs will not be able to dominate every match they play this season from the midfield. In that area they are sorely lacking, and the sight of Moussa Dembele lining up for Tottenham is slightly galling. He was available for transfer 12 months ago at a reasonable price. Manchester United abstained.

There are signs that things are coming together for the champions, but that was true three weeks ago too. Then Cardiff scored a last-minute equaliser and vital ground was lost. "We can't afford to lose at Tottenham," said Patrice Evra this week. He knows that dropping points now will be regretted later.

Alas, instead of being able to meet this Sunday lunchtime and find some common ground in their unforgiving professional lives, AVB and Moyes must do battle. Both men are in dire need of a win and will have the volume turned up to ludicrous levels if they lose. They probably both just want a hug, but only victory will do.

Mark Payne is the author of "Fergie's Last Stand," now available in paperback here. Follow him on Twitter @MarkJPayne.