Giggs and Jones, the not-so-odd couple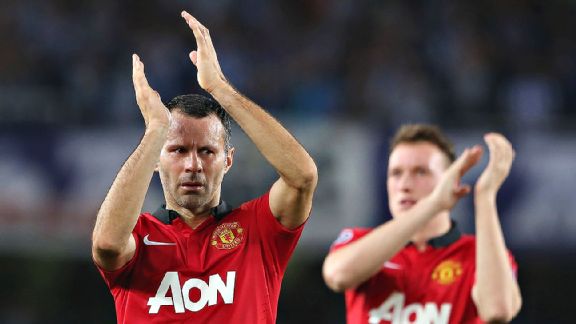 Matthew Peters/Getty ImagesRyan Giggs and Phil Jones are receiving praise from United fans, who are surprised but delighted by the results the pair has delivered.
In the absence of Michael Carrick, Manchester United's first-choice central midfield is a 40-year-old former winger and a 21-year-old converted centre-back. As The Streets once sang, "Has It Come To This?"

Well, yes, it has. And with each successful assignment, Ryan Giggs and Phil Jones are proving themselves to be far from an odd couple. David Moyes has turned to them following unsatisfactory Premier League results this season -- the 4-1 humiliation at the Etihad and last weekend's disappointing draw away at Cardiff City -- and they have repaid his faith in conspicuous fashion.

- More on Giggs: Brewin | Wenger | Jones
- AVB targets Spurs recovery vs. United
- Evra: United must use momentum vs. Tottenham

First, after that darkest of derby days, United fought to a 1-0 victory over Liverpool in the Capital One Cup; then on Wednesday, they plotted and prompted the 5-0 evisceration of Bayer Leverkusen, a result that scarcely seems credible given the German team's recent form.

In recent months, when these players have been named alongside each other in the centre, there have been ripples of fear among Manchester United supporters. This is understandable. The concept of a central midfield where one player barely tackles is, at one level, terrifying. In theory, it's like trying to guard the walls of Helm's Deep with nothing but a feather duster.


In practice, it has been a different story. Giggs is shuttling the ball between defence and attack in a manner that Tom Cleverley has promised to do for the past three years but never truly managed. He is drifting beyond his opposite man and stretching the play with the subtlest of delivery to the same flanks where he once reigned.

Meanwhile, behind him, Jones provides a formidable defensive screen -- a feat he performs with such regularity that it's probably worth renaming him The Colossus of Jones.

In many ways, the partnership of Giggs and Jones represents the gloriously makeshift nature of several of Manchester United's performances in recent seasons, the Old Trafford club having made an art form of conjuring victory with the unlikeliest of lineups.

Of course, theirs is still a formation that could find itself overwhelmed by a fast, pressing midfield. Yet they have something greater than any of their other colleagues in Manchester United's midfield at the moment, and that is character. Unlike Carrick, Cleverley, Anderson or Marouane Fellaini, they are players who either have or have had the presence to captain their national sides.

Giggs and Jones have what is known in U.S. sports as "intangibles" -- characteristics that cannot be so easily quantified but which are of crucial importance to a team's success.

On this note, a statistician was recently in contact with the suggestion that it might eventually be possible to measure such things as a player's presence and intimidation factor. Indeed it might. We already examine, for example, the statistics of how often a team wins with or without a particular player in the lineup.

What would be remarkable, one day, is if people could see the sheer importance that experience of adversity brings to a team. Though Jones is only 21, he has already been handed some of the most demanding briefs that a professional footballer will receive: not only his widely respected work against Andres Iniesta and Gareth Bale, but also his regular appearances in his teens for a relegation-threatened Blackburn Rovers.

Jones has endured some of football's grimmer times, and it would be no surprise if he is drawing on some of those memories now. From that perspective, sitting just seven points off the Premier League lead must feel like a Sunday afternoon stroll.

Of course, if we are to speak of experience, then the last word must go to Giggs, who marks his 40th birthday today. He has won, among other things, 13 Premier League titles and two Champions Leagues. During that time, it is not his record of goals per game that has been most impressive, but his ability to deliver when called upon. Hence, for example, his casually dispatched penalty in the 2008 Champions League shootout, which set the tone for his team, or his title-clinching strike at Wigan the same season, which he rolled home with the same authority that Stephen Hendry once addressed the black.

It's unclear how much longer the duo can continue to help Manchester United through some of their tougher fixtures, but for now there's something resolutely old-school about their attitude. Like so much else at Old Trafford in recent years, their glorious sum has now and then proved so much greater than their disparate parts.