Man Utd face firm challenge in Leverkusen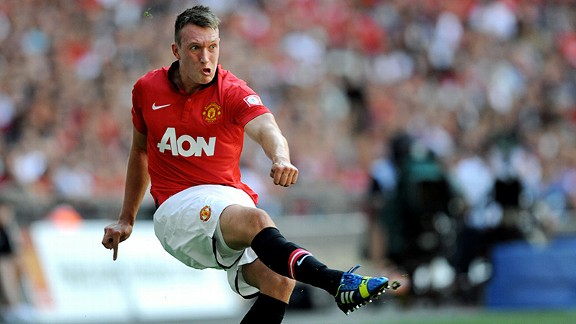 Steve Bardens/Getty ImagesPhil Jones worked well alongside Tom Cleverley in the victory over Fulham.
So the unbeaten run continues. Manchester United have now gone 10 games without defeat, and though they have not always been convincing during that period, they should derive some confidence from a such a solid set of results. Their next opponents, Bayer Leverkusen in the UEFA Champions League, are also in somewhat uneven form, though at their best will represent a very awkward proposition. Of late, they have shown a taste for the big occasion, holding Bayern Munich to a 1-1 draw at home, and it's this kind of performance that has found them second in the Bundesliga.

That league standing will be a surprise to anyone who witnessed the German club's capitulation at Old Trafford in their previous encounter, yet circumstances are a little different now. Then, the away side were carefully unravelled by swift passing through the midfield and overloading them on the left side of the pitch, with Michael Carrick at his most industrious. Now, though, Carrick has suffered a long-feared injury, and neiter of his immediate deputies — Tom Cleverley and Marouane Fellaini (who is suspended for this fixture) are playing in a commanding manner. The concern, then, is that Leverkusen's central midfield, containing Germany international Lars Bender, will constantly overrun that of Manchester United.

The question for Moyes is whether he brings Phil Jones into midfield. Jones and Cleverley played together in one of the team's most impressive passages of play this season, the opening stages against Fulham in the Premier League when they took a three-goal lead in 22 minutes, and though Cleverley's performance was poor on Sunday he is a very good complement for Jones' disruptive talents. Rafael, who has declared himself fit for this match, could usefully return to the side. If he were selected, he would replace Chris Smalling, who has occupied that right-back role with no little diligence but also, it must be said, no little discomfort.

• Lomas: Jens Nowotny interview
• Rodden: Leverkusen steeled for United clash
• Rewind: Leverkusen's drei spell

Robin van Persie, still unfit, will unfortunately not play up front, given that his ruthlessness was particularly missed against Cardiff: There were three second-half opportunities, falling to Danny Welbeck (twice) and Wayne Rooney, that the Dutchman must have been watching with anguish. Since he did not board the flight to Germany, it looks as though Rooney will be joined in the starting lineup by Javier Hernandez, whose finishing makes him a surer bet on the break than Welbeck.

The challenge they will have in forming effective counterattacks will depend on two factors. The first is how well they distribute the ball from the base of midfield. The concern here is that much of the passing in this region has been slow and conservative. The only available midfielder with the playmaking range to solve this problem is Anderson, but waiting for him to find form is about as frustrating an experience as a Manchester United fan can find in his or her recent memory.

The second factor is the flanks. If that passing remains conservative, then it will put pressure on Cleverley to find his runners earlier on the wings. Antonio Valencia, though he had a hand in Rooney's opening goal on Sunday, was otherwise fairly predictable. Adnan Januzaj did not have his best game, trying too often to carry the ball forward from deep, and losing possession. One of his best performances when bringing the ball forward from a similarly deep-lying midfield was in the first half of the Premier League game against Southampton, when he played a series of first-time passes and overlapped well with the full-back, in that case Evra. He may look to revert to similar type on Wednesday night. Given the team's particular need for swift ball circulation, Januzaj may be usefully deployed on the right, with Shinji Kagawa cutting in from the left, both to accompany the midfield two and allow Evra to surge beyond him on the outside.

In attack, Leverkusen will be somewhat shorthanded, having lost Germany international Sidney Sam — who has scored seven goals and provided five assists for his team so far this season. Sam's absence puts more pressure on Son Heung-Min, who has starred in recent matches, and the clinical Stefan Kiesling, who scored their winner in their last game, a 1-0 victory over Hertha Berlin. This represents a dangerous attack, if not an overwhelming one.

Manchester United are two points ahead of Leverkusen in this group, and will be looking to seal top spot; if they keep the home side at bay in Germany, they will then be able to finish business on home turf. Given both Leverkusen's recent form and Moyes' recent caution abroad, a habit which he shares with Sir Alex Ferguson, a score draw seems the likeliest result.