Drawn conclusion frustrates Manchester United
A large photo of Bob Marley and the Wailers hangs beneath the main stand at the Cardiff City stadium.

Marley played Ninian Park, Cardiff's old home which they left in 2009, in 1975. The organisers were expecting a big crowd, but only a couple of hundred showed in an embarrassingly small, rain drenched turnout.

Cardiff's Malaysian owner, Vincent Tan, may endure much derision, but the fan experience at the new Premier League club is a positive one. Images from the club's rich history are everywhere beneath the stands.

Not just positive photos from the modern era either. Cardiff fans have suffered for decades and shots of empty terraces in a grim-looking Ninian Park are not scarce.

The club once had a reputation for hooliganism and being uninviting but's now one of the most welcoming football grounds in Britain, with friendly stewards.

There's a big disconnect between Cardiff fans, who rightly object to their team shirts being changed from blue -- they're the Bluebirds -- to red, yet there are strong local ties that continue.

Minutes before Sunday's game against Manchester United, Alan Cross walked into the centre circle. A club employee with 48 years behind him, he's got a serious illness. The fans were given a chance to say thanks -- and how they did. It was the same at half-time, when a young Cardiff fan who'd recently passed away with leukaemia was applauded.

They may be too maudlin for some, but events such as these are a salutary reminder of the community that is every fan base, as opposed to adverts for official toilet brush partners in Asia.

Cardiff manager Malky Mackay reckoned the atmosphere from the 28,016 crowd against United was only rivalled by that for the derby against Swansea earlier this month. The club plan to expand their home – which they fill to capacity every home game -- by five thousand seats. Six years ago, their attendance was hovering around 12,000.

- Okwonga: Echoes of Southampton for Man United
- Moyes rues set-piece weakness
- Rooney hits out

The Bluebirds who wear red have beaten Manchester City and drawn against United who, though they stretched their unbeaten run to ten ahead of Wednesday's important Champions League game in Leverkusen, dropped another two points to another late set-piece.

It's a surprise, because David Moyes is meticulous about set-pieces. The players will say that they practise them more than under Sir Alex Ferguson and Wayne's Rooney's consistently excellent corners on Sunday bore evidence of that. Where once Rooney used to practise being a goalkeeper after training (and he was good), he now zips in corners and free kicks.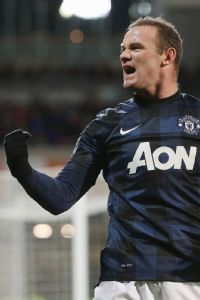 Matthew Peters/Man Utd/Getty ImagesRooney scored one and made another in Cardiff but could also have been sent off.
Indiscretions like kicking out against Jordon Mutch aside, Rooney has been United's best player by a distance this season. While the revolving cast in Moyes' midfield continues to frustrate and not perform to the standards expected at United, Rooney does.

That he has to drop back into midfield to see more of the ball is worrying. Against Cardiff, United's central two of Tom Cleverley and Marouane Fellaini did not impose themselves. Anderson wants more games but he was poor in his last start, a home defeat to West Brom.

Cleverley isn't kicking on from the player who showed so much promise, at Watford among other places where, ironically, Malky Mackay was his manager.

"From the first minute I got him, I could see that he was right, that he had what he takes to be a top player," said Mackay. "Watford became his priority and he went to supporters' evenings.

"Tom's very level-headed, very professional. And he was very harsh on himself when he made a mistake. I told him not to be despondent, but to get on with things."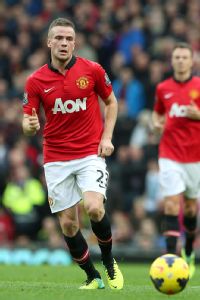 Matthew Peters/Getty ImagesCleverley struggled in midfield at Cardiff.
Cleverley made his Watford debut after just one training session. He made a similarly positive impression at Leicester and Wigan on loan and has a bright future in football, but he needs to up his game if he's to consistently play in central midfield for United.

Fellaini has disappointed since his 27 million pound transfer from Everton. He had a dreadful debut -- especially when compared to Yaya Toure -- in September's Manchester derby and has yet to convince, though the slap in the face he received from Gary Medel was unwarranted.

United's midfield deficiencies are well documented. Ryan Giggs turns 40 on Friday and can still influence matches as he nudges towards an improbable, incredible, one thousand competitive United games.

He was applauded -- and booed -- by Cardiff fans when he took to the field on Sunday in his home city. He told friends he wanted to play in the Premier League in his fifth decade and he will surely achieve that. But one thousand? Will Giggs feature another 47 times for United?

That may depend on who United bring in during the January transfer window or next summer. Since Moyes joined the club, a central midfielder has been looked for with the inglorious consequences played out in public.

Ander Herrera's buy-out clause will rise to 40 million euros next summer but he's not a 40 million euro player. Cesc Fabregas isn't leaving Barcelona while Andres Iniesta, another player who interests United greatly, is likely to sign a new contract and stay at Barca, but not before the current Premier League champions have been used as a negotiating tactic.

United have money to spend and a willingness to splash out, but only on the biggest players in world football. Moyes has done more research into potential signings since the transfer window closed than he did while it was open.

He feels that he still has a huge job to do at United, that's there's much work in front of him. He might be right, but the team who won the league by 11 points in May didn't seem to be a team in crisis.

United won't be winning the league by a double-digit margin this season. Although gradually improving, they're fourth favourites to win the league and remain sixth after Cardiff's 91st minute equaliser.

And when that leveller came, all but the 2700 travelling United fans stood up, singing "Three Little Birds" by Bob Marley.

"Don't worry about a thing," they hollered. "Because every little thing's gonna be alright."