In conversation with Bill Foulkes
On several occasions, I had the pleasure of interviewing Bill Foulkes, the former Manchester United defender, who has died at the age of 81.

Foulkes made 688 appearances for the club between 1952 and 1970, more than anyone else except Ryan Giggs, Sir Bobby Charlton and Paul Scholes.

Fifty-two of those games were in European competition and, in one conversation, he described some of his more memorable -- if not always for the results -- continental trips.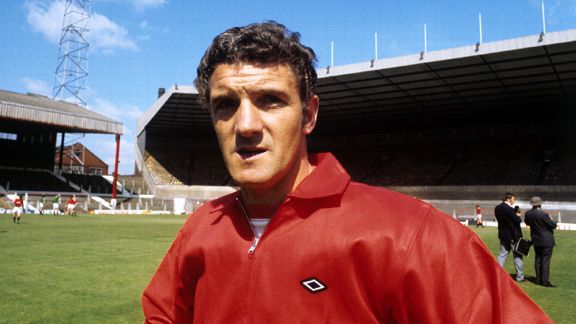 EmpicsBill Foulkes played 688 times for Manchester United.
Athletic Bilbao (January 1957)

"I loved flying up until [the Munich air disaster]. Nothing bothered me, and the plane could have flown upside down for all I cared. We flew to Bilbao in an old Dakota and the temperature on board was freezing.

"I had fallen asleep with my foot on the lever which controlled the heat. It was so cold that the chairman Harold Hardman had to be rushed to hospital in Spain suffering from hypothermia. He missed the game and the flight home because of me. The flight was bumpy and the cloud was so thick that the pilot couldn't find the runway. He asked us if we could see it.

"My impression of Spain being all sun and sand were based entirely on holiday posters at railway stations, so I was surprised that it was freezing with snow on the ground. It was our first season in Europe and we were unbeaten until Bilbao gave us a real going over in front of 60,000.

"The pitch wasn't good, it was covered in slush and mud and it got worse as the game continued. Bilbao had the best centre-half I'd ever seen: Jesus Garay. He was so good that he kept Tommy Taylor quiet for most of the game, and I'd never seen anybody do that.

"The Basques were quicker and much fitter than us but, although we lost 5-3, Matt Busby instilled in us a confidence that made us think we could still handle them back in Manchester.

"He was right [United went on to win the tie 6-5 on aggregate], but first we had to get back. There had been a snowstorm and players had to brush the wings clean of snow so that we could take off.

"The flight home was awful and we had a terrifying landing when we refuelled at Jersey, which saw some of the lads turn green. I was not bothered one bit; I thought it was exciting and I still loved flying at that time."

Red Star Belgrade (February 1958)

"We were of the opinion that Red Star were the best team in Europe when we flew to Belgrade for the second leg of the European Cup quarterfinal. We had won the first game 2-1 and were soon 3-0 up and playing really well, despite the hostile crowd. The referee gave them a penalty, which brought them back into the game and it finished 3-3.

"It was very cold in Belgrade, there was snow on the pitch and people were ice skating near our hotel. The club took an enormous stock of tinned food because we'd had a bad experience in Prague in the previous round.

"There was no need for it though because, despite the poverty and hardship that I saw, we were looked after. Our hotel was a very opulent, state-run place run for foreigners, and after the game they held a great party for us.

"Despite their disappointment, our hosts laid on a marvellous dinner which was followed by speeches, Yugoslavia's leading violinists and a few drinks. After that, the people from the British embassy took us to their homes for more drinks. It was the night before the crash.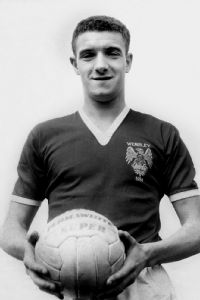 (Press Association/AP ImagesFoulkes made his Man United debut in December 1952.
"We would have won the European Cup if it wasn't for the crash, no doubt about it. I still think about the crash every day. Little things trigger it.

"If I'm on a train and it brakes, then I think about it. If I meet someone called Duncan or hear the word Dudley then that will trigger the thoughts about Duncan Edwards.

"I'll never forget."

Gornik Zabrze (March 1968)

"On the way to [winning the 1968 European Cup], we played the Polish champions, who had beaten Dinamo Kiev – who themselves had knocked out holders Celtic -- in the previous round.

"We won 2-0 at Old Trafford but I missed the game because I had been out since December with a torn knee ligament. I had begun to train again and [Busby] asked me to travel to Poland for the second leg.

"The hotel was terrible, the food was terrible and there was poverty everywhere. The match was switched from Gornik, a mining town, to a bigger stadium in Katowice and 200,000 Poles applied for tickets: only 105,000 were successful!

"Matt told me that I looked great but I didn't feel it. The pitch was icy, with a little dusting of snow on top and the game should never have been played. I told Matt that I couldn't play. He didn't like it and didn't speak to me for a couple of weeks after that. The lads defended well and a 1-0 defeat meant we were through to the semifinals.

"On another trip to Eastern Europe, we travelled to East Berlin to play the army team ASK Vorwaerts. We flew to West Berlin and went through Checkpoint Charlie. Paddy Crerand filled his name out as 'James Bond' and the customs police were not impressed! They kept us waiting for four hours.

"The East Berliners asked us for chocolate, which we gave them, and when we next played behind the Iron Curtain we took it over as gifts."

Real Madrid (May 1968)

"I still had ligament problems that had kept me out of the game in Poland but I had played a couple of games and started in the Bernabeu. Half-time came and we were 3-1 down and they had run all over us.

"I thought Matt would take me off but he told us that technically we were only a goal behind because we had won the first leg [1-0 at Old Trafford]. He said that it was now or never for him and for one or two other lads, who were over the hill, including me [Foulkes was 36 at the time].

"That lifted us. We went at Madrid and they made the mistake of showboating, thinking that they had won the tie. David Sadler made it 3-2 with 20 minutes to play. Four minutes later, the stadium went quiet.

"Unusually, I jogged down the middle of the field and nobody picked me up. One of their players saw me and left George [Best] to mark me. George got the ball, beat about six players as George did, then looked up to make the cross.

"I knew what he was going to do and he cut a beautiful pass back which I side-footed in. But for a few away fans lost in the huge crowd, there was near-silence. It was so quiet that my first thought was that it wasn't a goal, then all I could hear was the screams of the other lads who came running over and jumped on me!

"I scored nine goals in nearly 700 games so I was hardly prolific, but that was the most important one by a long way. We were through to the final [United went on to beat Benfica, 4-1, and become the first English club to win the European Cup]."