Man United hear echoes of Southampton draw as Cardiff score late on
Manchester United's 2-2 draw in Cardiff means that the Welsh side have taken four points off both Manchester teams at home this season. What's more, it's a result that dishonestly suggests a game of high excitement, but which for long periods was as flat as a pint of Doom Bar ale. The match, which marked Manchester United's 10th consecutive game without defeat, was not without incident; those incidents were just short, bright bursts of activity, surrounded by stretches of torpor.

Football is often a game whose characters are either heroes or villains, and Wayne Rooney chose this afternoon to play both sides of the aisle. Many argued that he should have been dismissed for his kick on Jordon Mutch after only eight minutes, and inevitably it was only a little later that he put his team into the lead, swivelling onto a Antonio Valencia cross, delivered to him via a Javier Hernandez backheel, and trashing home a deflected shot.

- Brewin: Three Things - Cardiff vs. Man United

The problem with playing Cardiff away, though, is that they're pretty resilient, due in no small measure to their summer midfield signing of Gary Medel. Manchester United have had their problems with assertiveness in the middle of the park for some seasons now, and though Tom Cleverley was very spirited here -- he won the ball back, according to Opta, as much as anyone else on the field -- he was often caught out of position. His partner Marouane Fellaini, whose performance was substantially better than in recent weeks, was also too far from his centre-backs on several occasions. This failing led to Cardiff's equaliser, the Old Trafford old boy Fraizer Campbell sprinting in behind Jonny Evans and placing a shot across David de Gea.

Patrice Evra is a player who has had perhaps most to lose through David Moyes' arrival, with the Everton left-back Leighton Baines often mooted as his replacement, yet as ever the Frenchman has responded with vigour to a challenge. Here, on the verge of halftime, he rose highest to meet a Rooney corner. Leading 2-1 at the interval, Manchester United might have been expected to close out the game, and move to within five points behind Arsenal.

But, but, but. This performance was slightly, yet crucially, more lethargic than United might have produced last season, and it is by such margins that league titles, let alone UEFA Champions League places, are won and lost. Danny Welbeck squandered two opportunities that a forward of his reputation should have dispatched, and then Manchester United's midfield failed to impose any sort of tempo on the home side, drifting farther and farther toward their own lines.

Finally, the pressure told. Chris Smalling gave away a free kick on the right flank, and Kim Bo-Kyung made his way past a curiously static Evra to score the latest of equalisers in added time. In this sense, the game was very similar to that against Southampton at Old Trafford, when Moyes' team led by a single goal for a long period before being forced backward and conceding from a set piece.

Losing late goals, after so many years of scoring them, is a peculiarly sharp taste of Manchester United's own medicine, yet even now they had a chance to win the match: Ryan Giggs, brought on as a substitute in the city of his birth, played a fine long ball to Rooney, who though through on goal, chose instead to square the ball to Welbeck. The moment passed, and Arsenal edged further ahead at the top of the league table.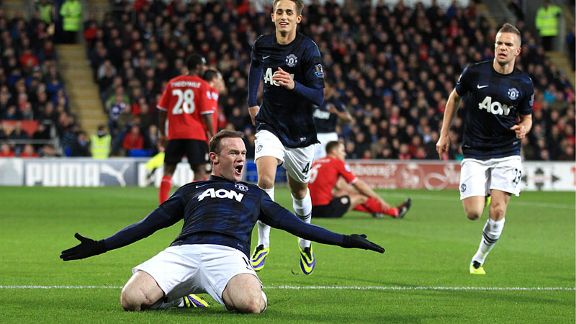 AllsportWayne Rooney celebrates his opener but he should have scored a winner too.
On balance, this must be viewed as a fair result, if a somewhat disappointing one from Manchester United's perspective. They have failed to dominate midfield for some time now, and the absence of Michael Carrick has served to illustrate their need for an orchestrator in that area. In fairness to Moyes, he does not have much to work with in this area, even if the early form of Fellaini has been somewhat underwhelming thus far.

In that sense, the January transfer window cannot come soon enough. For now, the Old Trafford club must look ahead to an encounter with the wounded pride of Tottenham Hotspur next week, who are looking to make amends for their 6-0 humiliation at Manchester City.

Moyes and his squad, as they journey home, must mull over the uncomfortable deja vu of the late, late goal; a sight of whose irony Sir Alex Ferguson, watching from the stands, would have been all too aware.