What can the World Cup do for United?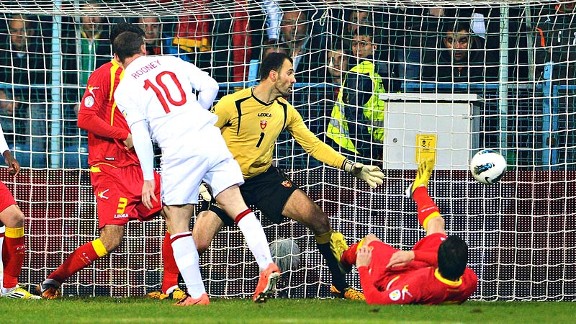 Michael Regan/Getty ImagesWayne Rooney, shown in England's 1-1 draw with Montenegro, has a history of improving his goal return as the World Cup approaches.
Supporters of Manchester United have always had an edgy relationship with the national team. With a World Cup in Brazil looming at the end of the season, the influence of international football on United's players is bigger than ever. Can United use it to their advantage?

The new film "Class of '92" uncovers only one area of true resentment from the band of brothers who made up the core of Manchester United's most glorious era. That area was the treatment United players received as a result of their exploits on England duty. Both David Beckham and Phil Neville were crucified for not delivering the nation's craving for glory at successive tournaments around the millennium. Playing for England, in particular, can often be a thankless task.

Several members of United's current squad are on the fringes of their national teams and will be trying to play themselves into contention for a place in the finals. Perhaps most optimistically, Anderson has given a wide-ranging interview with the Manchester Evening News stating his intention to compete for a place at United.

"I just have to wait for the moment, and when it comes for me, then I have to take that opportunity," he said.

There are those who might reply the supporters have been waiting six years for that "moment" to arrive. He has had about two good performances for the club.

Forcing his way into a Brazilian midfield that contains some of the planet's most sumptuous footballers is surely a bridge too far. But Anderson is a talented player, and if this is the right motivation for him, so be it.

"I have a chance," he said. "If I get opportunities to play for United, then I think I could have an opportunity to play for Brazil in the World Cup."

Michael Carrick is currently injured, and Anderson's chance is upon him. The Englishman himself is by no means a certainty for the national team, and it is hoped his status as an outsider will inspire performances in the red of United. If truth be told, Carrick has not been at his best this season. A close eye will be kept on him when he returns from injury.

There are other players on the edge of their national squads, most obviously Phil Jones and Chris Smalling. There is no better time than now for them to stake a claim for being of international quality. Rio Ferdinand and Nemanja Vidic have waned significantly of late. This is their moment.

Shinji Kagawa is a genuine superstar for Japan and will be picked anyway. But he will want games under his belt to be sharp for the tournament in Brazil. The subject of his inclusion or non-inclusion in United's side is such a favourite at the moment that no result will ever satisfy. Other than against Norwich at Old Trafford last season, Kagawa is yet to produce his best football for United.

An article last month identified a clear improvement in Wayne Rooney's goal return when a World Cup looms. The players know what is coming, and the prize of playing in Brazil in enormous. It will have an effect on performances.

For Manchester United, if the mentioned personnel can play at peak levels for the next nine months, prospects will be brighter. Anderson, Jones and Smalling all have some convincing left to do. If they can win over the Old Trafford faithful, they might just be headed to the Copacabana next summer too.

Mark Payne is the author of "Fergie's Last Stand," available on Amazon Kindle. Follow him on Twitter @MarkJPayne.