This may be Anderson's time to step up, or to step out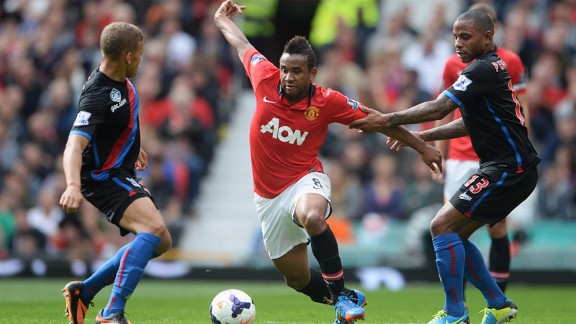 GettyImagesAnderson got the nod from David Moyes but did little to reward his manager's faith against Crystal Palace.
So just when it looked as if David Moyes' in-tray was looking slightly less busy, that good old injury list got one name longer. Phil Jones went off against Chile, missed the game against Germany, and now looks as if he will miss Manchester United's next two matches, against Cardiff and Bayer Leverkusen. Michael Carrick is out with an injury to his Achilles tendon, Marouane Fellaini is suspended for one of those games, Darren Fletcher is still making his comeback, which leaves Tom Cleverley, Ryan Giggs -- oh, and Anderson.

Oh, Anderson. What a player. In a parallel universe, the Brazilian midfielder is a Ballon d'Or candidate, as crucial to his team's trophy hopes as Franck Ribery is to those of Bayern Munich. He's clattering the crossbar from outside the box, he's thrashing cross-field passes to either flank, he's surging past his opposite man in the tightest of spaces.

-De Gea hopes to keep improving

Sadly, though, we're not in that universe: we're in this one, where the one-time winner of the award for the world's best young player is an eternal substitute. As Brazil prepare to host the World Cup, his name has long since fallen from national consideration, having last played for the Selecao in 2008. There's something a little sad about this: after all, while Carrick may be Manchester United's best midfielder, Anderson is their most gifted.

How did this happen? Well, injuries have played their part, afflicting the former Porto and Gremio player whenever he began a promising run of form. As he said to the Manchester Evening News in August, "it's not just the fans who've been frustrated, I've been frustrated. I never asked to be injured, I don't want to be injured. I want to play every week for Manchester United, I love being here. "My first years here were good then I got bad injuries. Last season I was doing good for six games, then I started to feel my knee. I felt the pain but I kept playing because I wanted to help my team, but then I had to stop playing. I felt like I was making a step forward and two back. Just when I think everything is fine I get an injury."

Anderson's attitude has been questioned a great deal over the years, often by his closest observers within the club: his liking for excessive cholesterol and late nights are well noted, and much mocked. One wonders how much of this behaviour is down to disillusionment at how things have worked out, or just poor professionalism. The suspicion is that it is a bit of both. It's remarkable that, if he is indeed a poor trainer as reputed, that he has survived so long at a club where the collective work ethic is so intense. Looking at his highlight archives over the years, too, the story is one of endlessly unfulfilled promise.

For Anderson finally to come good, David Moyes would have to succeed where Sir Alex Ferguson had largely failed, and get him to full fitness and perform on a regular basis. This seems, on the latest reports, to be a feat beyond either of these Scotsmen, with rumours that a move to Fulham is in the offing.

If so, Anderson can look back at a career at Old Trafford where he lifted four Premier League titles and a Champions League medal, yet still somehow underachieved. It is a measure of his extraordinary talents that, even with a well-stocked trophy cabinet, his time at Manchester United would have ultimately have been a disappointment. For those not quite ready to believe that he will not come good, the next few matches provide the perfect platform to do so.