Paul Scholes, and an unlikely tribute to him
Paul Scholes turned 39 the other day. The Internet was predictably awash with tributes, mostly the same few quotes from Xavi, Zinedine Zidane and others about his greatness. However, perhaps the most powerful testament to Scholes' unique gifts could be found in England's 2-0 loss to Chile on Friday.

In that friendly defeat, on a reasonably mild winter night at Wembley, England's lack of a deep-lying playmaker was plain for all to see. After the opening 15 minutes, in which England threatened on three or four occasions, Chile settled into a comfortable counterattacking posture and picked off the hosts with two fine goals from Barcelona's Alexis Sanchez.

Here is where a player like Scholes would have been particularly useful. The pass that gave Chile the most disquiet all evening was a diagonal ball from Wayne Rooney between the centre-back and the left-back, which opened up the flank for James Milner. Yet Chile soon closed the gap in front of their back four, meaning that Rooney had less space in which to work, and also that whenever Jack Wilshere ran forward with the ball, he found himself stuck in the same traffic.

Frank Lampard, earning his 100th cap for England, was left anchoring the midfield. Unfortunately, though he is capable of very good long-range passing -- witness his cross-field ball that led to Didier Drogba's goal in the 2012 UEFA Champions League, at home to Barcelona -- it is not his second nature, and most of his distribution that evening was very conservative. In his later years, as did Scholes, Steven Gerrard has settled much better into this deep-lying position, with increasingly impressive results.

Of course, the best English exponent of this role, though he is a rung below Xabi Alonso and Sergio Busquets, is still Michael Carrick. Every club should have an option like him: a player who can calmly take the ball from his back four and play it sharply through midfield, angling it wide whenever needed. This was Scholes' hallmark, yet not a quality that is revered as much as the box-to-box ethos.

If imitation is the sincerest form of flattery, then Scholes' most fitting legacy would be to have a generation of young footballers who seek to play the game as he did towards the end of his career: dropping deep to fetch then dispatch the ball, using their vision to stretch the play as swiftly as possible.

Scholes was a player whom England managers, with the exception of Glenn Hoddle -- himself mostly misunderstood by his national coaches -- found something of a confusing proposition. Here, after all, was a footballer who could score goals from close range, bursting into the area with the instincts of Gary Lineker; who could strike from distance with the fury of Bobby Charlton; and who could caress the ball out to either wing with the accuracy of Andrea Pirlo. The charitable view of this period is that Sven Goran-Eriksson and co simply didn't know what to do with him.

To those who knew his worth, he will always be the rarest of talents; essentially, he had the skill set of Barcelona's Xavi, but with a wider passing range and a more powerful shot. You almost wonder what kind of international career he would have had, had he been born Spanish.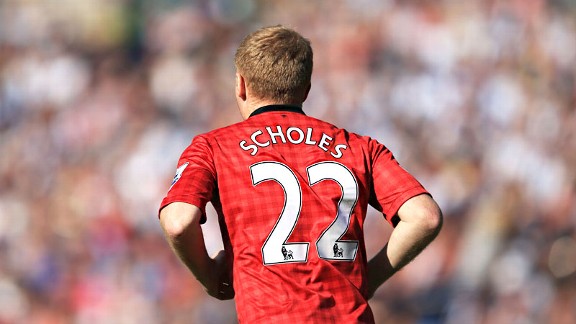 Richard Heathcote/Getty Images
All in all, though, the quiet genius from Salford didn't have too bad a time of it; among the medals stuffed away in his shoebox, he has eleven Premier League titles, three FA Cups and two UEFA Champions Leagues. Not a bad haul, and, if his showing in the new Manchester United film is anything to go by, he may have a new career as the best cameo football star since Eric Cantona.

For all the tributes offered to Scholes, though, none are better than the compilations of his own work, which -- unlike the man -- speaks loudly for itself. Here follows one of the very best of them; sit back and enjoy.