Manchester United and the not-quite crisis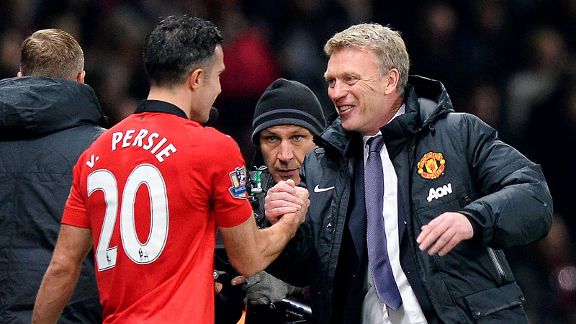 PAUL ELLIS/AFP/Getty ImagesDespite the supposed early-season turmoil, David Moyes has Robin van Persie and Manchester United right in the thick of all competitions.
Eleven games into the Premier League season, and this is looking like an odd kind of crisis for Manchester United. They are just five points off the lead, ahead of Manchester City, and they have just defeated Arsenal, the division's form team.

In the other cup competitions, things are looking equally positive, if not more so. They are unbeaten in the UEFA Champions League and top of their group after four games; they have also made their way through two rounds of the Capital One Cup. Robin van Persie is looking happy again. Patrice Evra has yet again swaggered off any doubts about his place in the first team.

- Payne: Carrick injury leaves Utd short of composure
- Smith: Revenue rises, but not all rosy

This is an odd kind of crisis: where a single-goal league defeat at home to West Bromwich Albion is viewed as a disaster, or at least until a dubious penalty award denies Jose Mourinho's Chelsea the same fate. It's an odd kind of crisis, where a spectacular save from David De Gea is the only thing that prevents Manchester United's probable demise away at Sunderland, and the team then goes on to be rescued in magnificent fashion by Adnan Januzaj. In other words -- it's not really a crisis at all.

Manchester City, after all, have succumbed at the Stadium of Light, as well as being outfought and outplayed by Cardiff on their travels. Heck, even Tottenham Hotspur, despite investing in 100 million pounds' worth of talent over the summer, have lost in the league at home to Newcastle and West Ham United, failing to score on either occasion.

But wait -- look -- there's further horror in store at Old Trafford, isn't there, given the injury to Michael Carrick, the club's best midfielder? Well, actually, no. Because Carrick -- identified in Sir Alex Ferguson's recent autobiography as someone who takes several months of a season to find his best form -- has been some way below his best in recent weeks. What's more, just as he was enduring this scheduled dip in performance, Phil Jones turned up with a couple of impressive showings to put minds at ease.

There's something resilient about this team in recent weeks, which is reminiscent of some of Ferguson's final year in charge. Then, as now, victories were dragged back from the brink after long periods of poor play -- for Stoke at home this season, read Aston Villa away last season, another match in which the current champions overturned a deficit to win by three goals to two.

It's past time to simply criticise the top few teams in the Premier League and instead give abundant credit to those sides who have fewer resources but are being coached as well as any in the division. Southampton are the obvious standout, with Mauricio Pochettino confounding all expectations save perhaps his own, readily followed by Steve Clarke's West Bromwich Albion. It is notable that perhaps Manchester United's most impressive half this season came against Southampton, whose excellent defence they troubled like almost no other team this season.

Manchester United, then, owe a great deal to the Premier League's middle tier, who have ensured that several of the top sides have experienced an unexpectedly uneven start to the season. Having weathered much of their early turbulence, the Old Trafford club can begin to look forward to the rest of an exciting season, and one whose title race they won't merely be watching from the pit lane.