Carrick injury leaves Man Utd short of composure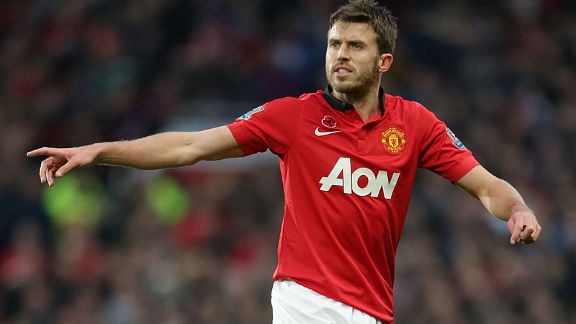 GettyImagesMichael Carrick has completed 674 passes in the Premier League this term.
It is a tribute to his tireless work ethic and unfussy dedication that Michael Carrick has emerged as the pre-eminent member of Manchester United's midfield. The days of simply being "not Roy Keane" have given way to an appreciation of what Carrick brings to the team. As Manchester United face an extended period without their lynchpin, an analysis of the understudies leaves cause for concern.

As confirmation emerged that Carrick's inflamed Achilles tendon would keep him out of England's friendlies against Chile and Germany and then beyond in a six-week layoff, United manager David Moyes was left scratching his chin. United have recovered from a slow start to go nine games unbeaten, and Carrick has been key.

This is a World Cup year and nobody wants to aggravate what has been described as "a persistent injury." A badly handled Achilles injury can be the end of a player's career -- see Neil Webb's demise from England anchor to postman for further evidence -- so it's very likely Carrick will not be rushed back.

- Carrick out until Christmas
- Jolly: Fellaini's future uncertain

In Sir Alex Ferguson's final season in charge at United, he picked no other player on more occasions than Carrick. His 42 appearances were matched only by the left-back Patrice Evra. Moyes has continued this trend, and Carrick and Evra again top the starts list for outfield players this year.

This is confirmation not only of Carrick's importance, but also his versatility. His strengths are his distribution and passing. But nowadays, he is often the oldest player on the pitch and brings with him the composure that a few Premier League title wins and a Champions League medal bring with them. He is somebody the younger players look to when the going gets tough.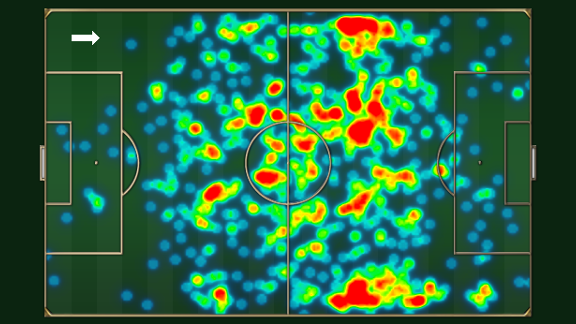 Other / ESPN StatsMichael Carrick's passing heat map for this Premier League season.
Those in the frame to replace the Geordie over the coming weeks all tender something to United's midfield, but not in the same manner as Carrick. Tom Cleverley offers an energetic presence, but he is often very safe with his passing and is prone to bouts of anonymity.

It seems likely that Anderson will be given his annual chance to impress over the next few weeks. This usually includes an impressive 45 minutes against mid-ranking opposition before a nose dive into shambolic mediocrity. If that sounds cynical, please reference the past six years of his career. "Better than Wayne Rooney," said Fergie's brother Martin when the Brazilian was at Porto. I think not.

So new signing Marouane Fellaini has a chance to shine here. His United career thus far has been characterised by some shaky performances as he finds his feet in new surroundings. What he desperately needs is the confidence a run in the side would give him. Perhaps the extra freedom in midfield presented by Carrick's absence will be the making of him.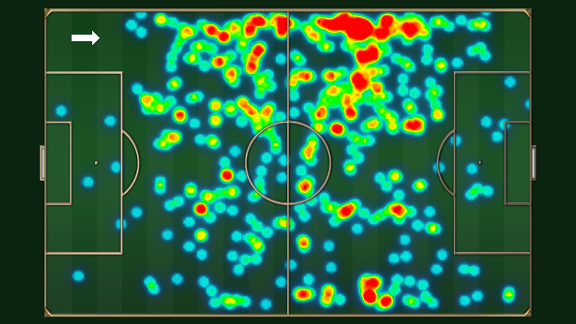 Other / ESPN StatsMarouane Fellaini's passing heat map for this Premier League season.
On the evidence of recent weeks, the solution to Carrick's absence may be even simpler. Ryan Giggs has delivered two exceptional performances in midfield over the past month and also brings the composure Carrick has; more, even. Phil Jones was of course superb during the first half against Arsenal and is considered talented enough to play anywhere on the pitch. Although he has stated a preference for being a centre-half, there are many who adjudge him to be more effective further up the pitch.

United aren't the only team missing a key player at the moment. Barcelona have to find a way to do without Leo Messi, and Manchester City will be without their captain and icon Vincent Kompany for a similar period of time. Carrick's loss is a big one, but perhaps not as big as the challenges facing those two clubs.

One thing seems certain, after the hullabaloo this summer, Rooney will not be asked to pitch in further back. One thing David Moyes has got unquestionably right is his handling of Rooney, whose form has been the catalyst for their recent run of results.

As for large patches of last season, what United lack in midfield and defence, they will need to make up for in attack. The next month sees the champions travel to Bayer Leverkusen and Tottenham followed by matches against Everton and Newcastle, fixtures that have a large say in the trajectory of their season. By the time Carrick's Achilles heals, United's destiny in the league and in Europe will be a lot clearer.