Van Persie brings Arsenal back to earth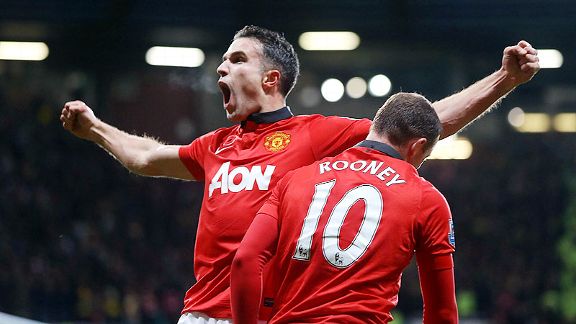 Tom Purslow/Man Utd via Getty ImagesRobin van Persie scored against his old side to help Manchester United beat Arsenal 1-0 at Old Trafford and close the gap on the league leaders to five points.
Manchester United survived a second-half onslaught to beat Arsenal 1-0 Sunday and make the statement their fans had been waiting for. David Moyes' team are still in the title race, and they mean business. There is still a long way to go, but the Old Trafford club are climbing the table and improving with every match. No wonder Moyes has started smiling.

This was a terrific opportunity for United to make some headway in the table with Tottenham, Chelsea and Manchester City all dropping points before kickoff. Seeing that Sunderland had just beaten City before the players took the field can only have been a tremendous fillip.

-Brewin: Three things from United victory
-Moyes: RvP made right choice

United made three attacking crosses in the first 90 seconds, and there was no secret about their game plan. Arsenal were adjudged to be weak at centre-half, and that is the area United targeted.

The home side enjoyed a good opening period, of lots of possession without making any gilt-edged chances. The first real attempt on goal was a deflected, bobbling shot from 20 yards by Wayne Rooney. In opposition, Arsenal offered up little in a cagey opening salvo. Then United won a corner around the half-hour mark.

Robin van Persie met Rooney's delivery at the near post and directed his header in at the far one. He ran from the back of the box to collect the delivery in something that could have been taken from the textbook on corners. His work is the template for forward play around the world. United's lead was just about deserved.

Until that point, the game was like two knife fighters circling each other, neither willing to lunge forward for fear of leaving himself exposed. Forced to respond, Arsenal piled forward but their passing machine was not allowed to gather momentum, with Phil Jones breaking up moves on several occasions.

United weathered the storm and pushed forward again, mainly down the flanks. They are still lacking coherence and sharpness, with lots of neat touches missing their targets marginally. If the day comes when Shinji Kagawa and Rooney start to anticipate each other's movement, it will be breathtaking. But they are not there yet.

There was a very decent shout for a penalty, as Rooney was bundled off the ball in the 39th minute. The physical contact from Olivier Giroud was so complete that it knocked him over, too, a full-body charge if you like.

Jones clattered into Wojciech Szczesny soon afterward, and that didn't improve the sense of bonhomie between the sides much. Thanks to a tackle by Mathieu Flamini on Jonny Evans a minute later, two yellow cards were shown as the first half ended. It wasn't quite Martin Keown and Ruud van Nistelrooy circa 2002, but it wasn't friendly, either. This fixture matters again.

The worst-looking injury occurred when Nemanja Vidic's head collided with David de Gea's hip as the United goalkeeper punched out a ball and hit the deck. Vidic was seen spitting blood shortly afterward. The captain did not emerge for the second half.

United were forced to reshuffle, with Jones dropping back to centre back and Tom Cleverley coming on in midfield. That there was no place on the bench for Rio Ferdinand had raised eyebrows before kickoff. Those eyebrows rose again.

Mezut Ozil barely had a touch of the ball in the first half. Without Jones keeping him company after halftime, he became more of a presence in the match, as did Arsenal. The game took a different shape with attacks swinging in both directions. Rooney went close with his left foot, Ozil with his right.

Arsenal's possession and chances grew as the match wore on. They were really knocking on the door after 70 minutes. United refused to be cowed, though -- when they pushed forward, they looked just as likely to grab the goal that would settle the game. Arsenal's defence never really knew where Kagawa was all afternoon.

But the visitors were getting closer and closer, despite the fact Arsenal manager Arsene Wenger threw on Nicklas Bendtner in an attempt to win. Moyes brought on Ryan Giggs and Marouane Fellaini with the intention on closing down the shop. If it had backfired, he would have been reviled.

How Bendtner didn't score when the ball fell for him in the 6-yard box on 91 minutes defies logic. Arsenal fans were left to ruminate on how different things could have been if they still had van Persie in their ranks. The Dutchman was the difference in this fixture once again.

Mark Payne is the author of "Fergie's Last Stand," available on Amazon Kindle.

Follow him on Twitter @markjpayne.