United pressing key to upsetting Arsenal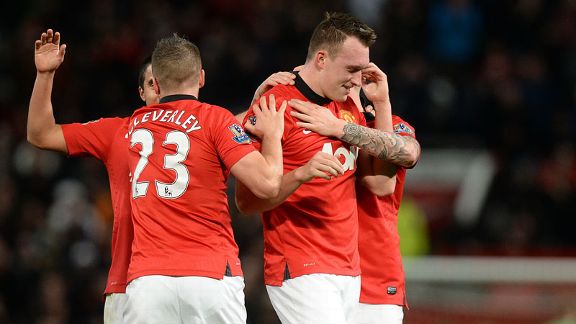 PA PhotosPhil Jones could be called into action in midfield.
Ah, how times change. This time last season, when Manchester United welcomed Arsenal to Old Trafford, they may as well have been a wolf inviting a lamb to dinner. The season before that, United eviscerated the Londoners 8-2 (this, incidentally, is a match DVD that Ashley Young should watch every morning before training, to remind him of his best). Prior to that, in a preseason move of rare brilliance, United had acquired none other than Arsenal's Robin van Persie, who when fully fit was the closest thing the Premier League had to the Ring of Power (from "The Lord of the Rings").

Now, though, Manchester United somewhat resemble the Ring of Power after a lava bath in Mount Doom. Sir Alex Ferguson has gone; David Moyes has made a faltering start as his fellow Scot's successor; Arsenal have all the swagger of the newly crowned Aragorn.

Just look at the difference. This time last year, Arsenal came to Old Trafford in an unhappy state. The Gunners had one of the unhappiest left flanks in top-flight football, with Lukas Podolski reluctant to stay wide and protect full-back Andre Santos (who really needed protecting). They had Aaron Ramsey in a miserably functional role on the right wing. Good grief, they even had Olivier Giroud forlornly chasing the ball into the channels. They conceded after five minutes, Van Persie benefiting from a Thomas Vermaelen daydream, and softly succumbed 2-1.

This time, though, Arsenal, in the words of Radiohead's "Pyramid Song," have "nothing to fear, nothing to doubt." They are five points clear in the Premier League and have just outsmarted Borussia Dortmund, last season's UEFA Champions League finalists, away from home. They even have, in the form of Mesut Ozil, a Ring of Power of their own. What can Manchester United do against such a force?

Well, here's the thing. It must be whispered cautiously, but the home team's results have stabilised somewhat. They have just completed their eighth match unbeaten, a sequence which admittedly did not feature many of the game's Goliaths, but which represents progress all the same. What's more, they have begun to score goals again: United are tied for third most in the division, with 17. Their 0-0 Champions League draw Tuesday night with Real Sociedad in San Sebastian is not an evening that Van Persie or Javier Hernandez will remember with great fondness, but both strikers are enjoying better fortunes in the Premier League. The Dutchman, in particular, looks happier with each passing week.

These positives, though, still represent something of a smokescreen. United have conceded 13 goals, which gives them the sixth-worst defensive record in the Premier League. In a division where goal difference is king, they are currently paupers, with only plus-4 compared to Arsenal's plus-11 and Manchester City's plus-17. What, then, is United's best hope of victory on Sunday?

Looking at both team's recent games, the priority must be to press in the middle of the pitch, and then keep the ball out of it. Manchester United, thanks to the resurgence of Patrice Evra and the emergence of Adnan Januzaj, are again looking potent in wide areas. Nani, though inconsistent as ever, has shone in the past against Arsenal and can combine well with Rafael down the right flank.

The requirement to press, unfortunately, may rule out Marouane Fellaini at this point. Although he's a powerful presence, he has shown a slowness to the ball in recent matches. If Michael Carrick is still ailing, then Moyes may find it profitable to proceed with a midfield of Phil Jones and Tom Cleverley. They might offer the blend of urgency and aggression needed to disrupt Arsenal's passing in midfield, which so far this season has had the intricacy of a cat's cradle. Ahead of these two, if it is indeed they who start, Wayne Rooney must be sure to make regular runs behind Mikel Arteta. Though the England forward's statistics have been impressive this season, he has often played almost level with Van Persie, exposing his midfield. Perhaps these are Moyes' instructions; in any event, though, everyone would benefit if Rooney dropped deeper and stopped Arsenal from building so many attacks in front of their back four.

If Moyes is feeling particularly brave, he will include Shinji Kagawa ahead of Nani or Antonio Valencia. Kagawa's movement and distribution have been key to many of his team's best passages of play in recent matches, and he would add the type of complexity to United's attack that could give Arsenal's defence rare difficulty.

For the first time in a couple of years, Arsenal will enter this matchup as favourites; yet given United's struggles against other top teams this year, Moyes will relish the opportunity to prove he can outcoach the very best. It's one of those games where bragging rights will be at stake, so it's difficult to see anything other than a single-goal victory by either side. For Manchester United to produce that, though, they must deliver their best performance of the season.