Karma in play as United held in goalless draw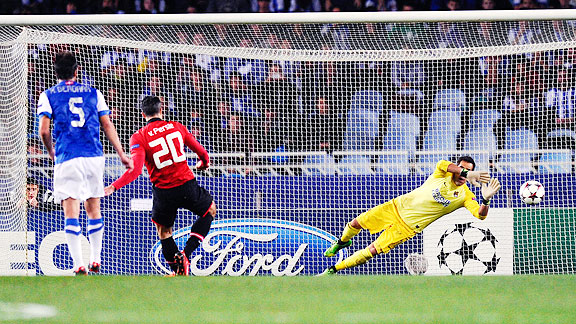 David Ramos/Getty ImagesRobin van Persie was unable to convert from the penalty spot in Man United's 0-0 draw in San Sebastian versus Real Sociedad.
Real Sociedad 0, Manchester United 0. Following this result, United's place at the top of their UEFA Champions League group remains unchanged. With just two match days left in Group A, United sit atop with eight points and can seal a spot in the knockout round with a win against Bayer Leverkusen.

- Report: Real Sociedad 0-0 Man United

In tune with this theme, three other things remain unchanged: specifically, the opinion of many Manchester United fans on the best position of Shinji Kagawa, the opinion of those same fans on the success thus far of Marouane Fellaini, and the battering from gravity taken by Ashley Young.

Let us begin with Young. If he maintains his reputation of recent years, he will end up as the most famous faller since Newton's apple. His penalty-box collapse under the lightest contact with 20 minutes to go gave Robin van Persie a penalty kick and a chance to put his team ahead. However, the Dutchman, possibly playing an unwitting role in some grand karmic drama, crashed the ball against Claudio Bravo's left-hand post and it rebounded away to safety.

Van Persie, who was a substitute for Wayne Rooney, had already hit outside the same post with his first touch, an effort with his right foot; if he was in slightly sharper form, he would have scored. The provider of the pass was Young again, but this time using less dubious means; his swift cross against the face of the box came after he had been released by Kagawa.

Kagawa, in turn, had been released himself; as if in some belated acknowledgement of Twitter's #FreeShinji campaign, David Moyes brought Kagawa in from his starting position on the left wing (from which the Japan international had, in truth, regularly been playing truant) to be his team's No. 10. Kagawa was evidently even happier to be there than his many supporters and immediately drove his team forward.

It is notable that United looked most dangerous for the 10 minutes or so after he assumed that role, a crescendo of pressure ending with van Persie's narrow failure from the spot. The striker's miss absolved many Manchester United fans of the spiritual quandary that would doubtless have been the result of a profit from diving.

Behind Kagawa in midfield, one of his colleagues was enduring a difficult night. Ryan Giggs was significantly the elder of the midfield duo, but at times it seemed that Marouane Fellaini, despite a positive start to the game, was struggling far more for mobility. Fellaini has several assets, but speed is not one of them. His gifts lie in his aerial ability and his efficient passing from deep. Unfortunately, though, he still appears too nervous to demonstrate much of either. Unsettled throughout by Antoine Griezmann, Fellaini was issued a red card for two unnecessary fouls, which came as the result of poor positioning, and overall he was notably unambitious in his distribution. It is to be hoped that, as he grows in confidence, his performances will increase greatly in composure. At present, he does not appear comfortable enough to play his natural game. Meanwhile, Giggs, as in other games this season, was effective with the ball over short distances, yet the accuracy of his long passing did not match its imagination.

The absence of Adnan Januzaj from the starting 11 or substitutes' bench was a source of minor disquiet. Yet his omission, given the imminence of the Arsenal fans in the Premier League, must be seen as a mark of respect. His rapid promotion remains by far Moyes' best achievement in his time so far at the club, and it comes at a time when the Scottish manager has just completed his eighth consecutive game without defeat.

It's an encouraging sequence for his team, albeit without featuring the most challenging of opposition, yet Arsene Wenger's midfield and their pingpong passing will soon change all that. Ultimately, this was a reasonable result, but the sense persists that a team at its best would have prevailed by two goals or so. Still, Moyes remains unbeaten in his debut UEFA Champions League season; a fact he will wish to remember far longer than Fellaini's continuing fumble for the form of which he is truly capable.