United's attacking trio too hot to handle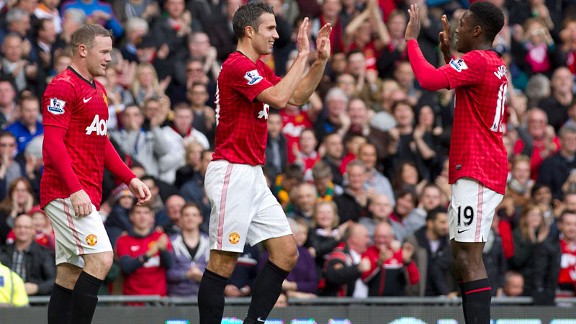 PA PhotosGoalscorers Robin van Persie, Wayne Rooney and Danny Welbeck
Stoke City left Manchester early on Saturday afternoon, having been torn apart by a triangle. The partnership of Wayne Rooney and Robin van Persie has been keenly anticipated and even salivated over, but what few truly got excited about was their collaboration with Danny Welbeck. The three exchanged passes and positions with a fluidity that bewildered their visitors, and scored all four of Manchester United's goals in a 4-2 victory.

It is curious to think that many people, this writer included, were concerned at Van Persie's arrival this summer, worried that his presence in the team would arrest the development of Welbeck's career at a crucial stage. They could not have been more wrong. Welbeck, though his technique is very accomplished, lacks the certainty of finishing to lead his team's championship challenge. Moreover, Van Persie's goals -- six of them in the Premier League so far, giving him a share of goal-scoring lead with Demba Ba -- have kept Manchester United closer to Chelsea in the league table than some of their performances would merit.

- Rooney laments defensive frailty
- Blog: United keep pace despite defence
- Blog: Positive Potters

But back to the triangle, and the damage that it did. Following Rooney's opening goal at 11 minutes -- scored in his own net, as he was hurried into making a forceful downward header past David de Gea -- the trio took control. Fittingly, Rooney atoned with his head only 15 minutes later, after a superb cross from the right wing by Van Persie; then the Dutch striker scored to put his team ahead a minute before halftime, converting a beautifully sliced centre from Antonio Valencia at Asmir Begovic's near post.

Perhaps feeling somewhat left out, Welbeck then got in on the act just after the break, with an elegant diving header from Rooney's right-wing cross. Rooney completed the scoring after 65 minutes, tapping home a deflected corner from Van Persie after Welbeck had tamed it and laid it into his path.

Stoke are not typically the type of team to be overrun, having conceded only two goals in total to Manchester City, Arsenal and Chelsea this season. In a very impressive show of force, Manchester United doubled that amount in little more than an hour. Key to this outcome was their passing dominance -- according to Opta statistics, they completed more than twice as many attempts as Stoke (565 to 254), with an accuracy of 90 percent.

Of these 565 passes, 45 occurred between Van Persie, Welbeck and Rooney, showing that their partnership was based on an impressive level of understanding. It is instructive to compare their movement with that of Manchester United's Champions League attack against CFR Cluj, where Rooney and van Persie combined well but Javier Hernandez, the third man in the front line, looked awkward when called upon to build up the play.

But this victory was not without blemish. Sir Alex Ferguson has highlighted goal difference as a key reason why Manchester United lost the Premier League title to Manchester City in May: It is now his defence, not his attack, that gives him the greatest cause for concern.

Not only did his team fall behind yet again this year, after a free kick needlessly conceded by Paul Scholes, but they allowed an alarming second goal, when Michael Kightly was made to look as irresistible as Kaka in his AC Milan heyday. Notably, Rio Ferdinand was ruthlessly exposed here. As Manchester United's most senior defender, it is particularly bad news that he has now fallen out with Ferguson over his refusal to wear a Kick It Out T-shirt, in protest at the FA's failure to deal strongly enough with racism in his sport.

Defensive disarray is the last thing that Ferguson can afford. Whilst Fergie moves to resolve this problem both off and on the pitch, it is likely that his fantastic front three will have to bail him out a few more times, and soon.