Javier Hernandez strikes a downbeat tone for Moyes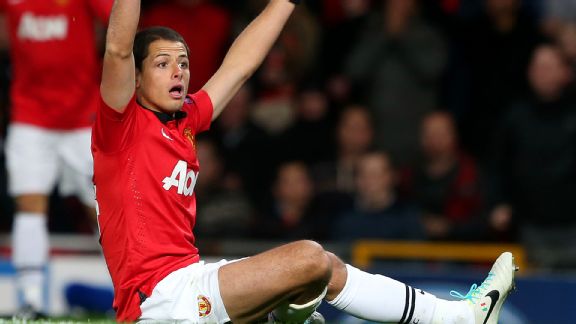 Matthew Peters/Getty ImagesA recent retweet from Javier Hernandez hints that the Mexican forward is not happy with his situation at Manchester United.
Oh, dear. This is not good for Manchester United. David Moyes' team just delivered their most ruthless passage of play -- a three-goal rampage in 22 minutes on Saturday at Fulham -- but next week's talk will be led not by that impressively routine victory but by a Sunday afternoon retweet from Javier Hernandez.

Hernandez, who has watched most of this season from his club's bench, retweeted a Sky Sports story that he would consider his future at Manchester United if he did not play regularly. The story featured quotes from his Mexico teammate Carlos Vela, and the retweet represents an important, if somewhat passive-aggressive, form of protest.


Carlos Vela says Javier Hernandez will have to consider his future at Man United if he does not play regularly. http://t.co/FiH5vu9WgN

— Sky Sports Football (@SkyFootball) November 3, 2013


Hernandez has endured his role as substitute with a quiet dignity thus far, but he apparently does not possess the legendary patience of that other somewhat-maligned super-sub, Ole Gunnar Solskjaer. Simply put, Hernandez is 25, he is one of the best finishers in world football, and he wants to play plenty of games.

Unfortunately, whether he will get to do so is another matter. Manchester United's early evisceration of Fulham was led by Wayne Rooney and Robin van Persie, whose partnership Moyes identified for special praise Saturday. Hernandez will continue to struggle to displace either of those players. And, unlike Solsjkaer, he does not have the versatility or the desire to reinvent himself as a winger.

- Payne: Januzaj a marked man
- Ramos: Chicharito left off El Tri

With this retweet, Hernandez has achieved what he has done on so many occasions for Manchester United, which is to steal the headlines despite being a sub. It's a matter that Moyes would much rather have kept in-house, but it's hard to see what is achieved, or proved, by this lapse in professionalism. No one is surprised at the sentiments expressed -- any striker of Hernandez's quality would be unhappy at playing so little. At most, it confirms his discontent to every club in Europe that may be interested -- but that should have been obvious to all of them anyway. It's probably premature to see this moment as a sign of wider dressing room disaffection with Moyes' tenure. At best for Hernandez, Moyes will ignore it; at worst, having just this week publicly said that Hernandez is back to his best, he will push Hernandez further to the margins of his squad.

There's no evidence this season that Moyes has such a vindictive streak. What Moyes is keen to do, though, is continue this run of unbeaten matches, which means having his first-choice forwards starting as often as they are fit to do so.

If there is room for any mild criticism of Moyes on this score, it's that he seems somewhat averse to giving players minutes just to keep them happy. Squad rotation is a difficult process that has befuddled many a manager, and Moyes -- with the greatest respect to Everton -- has not yet had to handle a squad of this quality. (Wilfried Zaha's continued absence from the first team is a major case in point.) The overriding point, though, must be that Moyes is only 10 Premier League games into his Manchester United career and, despite his team's travails, is only two points behind Manchester City, three points behind Chelsea. That, in the end, should give him the benefit of the doubt.