Januzaj a marked man as United win again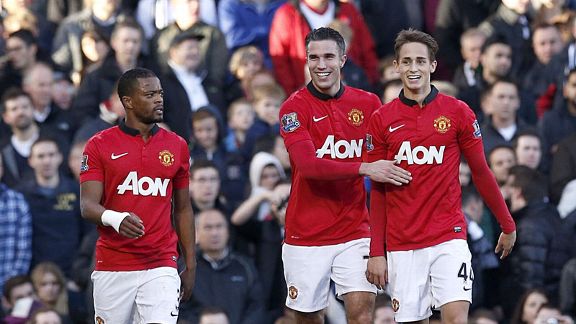 PA PhotosRobin van Persie celebrates after scoring against Fulham.
This was the game when Manchester United started to recognise themselves again.
With 22 minutes on the clock in London, they were winning 3-0 and announcing their return to the rest of the country. Inconsistency still dogs them, but with Adnan Januzaj, Wayne Rooney and Robin van Persie in form, goals are a certainty.
As predicted, there was a place for Nemanja Vidic in the centre of United's defence, but there was not one for Rio Ferdinand. Januzaj got the nod ahead of Shinji Kagawa, and Phil Jones deputised for Michael Carrick in midfield.
David Moyes could smell blood on a flagging Fulham side and set up his team to butcher them. United obliged.
Right from the start, United dominated possession and left Fulham resorting to lots of last-ditch tackles. It didn't take long for a great linkup between Van Persie and Rooney to produce the opener. Rooney unselfishly set up Antonio Valencia for a tap-in as the Fulham defence scrambled to get back into position.
There was a painful miss from United's forgotten man Dimitar Berbatov in the 18th minute, who dinked the ball off David de Gea as the keeper bore down. The resulting corner came to nothing, but it was a timely reminder that one-goal leads are slender.
United reacted by immediately scoring their second. Januzaj broke free of a meaty tackle on the left and danced forward before threading the ball through to Van Persie.
The Dutchman's arm was lifted in celebration almost before he struck the ball, such was the ferocity of his shot. Rumours that the striker is disgruntled must have been exaggerated; he certainly looked like was enjoying himself. His smile became even wider when he set the ball up for Rooney a minute later.
United swarmed all over Fulham in the first half with an attacking display that probably no team could have defended. While there was sympathy for the plight of Fulham manager Martin Jol, United were busily building their swagger and growing into their season.
A feature of this campaign will be the wispily talented Januzaj. Unfortunately, he is now a target for the hard tacklers on opposing teams. He didn't get the protection he could have got from the referee here. The young winger was on the end of more fouls than any other player on the pitch, including a cynical elbow to the face from Scott Parker. Some fouls were recognised retrospectively, some not at all.
Moyes took the unusual step of using all three substitutions at halftime. Tom Cleverley had been experiencing vision problems, and Rafael had fallen badly after a challenge. There was no need to risk their health with the game won, so the changes were made with Chris Smalling and Marouane Fellaini coming on along with Kagawa. Jonny Evans was also taken off.
Unsurprisingly, the side was more disjointed after the break and began to play a more negative and defensive game. Then Fulham scored. It was down the right flank that Rafael would have been defending that United showed weakness.
Although Alex Kacaniklic's shot took an enormous deflection off Rooney for Fulham's goal, it is fair to assume he wouldn't have been given that much room had Rafael been on the pitch. Smalling is not a perfect defender.
The rest of United's performance was anticlimactic, with Kagawa unable to impose himself and the zip gone from United's forward play. Fulham grew in confidence as the match wore on, and late substitute Darren Bent was unlucky not to score with a header that hit the bar. The buccaneering spirit of the opening period was long gone.
As the clock ticked down, Januzaj was brutalised near the corner flag by Pajtim Kasami and Sascha Riether, who simply kicked him while he was on the floor. Fellaini stepped in to offer protection, and an ugly spat broke out between several players. Januzaj is a marked man nowadays. He might have to get used to that sort of thing.
That makes it four wins on the bounce for United and seven goals in a week. With Chelsea dropping points earlier in the day, it was a good afternoon's work for Moyes' men. United are getting their act together, and although they still have some way to go, they are getting there. Next week against Arsenal we will see how far they have come.
Mark Payne is the author of "Fergie's Last Stand," available on Amazon Kindle.
Follow Mark on Twitter @MarkJPayne.