United delight in emphatic victory
David Moyes took charge of his 15th match as Manchester United manager Tuesday and saw them dissect Norwich City 4-0 in a Capital One cup result that leaves the club buoyant. The fans have been singing his name loudly and clearly all week at Old Trafford and this third victory in seven days has transformed hopes for the season.

Although United languish eighth in the Premier League, their form in the cups give them cause for cheer. They are now in the quarter-finals of this competition and stand on the verge of qualification from their Champions League group, too. Down the road at Manchester City, the same cannot be said.

The great positives from United's preseason tour were the performances of Adnan Januzaj and Wilfried Zaha. Tuesday was Zaha's first competitive start for United, and he impressed as a wide man, but could not match the exploits of his much-vaunted colleague. While this was an opportunity for Zaha to audition for the first team, Januzaj is in danger of becoming the star of the show already.

- Jolly: Three things
- Fergie: Book was for the fans
- Fletcher closer to first-team injury

Javier Hernandez is the third generation of Mexican striker in his family, and it is clear that goalscoring is in his blood. He almost opened his account in the 13th minute after Zaha and Januzaj linked up down the right. Despite being on the floor after his first attempt was blocked, Hernandez managed to swivel his body and shoot again, only to see his shot go narrowly wide.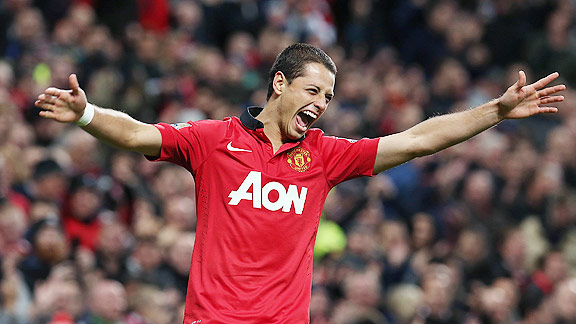 Peters/Man Utd/Getty ImagesUnited's Javier Hernandez celebrates the first of his two goals.
The opening goal came as a result of the Januzaj chasing a lost cause down by the goal line and finding himself needlessly fouled by Leroy Fer. Hernandez coolly dispatched the penalty to score his second goal in four days. At any other club, he would be one of the first names in the side; United are lucky to have him.

As if to prove that point, he scored again when the second half was just seven minutes old. Latching onto a cross from Alexander Buttner, he sent a bullet of a header toward the goal, which keeper Mark Bunn managed to save. But Hernandez was not to be denied and pounced onto the rebound like a wolf onto a lamb. Two-nil, game over.

Twenty years ago, Norwich battled it out for the Premier League title with United. While they were competitive in the first half Tuesday, they did little to trouble the United goal and Nemanja Vidic and Rio Ferdinand cleared up most of what came close to the 18-yard line. It was interesting to see these two pillars of United's prior decade together here. This competition is usually reserved for those on the outskirts of the side.

There is the clear indication that Rio and Vidic are now seen as backups. They responded with an almost immaculate clean sheet and Vidic in particular can still harbour hopes for the first XI.

Phil Jones sat next to Tom Cleverley in the midfield and adopted the role of interceptor to Norwich's forward excursions. United still looked vulnerable in a soft centre, but both performed admirably and evidently did enough to allow the forwards and wingers to shine. United created a handsome stack of goalscoring opportunities in this game and were rewarded for their adventure.

So much of United's best play centred around young Januzaj. He shoots with confidence and guile, and came close to scoring on several occasions. It is hard to remember an 18-year-old with that level of composure. Considering he is on the same field as Cleverley, who at 24 is still referred to as a young player, it is remarkable.

Just before half-time, Januzaj went on an incredible run and danced past four players into the box before having a rasping shot blocked. He is the real thing. The pressure will be coming.

It was a very Mancunian evening with inclement weather and a cold wind, but that didn't stop the players from enjoying themselves. When Jones, a quiet stalwart of this current United, scored a Mark Hughes-esque volley towards the end, all his team-mates rushed over to congratulate him. It was his first goal for more than 18 months and everyone was delighted for him.

A stupendous goal from Fabio at the death rounded out the scoring. He had only been on the field two minutes before taking a ball from Wayne Rooney on the chest and poking it home through Bunn's legs. Every striker in world football would have been proud of it -- and he is Manchester United's third-choice left back. Not bad.

A week has made a considerable difference to this club. Moyes has three strikers in terrific goalscoring form and a host of wingers who would break into most Premier League teams. They look in great shape, and look like they are enjoying themselves now too. Fulham will not relish playing them this weekend.

Follow Mark on @markjpayne