Moyes and Stoke give in to magnificent mayhem
Some funny things happened on the way to Manchester United's 3-2 victory over Stoke City. Not funny as in hilarious: funny as in deeply, deeply odd.

The first funny thing was Chris Smalling's selection at right-back. This choice was wrong for both tactical and symbolic reasons. Tactically, it was wrong because Rafael, who was on the bench, is a vastly superior player in that position to Smalling, who in that role looks as uncomfortable as a commuter who's just missed the last train. Meanwhile, the choice was symbolically wrong because it said: "Despite the fact that we are Manchester United and this is Old Trafford, we will react to your team and not impose our play on you."

- Payne: Persistence pays off for United
- Report: Chicharito completes comeback
- Report: Moyes 'delighted' by fight

Smalling presumably started because his height would combat that of Stoke. However, Rafael (to say nothing of his considerable defensive qualities) is so potent an attacker that he can force an entire flank back on its heels. Rafael's absence through injury has been identified by many as a major contributing factor to United's poor start to this Premier League season: His absence for tactical reasons, it is submitted, would be a great mistake.

Another odd thing that happened was the booing of Nani. The entire team was booed off at halftime, which was strange enough, but to see Nani singled out for contempt when he went off for Adnan Januzaj was worrying on an altogether different level. Nani did what Nani often does, which is to follow a couple of encouraging performances with one that is sadly abject. But Nani has been inconsistent for much of his time at Old Trafford, and to boo him for essentially being himself seems pointless. You may as well wail at cheddar for being cheese. Just this past summer Nani signed a new five-year contract, which may feel considerably longer this weekend as he considers his sinking place in the home fans' esteem.

Perhaps that's taking it too far, or perhaps this is merely something which can be put down to fickle fandom. All the same, it's a development that is cause for concern. The club's historians can remind everyone that United are only nine games into the league season and though they are eight points off the lead, that is the same position they were in after eight games of the 2002-03 league season, when they ended up winning the championship. The fear among the fans, though, seems to go beyond the facts: it seems to be aimed at a future without trophies, at a time when people are no longer scared of Man United.

Meanwhile, the booing will have been sweet music to those outside Old Trafford. It will have told them that it takes only 45 minutes of decisive attacking pressure, as Stoke managed superbly, to get 80,000 people to turn on their own. The booing also felt like a turning point. Until then, snark and sarcasm was something that was reserved for Twitter, radio phone-ins and fan forums, not the stands of the stadium itself. For the good of the club's progress this season, that's something which needs to stop, and soon. Anyone who saw the players' slow walk back to the halfway line last week, following the late equaliser conceded to Southampton, will know how much their uncertain league form this year is affecting them. There is therefore no point in their own crowd booing them to remind them of such form, since in doing so they are simply preaching to the choir.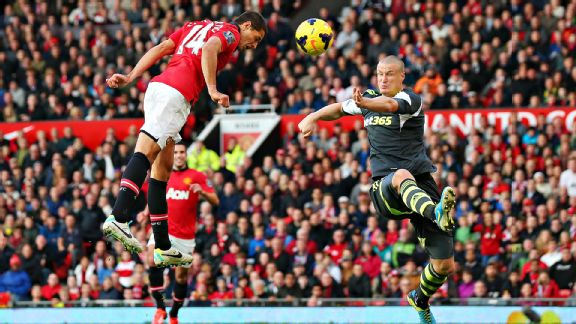 Alex Livesey/Getty ImagesA series of attacking substitutions -- including the entrance of decisive Javier Hernandez -- proved crucial for Man United vs. Stoke.

After these funny things, though, came the familiar catharsis of the comeback victory. David Moyes had brought his team back against Sunderland, prevailing away from home by gambling with Januzaj in the starting lineup. Here, with his team losing by two goals to one, he made a series of attacking substitutions and saw his squad pull through. Here was a lesson for Moyes, which his predecessor knew well: it's risk that brings you the wins. It's somewhat notable that the last seven goals that Manchester United have scored against Stoke at Old Trafford -- the 4-2 win last year and Saturday's 3-2 victory -- have been scored by the club's four first-choice forwards: Robin van Persie, Wayne Rooney, Danny Welbeck and Javier Hernandez. Stoke are a team against whom attack truly is the best form of defence.

Moyes has only been at Manchester United a few months but is fast learning what the club is all about. The world of tactical rigour and reactive tactics was one that he knew well at Everton, but he is already a far cry from Goodison Park now. At Old Trafford, close-fought matches are not to be managed to a quiet conclusion, as has been his habit for the first few games. Those last 15 minutes are meant to rattle as angrily as a boiling kettle: They are meant to feature magnificent, barn-door-bashing mayhem.

Slowly, surely, David Moyes is beginning to understand.