Persistence pays off as Man Utd stumble to victory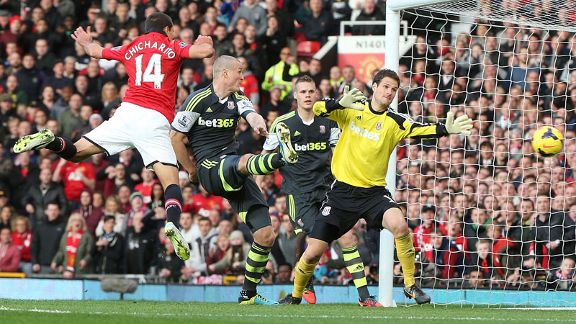 GettyImagesJavier Hernandez scores to complete the Manchester United comeback against Stoke.
Manchester United may have eventually beaten Stoke City 3-2, but it was an uncomfortable and at times ridiculous afternoon for the home team. A terrible start at Old Trafford was followed by a meandering first half and booing at halftime. While Stoke City deserve credit for their organisation and application, United's mediocrity cannot be hidden.

Stoke had not scored a goal in five and a half hours before coming to Manchester. It took them four minutes to break their drought here. Peter Crouch bungled in a goal with the help of Patrice Evra and Jonny Evans on the goal line after a stupendous save from David de Gea. It was embarrassing. The chance was created when Erik Pieters danced through United's midfield like it wasn't there and whipped in a cross that they failed to deal with.

- Whittaker: Poor subs, not the ref, cost Stoke
- Okwonga: Moyes, Stoke give in to magnificent mayhem

Stoke were well-drilled and closed everything down quickly. Mark Hughes described United as "vulnerable" before the match, said that the Potters would set out to attack and sent his side out to do just that. Crouch was excellent and United centre-back Evans could not deal with the former England international. The renascent striker would have scored two or three in the first half were it not for De Gea's heroics in the United goal.

The Red Devils needed to be patient in their attempts to strike back. Unfortunately, because they were losing at home, the audible frustration around the ground grew and grew. Most of United's shots went high and wide and a host of crosses and corners went to waste. It was Stoke that looked the more dangerous when they broke up the other end.

United's personnel do not seem suited to the cross-based attacking game they are trying to play. Players such as Shinji Kagawa and Wayne Rooney invite the ball to be played along the floor, rather than waiting for hoisted deliveries from the flanks from Evra and Nani.

Notwithstanding that incongruity, United's equaliser came from a cross. As with the match last week against Southampton, Robin van Persie scored the rebound from a Rooney attempt. As the goal came just before half-time, it seemed a real boon for United as they prepared to head in at the break. But Stoke scored again less than ninety seconds later and the boos rang out.

With an hour gone and United continuing their dance of possession, vulnerability and squandering chances, Adnan Januzaj was called from the bench; the young winger is now required to provide salvation for this team of superstars.

The second half was a largely frustrating experience and such was the calamity of some of United's defending, at one point De Gea had to sprint 35 yard out of his goal to intercept a back pass. He almost didn't make it and could have conceded one of the all-time comedy goals.

However, despite United's defensive wobbles and their forward play continuing to falter in predictable avenues, the fans at Old Trafford provided admirable support for both David Moyes and the team.

The manager responded by taking off the woeful Tom Cleverly for Javier Hernandez, who collected a booking for a vicious tackle 25 seconds later. Stoke had started to rely on their more muscular qualities to protect their lead and the match's tone had been bad-tempered since an exchange of views in the box just before half time.

Moyes has been heavily criticised for his cautious substitutions, but he was almost cavalier here, bringing on Antonio Valencia for right-back Chris Smalling as the game died out. Shortly afterwards, Valencia won a corner and Rooney glanced in a header from Van Persie's delivery. The relief was palpable. United had 11 minutes to chase a win.

It took them just one minute to score again, Hernandez heading home Evra's cross. All of United's goals came from wide deliveries and the substitutes played a part in turning the game around. For most managers that would represent a satisfying afternoon's work. For Moyes, it simply deflects the criticism for another week.

United lack balance and cohesion at the moment, some of their defending is nihilistic. But with two victories in a week, they are no longer in freefall. They are also a long way from the top of the league though. The crowd were begging for the final whistle as injury time ticked down; United were holding on again. At least they are moving in the right direction now.