Settled defence deliver United victory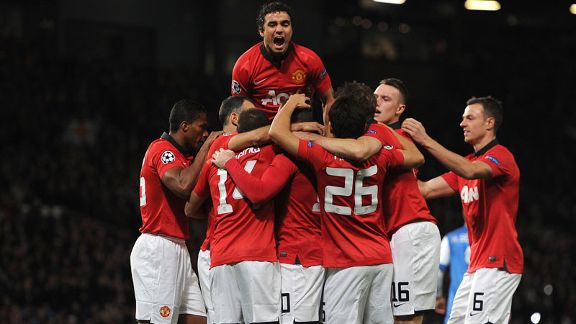 PA PhotosManchester United's defence seems to have turned a corner.
This is the year of scrutiny for David Moyes. Every substitution he makes, every team he selects will be dissected and overanalyzed by an army of critics, many of whom have the same agenda and want to see Manchester United knocked off their perch. This 1-0 Champions League victory over Real Sociedad at Old Trafford suggested he might be finding his feet, but it will take a run of results to confirm it.
Although this was not the kind of pulsating victory that lives long in the memory, the fact that United kept a clean sheet can be read as significant. This season, and last year too, it has been far too easy to breach United's defence. The team has recorded only three clean sheets this season in 12 matches and had conceded five in its last four games.
The response has been sensible. Moyes seems to have settled on a new centre-back pairing of Phil Jones and Jonny Evans with Rafael and Patrice Evra playing either side at full-back. This was the second game in succession that defence has started together, and it has started to pay dividends.
These units take time to jell and produce their best work. Although Jones was at fault for Southampton's late equaliser Saturday, his performance Wednesday was much more assured. On more than one occasion, he cut out potentially dangerous through balls from Sociedad and was even found providing an aerial threat from corners moving forwards. It was one of his best games in a United shirt.
Behind these two, David De Gea continues to impress. It is fair to say that the Spaniard is one of United's most reliable players. A strong one-handed save from a deflected shot in the first half was a reminder of his reactionary qualities. It is easy to assume that United would concede even more were there a lesser goalkeeper between the sticks.
If the team builds a solid foundation, then the forward players will be given more freedom to express themselves in offensive positions. Too many times this year we have seen Wayne Rooney tracking back, frustrated at not getting the ball. This deprives the front line of his services and explains why so many chances have gone astray.
With Robin van Persie rested, Rooney was played up front with Shinji Kagawa, and there were positive signs of the two building an understanding. Kagawa's first touch is probably the best at the club, and he is able to take defenders out of the game with a simple body swerve. Not every neat little pass these two attempted came off, but given time, the potential is terrifying.
Manchester United came so close to making the same mistakes as at the weekend. It was difficult to watch at times. Javier Hernandez had a goal ruled out for offside in the first half and United again hit the woodwork more than once, but at least the team is creating.
"It was a good performance, and we could have scored more goals. We should have in fact," said Moyes afterward.
There was a sense that United had at least tried to score more. This was in stark contrast to the weekend, when there was the suspicion they had tried to see out the game more cautiously.
"We fully deserved it, I thought. We played some great stuff," said Rooney, who is emerging as his old and new manager's unlikely ally.
United did play well, and the mood at the stadium was quietly optimistic after the final whistle. But there is still a long way to go, for the season, for the team and for the manager. Rest assured, everybody will be watching.
Follow Mark on Twitter @MarkJPayne.