Man United's prudence gifts Southampton point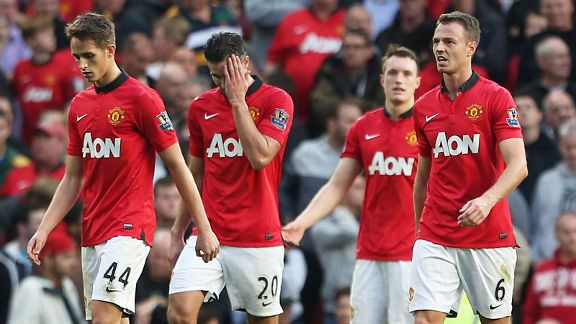 GettyImagesManchester United's stars have nowhere to hide after throwing away victory at home to Southampton.
Manchester United's lack of cutting edge was punished by a late Southampton equaliser Saturday to leave the champions stranded in the middle of the Premier League table after this 1-1 draw. Old Trafford has seen darker days than this, but the lack of enterprise from the home team is becoming a running theme -- and it could undermine their entire season.

After Saturday's first half, Manchester United looked to be delivering a real renaissance for the position of winger. Adnan Januzaj and Nani showed the fans what they had been missing when Ashley Young's and Antonio Valencia's names were on the team sheet. Things looked bright.

Januzaj is adding the verve United have been crying out for this season, and all in attendance were delighted he signed a five-year deal with the club 24 hours before kickoff. On the opposite flank, Nani, who arrived at the club with all the potential in the world but has frustrated as much as he has dazzled, made up the rest of an attacking foursome, along with Wayne Rooney and Robin van Persie, that looked as dangerous as United have all campaign.

- Brewin: Three things - Man United v Southampton »

Southampton pushed well from the start and pinned United back with a strict pressing game. But when United did break clear with Nani, Rafael and Van Persie on the right, they looked menacing. On the other side, Januzaj linked up nicely with Patrice Evra on the overlap and United had a spate of chances around the 10th minute. A goal seemed inevitable.

Although the attacking quartet had teeth, United still look as though they are lacking some soul. Southampton can play this game -- they have evolved noticeably over the past 12 months and are a better team than West Bromwich Albion. On more than one occasion, they were able to waltz through the middle. It made for an open and entertaining football match.

United are lacking a bit of identity as a team now, which seems understandable considering the managerial overhaul. But for the time being, they are relying on the stupendous individual talents of their players rather than their abilities to function as a unit.

Eleven years to the day since he scored his first Premier League goal, Rooney put in a typically industrious and earnest shift. His forward play at the moment reveals a man delighted to be fielded in his preferred position.

However, there is some real complacency in United's play at times; Rooney and Marouane Fellaini were both guilty of losing the ball carelessly in dangerous areas. Whether this is over-zealousness or lack of focus is not clear. But a decent Champions League team will punish those kinds of mistakes ruthlessly.

On more than one occasion, Michael Carrick was found cleaning up some of Fellaini's misplaced passes and lacklustre touches. Morgan Schneiderlin putting pressure on Fellaini was the cause of most of his errors, something of which other midfielders in the league may well take note.

Despite Southampton's confident start, Van Persie's impeccable finish from a tight angle opened the scoring. Running in to pick up Rooney's saved shot as it bounced off Artur Boruc, Van Persie took the ball wide and potted it into the corner of the net.

Boruc in the Southampton goal can count himself unlucky, as his initial save was excellent, but Van Persie will always take chances like that. Who was the architect of United's move from the halfway line? Januzaj. The young winger is becoming popular around Old Trafford.

United started to swagger after the goal, with Nani slaloming down the right and Rooney hitting the bar two minutes later. The rest of latter's afternoon was a mixed bag -- some passes went astray -- but United's best play was the result of his interplay with Van Persie and Januzaj. Rooney had a goal ruled offside in the second half and can rightly feel unfortunate not to have made it onto the scoresheet.

There was anxiety building around the stadium as United sought the second goal to make the game safe. Van Persie hit the bar with a header and Januzaj struck the post with a swerving drive from 20 yards, but the consolidating strike wouldn't come. After recent defeats here, the crowd were nervy.

David de Gea was called upon more than once, and his solidity between the posts was as much a part of United's lead as Van Persie's goal. As the game closed out, Phil Jones pushed forward into the midfield and Chris Smalling came on to shore up the defence. United were holding on.

Considering this excessively prudent approach at home, it was no surprise when Southampton scored their untidy equaliser from a corner. As good as the South Coast team are, United had enough chances to win and should have done.

Manchester United dropped two points here and it could have been even worse. Without a greater sense of adventure, they will drop a lot more this season.