Manchester United-Southampton, and three key areas to address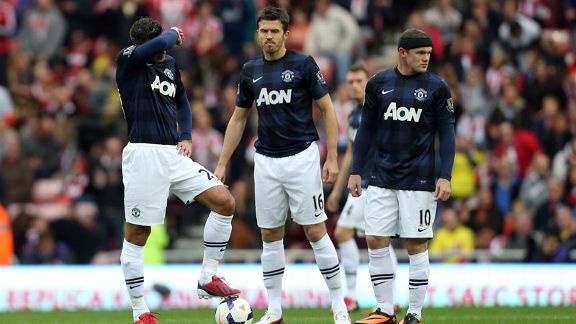 APVan Persie, Carrick and Rooney react to United going a goal down at Sunderland.
Well, this wasn't supposed to happen. It's now mid-October, and Manchester United are now in the middle of a sequence of games which, prior to the season, were regarded by several as virtually certain victories.

Of course, not everything has transpired as planned. West Bromwich Albion recently left Old Trafford with their first victory there since 1978, whilst then-managerless Sunderland proved an awkward proposition at the Stadium of Light. And now Southampton arrive, four points ahead of the current Premier League champions in fourth place. What's more, this is a position based upon the best defensive record in the league, with just two goals conceded in seven games.

Judging by Southampton's impressive victory over Liverpool at Anfield earlier this season, where they triumphed 1-0, Manchester United can expect an afternoon of attrition tomorrow. Mauricio Pochettino's appointment was first notable mostly for the ruthlessness with which his predecessor, Nigel Adkins, was dispatched. That sentiment, however, has now been replaced with admiration for the Argentine's tactical intelligence, with his team now among one of the best-coached in the division.

Now that Manchester United have shaken off their complacency, there are three key areas to which they must attend: The first is the defence. The sense is still that David Moyes is moving towards his best starting XI, one which features a centre-back partnership of Jonny Evans and one other. In this case, given the aerial prowess of Rickie Lambert in particular, it looks like an assignment for Nemanja Vidic.

The second is out wide. A great positive in recent weeks is that, for the first time in months, the team's wingers -- Nani and Adnan Januzaj -- are among the most impressive performers, both offering excellent movement and a goal-scoring threat. They should be brought into the play as often as possible -- not least because Southampton outmatch United physically in the middle of the pitch, given their defensive midfield axis of Victor Wanyama and Morgan Schneiderlin. The emphasis, in this instance, must be on swift distribution to the flanks as, though Southampton possess two fine attacking full-backs in Luke Shaw and Nathaniel Clyne, they may be vulnerable to runs in behind.

The third area that must be addressed is the pressing of the ball in midfield. Sky Sports pundit Gary Neville provided a superb piece of analysis on this topic following Manchester United's equaliser against West Bromwich Albion last month. Neville noted that, in previous seasons, this goal would have been the cue for a late onslaught on the visitors' goal; here, though, the home team were curiously passive, allowing Albion to settle on the ball and regain the momentum in the match. While Moyes waits to reinforce his squad, one thing that he can immediately do is to give the players at his disposal a greater sense of urgency when they do not have possession.

Better pressing would also be to the benefit of Robin van Persie, who has looked somewhat isolated, and even slightly listless, in recent matches. At several points, he and Wayne Rooney have looked too far apart, and so both the England striker and Tom Cleverley should push forward in support of him. In this context, the form of Marouane Fellaini, who put in a strong performance in Belgium's World Cup qualifying win over Croatia, is highly encouraging. Indeed, if he starts alongside Michael Carrick on Saturday, Manchester United may make a decent fist of it in midfield.

Briefly, it is worth taking another look at the wings. Wilfried Zaha was very impressive in the England under-21s' 5-0 victory over Lithuania -- even if the headlines went to his baffling altercation, late in the game, with former Manchester United midfielder Ravel Morrison -- and his first Premier League appearance for his new club cannot, and should not, be far away. His showing this week was a fresh reminder of his ability to dismantle defences, abundant evidence of which was seen on the club's pre-season tour of Asia. If Southampton prove as obdurate an opponent as they promise to be, then it would be good to see him introduced in the latter stages of the match.

Given that this is a team in progress, and the quality of the opposition who are shortly coming up the Old Trafford drive, a victory by a single goal would be both reasonable to expect, and highly welcome.