Rooney on course for goal bonanza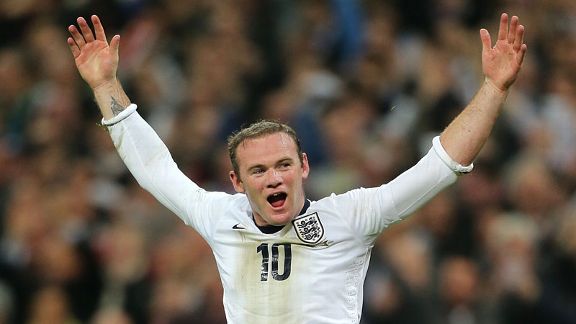 PA PhotosWayne Rooney headed home England's opening goal against Poland.
Wayne Rooney is living proof that nothing can be taken for granted in football. Just eight short weeks ago, he looked certain to leave Manchester United under a cloud and there was great speculation that he had squandered his potential as a footballer. As he returns from England duty to battle for United in the Premier League, he stands on the verge of his most abundant season yet.

Since his flirtation with Chelsea, Rooney has scored three league goals and twice for England, becoming their most prolific competitive scorer in the process. After Tuesday's World Cup-qualifying victory over Poland, he said, "I just need to keep working and hopefully that will continue for the rest of the season."

- Rooney ready to play without headband
- Kagawa reiterates frustration

In other words, England have now qualified for the World Cup, and that is good news for Manchester United. Although able to score only 16 times last season, history shows Rooney hits his best form with an international tournament on the horizon.

"Qualifying for a World Cup is all the motivation you need. You want to be there," he said.

In 2009-10, Rooney scored 34 goals and crushed fears around the club about coping with the loss of Cristiano Ronaldo. Were it not for an ankle injury picked up at the Allianz Arena in a Champions League quarterfinal against Bayern Munich, Rooney could have scored even more.

Alas, his season tailed away and United were dumped out of the Champions League. They could not maintain a Premier League title push without him and finished second to Carlo Ancelotti's Chelsea. This loss of form carried its way to South Africa, where a dismal England were obliterated by Germany.

In the following injury-hit season, Rooney netted only 16 times and was involved in the contract dispute that is assumed to have ruined his relationship with Sir Alex Ferguson. Despite Rooney's indifference, the form of Edwin van der Sar and the goals of Dimitar Berbatov carried United to the league title and the Champions League final.

The following season, with Berbatov increasingly marginalised by Ferguson and Euro 2012 to look forward to, Rooney found himself centre-stage again at United. He responded by driving home another 34 goals. United lost the title in injury time on the final day that year.

If this pattern continues, Rooney should score 34 goals for United this season and the club should finish second in the league. Considering the wobbly nature of the club's start to the season, second would be a reasonable finish for many.

Nonetheless, there is clear precedent that when Rooney is headed to a tournament with England, his club form improves. So far at United under David Moyes, he has been by far the best player. If he continues to score at the current rate, United have every chance of challenging for honours and putting their bad start behind them. But nothing can be taken for granted in football.

Follow Mark on Twitter @markjpayne.