Cristiano Ronaldo's Neo moment -- a stunning 2007-08 United season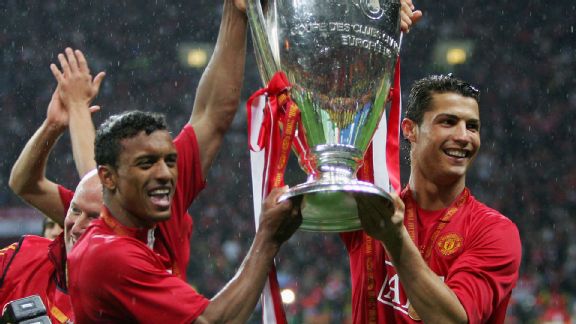 Alex Livesey/Getty ImagesCristiano Ronaldo, right, holds the European Cup, one of two trophies he bought to Old Trafford in the 2007-08 season.
Years later, it's still possible to disbelieve that Cristiano Ronaldo's 2007-08 season ever happened. Very few athletes are capable of putting together 12 consecutive months in which they are endlessly spectacular: cruising consistently at sporting altitude is the sign of true greatness. Tiger did it; Martina did it; so did Steffi, Magic, Bird, Jordan and Ronaldinho. But, for that one period of the calendar, it was all about Cristiano.

Ah, 2007-08: that was the year when people still referred to the Portugal forward as "the other Ronaldo", before he attained only-one-name-needed status (Cristiano or Ronaldo, depending on where you live). That's when Cristiano Ronaldo still remained some way short of the realm occupied by other Old Trafford legends, several steps behind the swift feet of George Best. By May, though, all belittling comparisons with the Northern Irish genius had quietly been withdrawn.

-Street near Old Trafford named after Sir Alex
-Garay abandoned United move after Fergie departure
-Juve warn United on Januzaj

Cristiano Ronaldo's rapid improvement had long been noted, but what he achieved in Manchester United's season -- one where they claimed a remarkable double of Premier League and Champions League -- was off the scale. It was like that scene at the end of The Matrix when Neo suddenly starts seeing a stream of cascading numbers. That scene when his enemies take a deep breath and think "Uh-oh, he's cracked the code, and he's going to take this knowledge out on every opponent he can find."

Every great athlete has a Neo Moment, after which they go on a terrifyingly remorseless streak. The Neo Moment is when he or she realises it is possible not only to attain but sustain a state of sheer, breathtaking brilliance. Of course, in the world of elite sport, prolonged periods of dominance aren't supposed to be possible. Thinking you can go out every week and decimate whoever crosses your path isn't just abnormal, it's illogical, like expecting sparks to fly downwards.

In theory, it's simple to have a Neo Moment. All that you have to do is contemplate a feat that most of your peers would think ridiculous, and then slowly, firmly believe that you are capable of it. Look, for example, at Tiger Woods. Before he arrived on the scene, it was unheard of for golfers to talk in terms of a "winning percentage": most professionals were delighted if they took home two or three trophies a year.

But then Woods showed them that he would be very comfortable with a victory every single time he played. Cristiano has been doing something similar in each of his years at Real Madrid: he seems to expect to score every single game. In fact, given his frustration when he fails to hit the target, he finds it unacceptable when he doesn't.

Many will note, and rightly, that it's not as if Cristiano has done all this without help. Instead, he has had two teams designed entirely around his attacking talents. At Real, he is supplied by Isco and Angel di Maria, and before that he had Kaka and Mesut Ozil. At Manchester United, in 2007-08, he had Wayne Rooney and Carlos Tevez, and you would be hard pressed in the history of modern football to find two elite forwards who put in a season of more selfless work than these two. When you've got Rooney and Tevez running decoy for you, it's arguably hard not to deliver.

That said, it's remarkable just how much better Cristiano Ronaldo got, and how soon. Watch this video of his 42-goal season: at the beginning, he's patting his forehead in mild shock that he's scored with that part of his anatomy, and at the end of it he's soaring high above Roman traffic to score an away goal in the Stadio Olimpico.

His evolution was so quick that it took some people a great deal of time to realise he was no longer a mere winger -- but nor was he a striker, as that seemed too limited a word for what he was now doing: he was a true forward, or, more accurately, a force. As his confidence grew, so his goals became more audacious in concept and execution: he began the season with a humble header or two, and by the end was conjuring free-kicks whose movement through the air would have intrigued physicists.

Of course, the closing moments of this season would provide a couple of opportunities for humility. His two penalty misses in the Champions League -- one in the semi-final against Barcelona, the other against Chelsea in the final's shootout -- were a reminder for Cristiano Ronaldo that, no matter how much of a superman he was in 2007-08, he would need his team-mates to bail him out now and then.

Yet these were mere detours in his ascent. He, alongside Messi, is a player who will go down in history as one of the most decisive players of any era; and it was Manchester United's pride and privilege to witness him emerge as such.