Hernandez represents a fresh conundrum for Moyes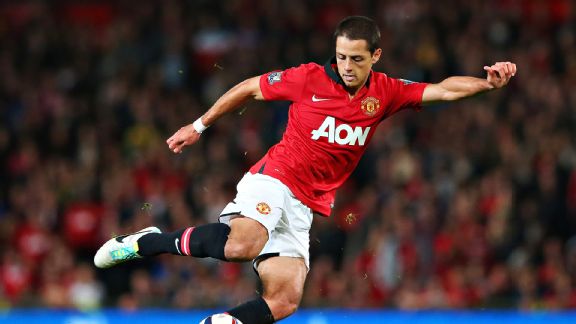 Julian Finney/Getty ImagesChicharito Hernandez has scored 33 goals in 79 matches for Manchester United.
It's another World Cup qualifying week, and Mexico's Javier Hernandez is about to enter the fray for his country against Panama. It's a game that his team is desperate to win, having fallen some way behind challengers they normally would be expected to lead in the table.

Of course, Hernandez is familiar with this situation at club level, too, where Manchester United find themselves six points back from Liverpool in the Premier League. Sadly, while he's the main man for Mexico up front, he currently finds himself as the fourth-choice forward at Old Trafford, behind Robin van Persie, Wayne Rooney and Danny Welbeck. Two questions now arise: The first is how much longer he will accept this state of affairs, and the second is how quickly manager David Moyes will move to assuage his concerns.

- Payne: Nationalism hangs in balance as Rooney speaks
- Gomez: Excitement amid rhetoric at Mexico's camp

Hernandez, 25, would have plenty of suitors should he declare himself keen on a move. He has an outstanding record at international level, having scored 35 goals in 53 matches for his country. He also has an excellent ratio for his club, with 33 goals in 79 games, several of which he began on the bench. Moreover, he has proven himself capable of scoring vital goals for Manchester United, most recently in the Capital One Cup match against Liverpool, where his instinctive strike brought the game's only goal.

A parallel might be drawn between Hernandez's predicament and that of Ole Gunnar Solskjaer. The brilliant Norwegian finisher was fourth in the pecking order at Old Trafford in the late 90s behind Dwight Yorke, Andy Cole and Teddy Sheringham, and in subsequent years would find himself out on the right flank, where he enjoyed a fantastic season in 2002-03 as Ruud van Nistelrooy's goals led the club to a thrilling title triumph. Hernandez -- were he a less humble character -- could point to the fact that, apart from Rooney, the three men ahead of him are struggling for scoring form.

The enduring criticism of Hernandez is that he is not a versatile enough player -- that, in essence, he is a Mexican Michael Owen; incapable of playing as anything other than a pure predator. Though he is not as good in wide areas as Solskjaer was or Welbeck currently is, the above analysis does him a disservice.

His build-up play last season was far better than it had been in previous years. His passing was far sharper, and -- judging him by the most important of all criteria -- he was responsible for a great number of vital goals last year, his excellent contribution overshadowed by van Persie's extraordinary debut year at Old Trafford. Like the Dutchman, he rescued his club from losing positions, most notably against Aston Villa away from home in the Premier League, and SC Braga at home in the UEFA Champions League.

The challenge for Moyes is considerable: Does he appease Hernandez by starting him ahead of van Persie in the Premier League, supported by Rooney at No. 10? More realistically, does he provide him with a starting spot in the Capital One Cup, and then more minutes in the UEFA Champions League? It appears, unfortunately, that Hernandez is in an odd place: the most decisive finisher at the club looks set to remain a secondary option.

With the prime of his career about to begin, it would be no great surprise if he were to begin looking elsewhere. His own recent comments to Mexican TV suggest that he is open to that option if he cannot secure the starting spot that he covets.

Few, if any, at the club would begrudge Hernandez a move. In the meantime, he represents yet another conundrum for Moyes, who already has plenty of issues in his in-tray.