Carrick, midfield's elder statesman, needed more than ever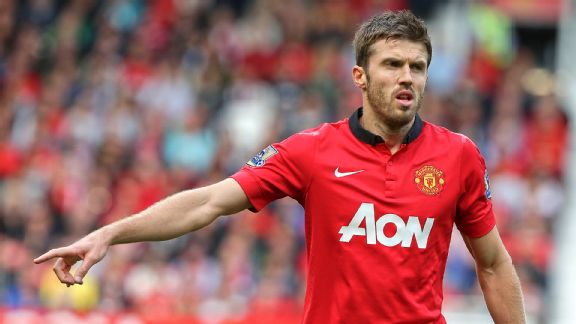 Tom Purslow/Man Utd/Getty ImagesMichael Carrick is again being counted on to steady the United ship.
The news of Marouane Fellaini's wrist injury has once again left Manchester United understaffed in central midfield, and recently reliant on the first-choice pairing, Tom Cleverley and Michael Carrick. Two promising contenders for that position, Nick Powell and Jesse Lingard, are thriving and scoring on loan at Wigan and Birmingham, respectively, yet this is a season too soon to give them an extended run in the first team.

In the meantime, then, it is again down to Cleverley and Carrick, given the unreliable fitness of Anderson, to hold the fort.

- Rafael denies Corinthians move

Carrick, 32, who has long been one of the senior midfielders at Old Trafford, will undoubtedly accept this current predicament in typically diffident fashion. It's easy to forget that, but for the unfortunate emergence of Pep Guardiola's Barcelona as one of the best teams of all time, Carrick would have been at the heart of a team that won three Champions League titles in four years. As it was, he was more or less an ever-present as Sir Alex Ferguson led his side to three finals in that time, winning one (in 2008) and losing two (in 2009, 2011).

It's interesting to look back now and remember that there was a time when Carrick was seen as wildly overpriced; he had cost Manchester United £18.6 million, two seasons after Tottenham Hotspur had bought him from West Ham United for just £3.5 million.

Entering his eighth season at Old Trafford, this sum now looks like one of the shrewdest investments in Premier League history. It's no accident that Carrick's arrival coincided with one of Ferguson's greatest triumphs, which was denying Jose Mourinho's Chelsea a third successive championship. Carrick's superb screening of the back four, and rapid distribution of the ball between the lines, was the axis of one of the most thrilling counterattacking forces in world football. While over the next few years, Cristiano Ronaldo, Wayne Rooney and Carlos Tevez would take the headlines, you could see Carrick's name all over the footnotes.

Carrick's England career, in which he has amassed only 29 caps, has perhaps been the victim of his unassuming character and style of play. For many of the years he was available for selection, he was competing with those whose feats were far more conspicuous in either their toil or their brilliance.

He was variously up against Steven Gerrard, Frank Lampard, Gareth Barry, Scott Parker, Owen Hargreaves and Paul Scholes. Yet despite all these rivals, it still seemed somewhat odd that he did not play a single minute in the 2010 World Cup.

Of course, hindsight is a powerful force. Barry, who along with his teammates would endure a difficult tournament, had been in impressive form in the qualifiers, and it was not as though Fabio Capello, who had coached Marcel Desailly at AC Milan and Fernando Redondo at Real Madrid, was unfamiliar with tactically astute defensive midfielders. And yet, and yet.

The disparity between Carrick's trophy haul at Manchester United, which includes five Premier League titles and one Champions League, and his prominence at international level is so marked that there is a sense that he has been short-changed.

Whatever the reasons for his relatively low number of caps, Carrick's performance against Sunderland on Saturday was a reminder of his virtues. He protected a worryingly weak back line, and moved the ball sharply and promptly forward, completing 40 passes more than the second-best passer on the pitch (he finished with 102 to Cleverley's 62).

It was Carrick's best game of the season since the Premier League opener against Swansea, and he could have found no better time, given the injury to Fellaini, to run back into form. Over the next few months, his club will need him more than ever.