Manchester United can take a leaf from Tottenham's book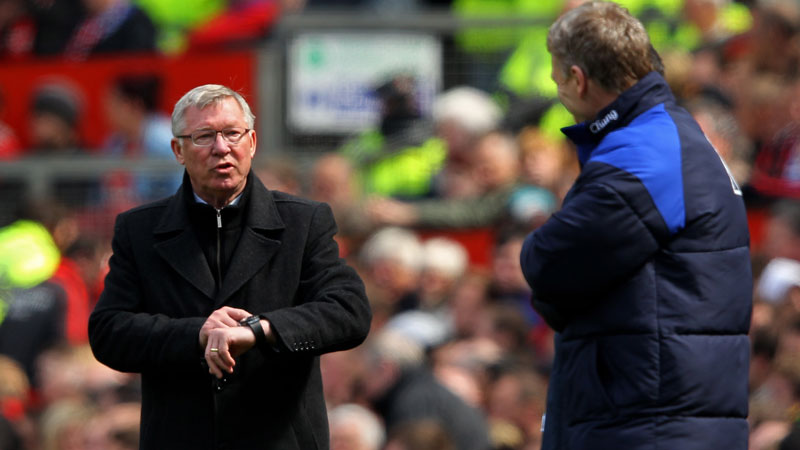 GettyImagesSir Alex Ferguson's shoes are perhaps bigger to fill than David Moyes anticipated.
As David Moyes continues his difficult start to life at Old Trafford, Sir Alex Ferguson, by notable contrast, could apparently not be happier.

Ferguson has just given an hour-long TV interview in the United States, and is about to embark upon a city-wide book tour. His stately progress forms an unfortunate backdrop for his struggling successor, whose predicament brings to mind that line from the 1999 film Magnolia: "We may be through with the past, but the past is not through with us".

Several of Moyes' early troubles can be attributed to his colleagues, most of all Ed Woodward's travails in the summer transfer market and the subsequent insistence from the club's press department that there had been no panic - despite the flurry of attempted deals suggesting that the opposite was the case.

Yet, of course, Moyes himself has made mistakes. His team is still finding it difficult to create chances, and he has made statements which may have had the unfortunate effect of publicly undermining some of his players.

That said, it may be time to take a longer-term, more charitable view of his situation. Unusually cautious though Moyes may have been in these early matches, it's interesting to ponder how much better Ferguson's successors may have fared in the immediate aftermath of his departure.

It is often said that "the league table never lies", but there was something a little deceptive about Manchester United's 11-point margin of victory last year. It is hard to remember a championship whose key matches were so keenly fought, and recovered from adverse positions.

The team came from behind to win on several occasions -- more than any other team in their league -- with Ferguson's sheer powers of motivation often the key driver of these late victories. Many have remarked on his extraordinary magnetism, and we are seeing only now just how great the Fergie factor was.

This factor was arguably most in evidence in 2010-11, when Ferguson marshalled a relatively thin squad to a Premier League title, and to the final of the UEFA Champions League. Moyes has not just accepted the hardest job in football -- he is, after all, inheriting a squad of Premier League champions -- what he has accepted, though, is a deceptively tough challenge and an ageing roster of players, several of whom have either perhaps been indulged too long (for example, Anderson) or possibly promoted beyond their station (for example, Ashley Young).

The good news for Moyes is that, with shrewdness and a proactive attitude, these ills can be remedied relatively quickly. Tottenham Hotspur, with the aid of their Gareth Bale windfall, have shown the exceptional value that is available in the transfer market for a relatively small outlay.

They acquired Christian Eriksen for just £12 million and Paulinho for just £17 million, having the previous season added the Germany international Lewis Holtby for just £1.5 million. As a result of these and other excellent additions, the London club look as if they will mount a sustained challenge for the Premier League crown, with their only insistent weakness being at left-back.

The bad news for Manchester United is that, following the loss of Ferguson to retirement, they have been caught by the chasing pack; perhaps more quickly than they expected. The good news is that, despite what looks like being a hard season of transition, it need not take so long for them to return to a position of primacy: the challenge for Moyes, then, is to be swift and diligent with the club's chequebook.