Man United get it right in tricky away fixture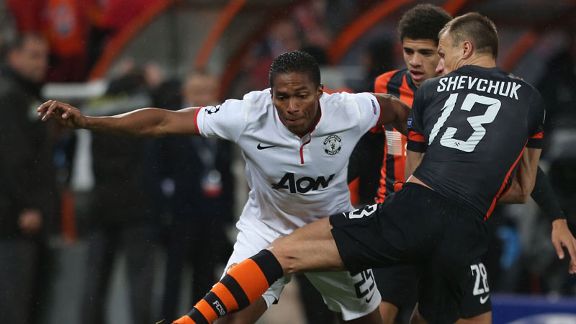 GettyImagesAntonio Valencia battles for the ball.
The Donbass Arena has never witnessed a victory by an English football team, but Manchester United at least came close. If it had been offered in advance, David Moyes would have accepted the point United ended up with after this 1-1 draw.

The Red Devils fly back from Ukraine in better shape than when they arrived; Shakhtar Donetsk have beaten Chelsea and Arsenal here recently, so United can hold their heads high.

Shakhtar's squad is full to the brim with wispy Brazilians plucked from the under-19 teams of the South American leagues. Their long-serving manager Mircea Lucescu is an expert at blending youth into his first team, and they have an excellent record at home.

United had a game plan to contain Shakhtar and hit them on the break. For the first 75 minutes, it worked perfectly, and credit to manager David Moyes for making United hard to beat. Unfortunately, the home team walloped in an equaliser with 15 minutes to go, but there is still much to be gleaned from United's display.

- Video: Shakhtar 1-1 Man United (Pac Rim only)

The traveling fans cannot have been overjoyed to hear that Wayne Rooney had been injured in training the day before and would not even make the bench. During United's recent dark days, the England man has been their sole chalice of hope. He was replaced by the returning Robin van Persie, who set about leading the line and trying to create space. He was joined in final third by Danny Welbeck, playing out wide.

Marouane Fellaini, who endured some meaty criticism after the Manchester City defeat, had a mixed night in midfield. Played in an advanced position, his brief was to drive United forward, break up Shakhtar's play and generally make a nuisance of himself. He partially achieved this.

Despite announcing that Fellaini would be playing as a deep-lying midfielder when he arrived, Moyes is deploying him further forward. This ploy seems to be keeping the popular Shinji Kagawa out of the team.

None of that seemed to matter when United took the lead after a quarter of an hour, though. Moyes loves to get his teams pinging in crosses, and Fellaini brought the ball to the byline and pulled it back to the six-yard box to do just that. Welbeck was lurking and put away his third of the season. Manchester United's roller coaster was back on track.

United have a long tradition of doing incredibly stupid things in important European away games. This seems to have continued into the current campaign, and Tom Cleverley could have been sent off after bungling a tackle on the edge of the area just before the goal. Incredibly, the referee waved play on.

Nonetheless, United have been unconvincing in defence this season, and against more illustrious opponents they will need to defend much better. No doubt Moyes will be happy to take the lucky breaks that came their way here.

It has dawned on many this week that replacing the game's most successful manager was likely to coincide with a slump in form. United's policy as a club is to put faith in those who are developing. That includes the current manager, and this game provided evidence of a man growing into his role.

The fact that United are getting it right in tricky European fixtures suggests they will find their feet in the league too. The club and the fans will need to hold their nerve as everybody manages change. But there are enough signs of promise to suggest it will come together, not least that United were able to put in a respectable performance without Rooney available.

This incarnation of Manchester United is still taking shape. The players and coaches are far from attaining perfection, as they are still getting to know each other. But in Ukraine, there was clear evidence of progress. For the time being, that is definitely good enough. A victory in the Premier League this weekend would certainly help too.