Positivity the only way forward for Moyes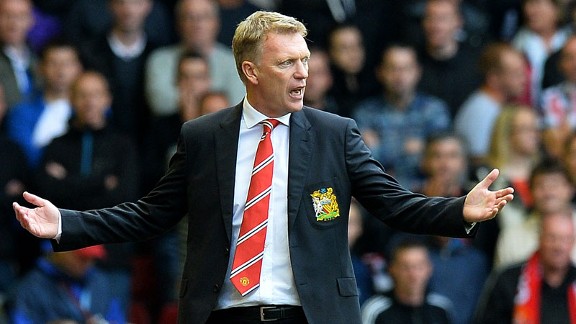 GettyImagesDavid Moyes has much to learn about pushing his team onwards.
David Moyes has made a set of remarks which, in their own way, are more troubling than either the fact or the manner of Manchester United's home defeat by West Bromwich Albion at the weekend.

"To win the Champions League," he said, "you have to have five or six world-class players. If you look at Bayern Munich, they have nearly five or six nearly world-class players. Look at Barcelona, who had it in the past, and Real Madrid have maybe got it now. That's the level you have to get at to win it. We've not got that yet. But what we have got is experience and several players who are in that category or close to it."

In Moyes' defence, perhaps his assessment of what constitutes a world-class player is unusually harsh. Some people would contend that Bayern Munich have at least six world-class players in their midfield alone -- Toni Kroos, Mario Goetze, Franck Ribery, Thomas Mueller, Javi Martinez, Bastian Schweinsteiger and Arjen Robben can all make claims to fall comfortably within that category, and if Thiago Alcantara is not already there then he is banging very hard on the door. In defence, Philipp Lahm, Manuel Neuer and David Alaba could also call themselves world-class. At a conservative estimate, then, Bayern Munich have 10 world-class players in their squad. It would be interesting to know which of these players Moyes does not rate in that bracket.

More important in this context, however, is Moyes' approach to discussing his squad. Just a few days ago, he referred to Nemanja Vidic as probably the best centre-half he had ever worked with, which was not the most sensitive thing to say when Vidic's partner, Rio Ferdinand -- fresh out of a testimonial year -- was enduring his most ponderous form at Old Trafford in several years.

His recent pronouncement is strange in both its content and timing. Moyes seems eager to downplay his team's prospects in the UEFA Champions League, yet it is this tournament where he has produced his most impressive coaching moment so far at his new club. He guided Manchester United to a 4-2 victory over a Bayer Leverkusen team then sitting third in the Bundesliga. What's more, he did so with a lineup that excited the home support.

He should not be shying from this early success. It should be something from which he derives strength. After all, it was Rafa Benitez's Champions League run in 2005 -- with a Liverpool squad less accomplished than Manchester United's is at present -- which laid the foundations for his sustained challenge for the Premier League title, an effort in which he ultimately fell narrowly short.

To see Moyes backtracking like this is a curious and worrying sight. Above all, it sends a negative message to his dressing room. The great Bob Paisley once remarked that elite footballers were as sensitive as thoroughbred racehorses, and one wonders whether Moyes' words have caused one or two of them to shuffle uncomfortably in their stables. If anything, Moyes can and should take this opportunity to talk his players up, not down. If he wants to boast of five or six world-class players in his squad, then for starters he can look no further than Robin van Persie, Wayne Rooney, Rafael, David De Gea, Michael Carrick and Shinji Kagawa. It's also not clear why he is not giving credit to the others he may not regard as being in that league (assuming that these names are the ones he would rank there). Moyes also presides over a squad with arguably the most exciting young talents from both Belgium (Adnan Januzaj) and England (Wilfried Zaha). Now would be a fine time to extol their virtues.

No one is saying that Manchester United are the favourites for this tournament. But it is one thing to be cautious about your team's prospects, and quite another to proclaim that caution to the world's media, as well as your opponents. You may as well offer droplets of blood to passing sharks. The Champions League is a stage that Moyes and his team, many of whom have unfinished business here from previous years, can seize. Being positive, and just a little bit bullish, is the only way to do so.