Phil Jones, the closer of Old Trafford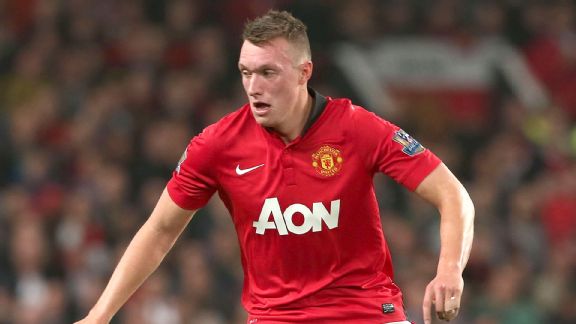 Matthew Peters/Getty ImagesPhil Jones came through with another big-time performance for Manchester United in their Capital One Cup victory over Liverpool.
In football, the concept of "big-game players" is a familiar one. In baseball, they call them "clutch". One of baseball's most clutch players of all time, the New York Yankees' Mariano Rivera, has just retired, amid much reverence.

And rightly so; Rivera, a pitcher who won five World Series titles with the Yankees, was a closer, someone who you brought onto the field to protect a lead in the game's final stages.

He was just about the most reliable person you could look to if you ever needed a guaranteed result. Which is where we come to Manchester United's Phil Jones.

- Payne: Moyes gets key win as United bounce back
- Darke: Moyes' risky game of diminished expectations

Jones is emerging as one of the most "clutch" players in English football. Last night, he was sent in against Liverpool in the Capital One Cup, accompanying Ryan Giggs in a two-man central midfield. And, in a game bearing an unusual undercurrent of pressure, he helped his team to a 1-0 victory.

This, of course, is far from the first time that Jones has carried out such a demanding brief. Last season, he produced an outstanding performance away at Real Madrid, as his team secured a 1-1 draw. In the same year, again away from home, he acquitted himself so well against Gareth Bale (then still at Tottenham Hotspur) that the forward, now the world's most expensive player, was outshone by Aaron Lennon. An occurrence which, in Bale's best season to date, was thoroughly uncommon. Almost two years ago, in November 2011, he found himself in the starting line-up against European and world champions Spain. Hounding Xavi with a tenacity that would have drawn applause from barnacles, Jones was a key element in England's 1-0 win.

Even though Jones' track record provides evidence that he is utterly clutch, his inclusion in defensive midfield does not always inspire the greatest confidence. This is for two reasons, neither of which are his fault: the first is that he is seen as something of a stopgap measure there. It has long been felt by many supporters that Jones will ultimately end up at centre-back, even though he has been admirably willing to play elsewhere for much of his Old Trafford career so far. (This versatility has also seen him as a right-back on several occasions, a position where he has performed very competently). The problem for Jones is that Chris Smalling and Jonny Evans have the makings of an excellent partnership in central defence, and so it may take some effort to dislodge either of them once they eventually take over from Rio Ferdinand and Nemanja Vidic.

The second reason that Jones' appearance in central midfield is not always celebrated is that he is, at his best, a classic midfield destroyer whose key strengths lie in tackling, interception and simple distribution, and there is not a central midfielder at Old Trafford who can entirely complement such a skill set.

An ideal player in that regard, interestingly enough, would be Athletic Bilbao's Ander Herrera, who Manchester United tried to secure before the closing of the summer transfer window. A midfield axis of Jones and Herrera would offer a compelling blend of power, defensive protection and attacking enterprise. Of course, the closest Manchester United player in terms of both style and talent to Herrera is Anderson, but the club's fans are finding that waiting for the Brazilian to fulfil his potential is like waiting for Godot.

The most exciting thing about Jones is that he is still only 21, even though his size and composure suggest someone four years his senior. It may be that he does not end up as a regular central defender for some time. In the meantime, he can count himself part of a rare group of footballers who can perform well for both club and country in both defence and midfield. His closest English counterpart is Ledley King, and the greatest of all in this category was France's Marcel Desailly, whose performance in the 1994 UEFA Champions League final against Barcelona was his masterpiece.

Jones may never have the technical polish of either of these players, but he possesses the same ability to excel in big matches. David Moyes has now witnessed this attribute for himself, and it would be no surprise if he calls on Jones with increasing frequency in months to come. After all, as Mariano Rivera showed for the New York Yankees, every leading team needs a closer.