Moyes, Spock and a Star Trek lesson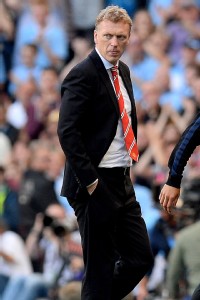 Andrew Yates/AFP/Getty ImagesDavid Moyes' defensive posture in team selections is beginning to raise eyebrows at Old Trafford.
If seeking to understand Manchester United manager David Moyes' team selection on Sunday against Manchester City, the first Star Trek film that J.J. Abrams directed may provide some clarity. There's a moment in that movie when Leonard McCoy, the Starship Enterprise doctor, remonstrates with Spock, who has fallen out with Captain Kirk and cast him out to a distant colony. The Enterprise is soon set to confront a dangerous enemy, and McCoy questions the wisdom of doing so without Kirk, one of the least predictable yet most brilliant members of their crew.

"Are you out of your Vulcan mind?" asks McCoy. "Are you making a logical choice, sending Kirk away? Probably. But, the right one? You know, back home we have a saying: 'If you're gonna ride in the Kentucky Derby, you don't leave your prize stallion in the stable.' " Spock, unmoved by this impassioned argument, dryly replies: "A curious metaphor, Doctor, as a stallion must first be broken before it reaches its potential."

When riding into the Manchester derby last Sunday, United arguably had four if not five prize stallions -- Nani, Javier Hernandez, Shinji Kagawa, Adnan Januzaj and Wilfried Zaha -- they could have used. Unfortunately, they used none, with neither Zaha nor Januzaj leaving the bench in the 4-1 loss.

-Moyes didn't expect smooth ride
-Book: Mou cried at United snub
-Glazers back down on Old Trafford

Moyes, whose attention to detail might be highly regarded by Vulcans themselves, presumably believed these stallions had either not been broken, or were simply not prize enough to influence proceedings in any decisive fashion.

Anyone who has seen either of Abrams' Star Trek films knows that Spock, once he begins to act somewhat more off the cuff, is the star of both shows. He learns to work with the unpredictability of Kirk, rather than use it in fatally limited doses, and is rewarded for his appetite for risk.

Moyes was rewarded for the gamble that he took against Bayer Leverkusen in the Champions League, starting Fabio and Kagawa ahead of Ashley Young, who had shown signs of improvement, despite being booked for diving - against Crystal Palace in the previous match. Kagawa's subtle combinations with Michael Carrick, Maroune Fellaini, and Patrice Evra helped to open up Leverkusen's left flank, and he could have performed a similar brief to that which Samir Nasri executed so devastatingly against Manchester United, cutting in from the left to form a fluid midfield three.

The attraction of taking risk and selecting these more ambitious wingers is that it would also take pressure off Fellaini, who actually adopted very similar positions to those taken by Fernandinho and Yaya Toure on Sunday, but who was criticised for his lack of dynamism.

Fellaini was not helped, either, by the selection of Chris Smalling ahead of Fabio at right back: the Brazilian could have provided an overlapping threat which might well have pushed the defensively suspect Alexsandar Kolarov back on his heels.

This defeat, brutal as it was, may be a useful lesson for Moyes. He has so far taken defensive approaches in three big Premier League fixtures so far this season -- against Liverpool, Chelsea and Manchester City -- gaining one point from a possible nine. It is one thing to lose two of those games in a spirit of abandon -- which is why many Manchester United fans are not so badly disposed towards the 6-1 humiliation at Old Trafford two seasons ago -- and it is another to succumb having adopted the spirit of containment.

Moyes' caution in these early matches is understandable, and it may be that -- commendably -- he is deferring to the senior players in the squad by trusting them in these high-profile fixtures. There is a sense, given Ryan Giggs' absence since the early part of the season, that Moyes is still deciding upon his best XI.

It should be remembered, too, that it was some way into last season before Sir Alex Ferguson finally settled on Michael Carrick and Tom Cleverley as his preferred midfield partnership. Of course, as Spock soon learned, it's best to get your finest horses into the fray as soon as possible: both for their own good, and for your hopes of winning the greatest race.