The end of Carrick's England exile is long overdue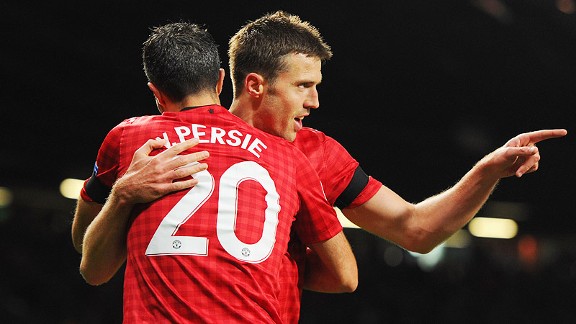 GettyImages / Michael Regan/Getty ImagesMichael Carrick: The type of possession player that's de rigueur
Alas, poor Carrick, I knew him well. For much of the last decade, the Manchester United player had slipped away from selection from England's national team as easily and noiselessly as he patrols deep midfield.

However, unlike the timing of his passes, the timing of his omissions could not have been worse. England had never been so much in need of footballers like Carrick. It is notable that two of Manchester City's most recent reinforcements have been in Carrick's role of withdrawn playmaker, or initiator: Javi Garcia, bought from Benfica this summer, and David Pizarro, on loan last spring from Roma. In a game where defenders are ever more wily, it is necessary to build attacking momentum as far down the field as possible, so that when the attack finally arrives at their area it is too late.

Carrick, of course, has always quietly got on with it, perhaps too quietly. What marks him out, if anything, as a level below Sergio Busquets - the player to whom he is increasingly compared - is not so much his technique as his character, and there are times that he seems to lack confidence in his ability at the very highest level. For such an apparently retiring soul, though, he is excellent at making an impression.

The season before Carrick signed for Manchester United, I went to watch him play for Tottenham Hotspur against Middlesbrough at White Hart Lane. It was the 2005/06 season, and the away side had, as I recall, been on a good run of form, whilst Spurs were in a correspondingly poor period. Spurs put all that to an end with a 2-0 win, in which the most impressive performers were Ledley King, whose speed off the mark was startling; Jermain Defoe, whose change of direction was neck-aching; and Michael Carrick.

The then Tottenham midfielder sauntered about the base of the centre-circle as Zvonimir Boban or Demetrio Albertini once did for AC Milan. A jog here, a shrug there. Middlesbrough were a good side, but he patiently dismantled them. The following season, when Sir Alex Ferguson signed him for almost £19 million, there was understandable consternation. However, that all changed when he became a silent architect of Manchester United's remarkable Premier League title triumph over Jose Mourinho's Chelsea, who at the beginning of that year had looked almost unbeatable.

Carrick's stocks in trade are passing and possession, both of which have come into fashion as he has been phased out of the England set-up (if, that is, he ever really had a look-in). Since joining Manchester United, according to Opta statistics, his passing percentage has risen more or less steadily from just over 83% to a peak of %90.1 at the end of last season - a year in which he played 30 Premier League games, and was acknowledged by Sir Alex Ferguson to be in supreme form.

Recently, Opta published a series of statistics which showed an interesting trend: that in the five full Premier League seasons since 2007-2008, the amount of passes completed per game rose from 717 to 854, a striking increase of 19% (the figure this year, after seven games, stands at 872). The percentage of completed passes also rose sharply, from 73.6% to 79.6% (this year, it stands at 82.5%).

It is ironic that Michael Carrick's style of play has become all the rage during the years when he has been shuffling about in the international shadows. It is possibly negligent that, in an era when Spain's three consecutive victories in international tournaments were based upon possession football, a player like Michael Carrick was not a regular starter. Now, with just 24 caps since 2001, he is again in his national team's thoughts: here's hoping, for as long as he is in form, that he remains there.