Januzaj leaves Old Trafford eager for more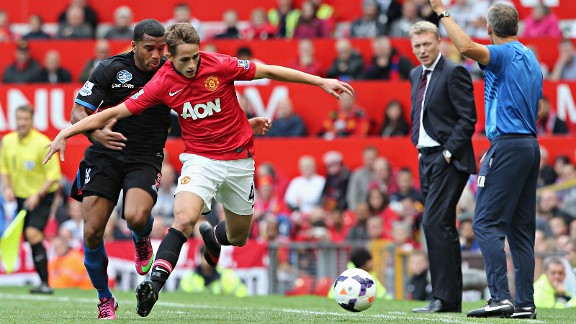 GettyImagesBelgian midfielder Adnan Januzaj made a real difference when he came on.
Manchester United's 2-0 win over Crystal Palace was not so much a football match as an audition. If David Moyes is indeed still deciding upon his best starting eleven -- and the changes since the loss against Liverpool before the international break suggest that he is -- then Marouane Fellaini and Adnan Januzaj, the club's two Belgian talents, made compelling cases for their inclusion.

Januzaj, in particular, thrilled Old Trafford in a manner that Manchester United fans have not seen since Nani was last on song. Arriving on the pitch as a substitute for Ashley Young with a bit less than a third of the game to go, his elegant dribbling and movement brought relief to home fans who had seen their team take a one-goal lead and a one-man advantage, but then fail to stifle their newly promoted opponents.

Crystal Palace were superbly resilient in defence, as indeed they had been in the opening game of the season against Tottenham Hotspur, but Januzaj teased apart their back line with an ease that Wayne Rooney -- who emerged from his torpor late on to score a fine free kick -- generally lacked.

- Brewin: Moyes makes Marouane wait

What was perhaps most exciting about Januzaj's performance was the ease with which he linked up with Robin van Persie: There was one moment when they combined for a short corner, and another when Januzaj found him with a backheel down near the left touchline. All of a sudden, the chasm between midfield and attack shrank to vanishing point. Januzaj, in fact, carried the ball into the No. 10 area with more purpose than anyone else had done before his arrival. His energy and distribution stood in stark and unfortunate contrast to that of Anderson, who seemed somewhat off the pace throughout.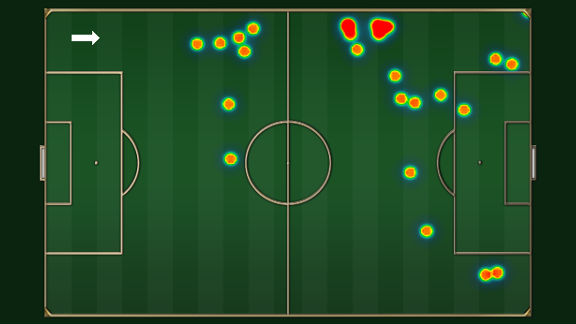 Other / ESPN statsA heat map of Adnan Januzaj's touches against Crystal Palace.
Januzaj is only 18, but, after a performance of such assurance, it would be a surprise if he were not to be granted more regular outings. It might not be Young's place that is immediately under threat: The England winger, although he was booked for a flagrant dive in the first half, had one of his most confident games in months, winning a penalty -- which appeared to be outside the area -- that van Persie successfully converted. The Dutchman, in doing so, looked as euphoric as a nomad who had just stumbled across an oasis, but Young might have been as relieved.

Former Aston Villa forward Young has struggled to make an impression for club or country for the past 18 months, and he would have been grateful for his match-winning contribution here. Antonio Valencia, whose efforts here were again ineffectual, might be more anxious for his place.

Sir Alex Ferguson, watching his first game at Old Trafford as a director, must have looked on with some satisfaction. He showed great faith in Januzaj, and the first instalment of this has been repaid. It is unclear whether Moyes will start the Belgian playmaker more often in the next few games to come, but, after the brutal opening schedule, there might be the opportunity for him to do so.

Far, far tougher tests will come than this, but it was encouraging for the home support to see Januzaj resume his superb preseason form. If Wilfried Zaha, left on the bench here, can follow suit, Old Trafford's flanks could again become a joy to witness.