Manchester United fail to emerge from the wings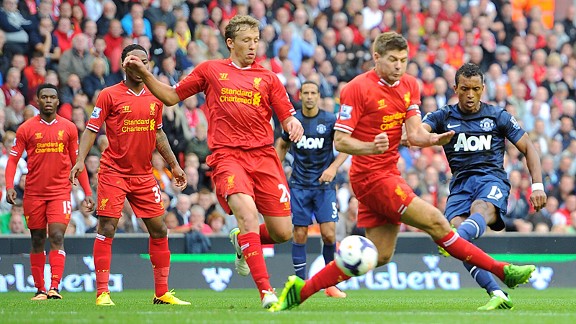 PA PhotosManchester United sub Nani fires off a shot against Liverpool.
In Liverpool's 1-0 win over Manchester United, the Premier League champions were out-passed and out-thought in midfield, with Steven Gerrard outstanding for the home side in a deep role, and Philippe Coutinho making a series of dangerous incursions in the inside-left position. As they toiled to excellent effect, one fact became increasingly clear: In the frustrating summer rush to acquire at least one central midfielder, the worrying state of Manchester United's wingers has not been addressed.

Ashley Young and Ryan Giggs both endured poor performances, the former removed just after an hour for Nani, who for all his talent is a metaphor of inconsistency. Young and Giggs were deployed, somewhat confusingly, on opposite wings, which meant that both needed no more encouragement to drift infield onto their stronger feet -- which, of course, they duly did. The problem with this, unfortunately, was that it slowed the momentum of every attack (in Young's case) and left Phil Jones exposed against the onrushing attacker (in Giggs' case).

Giggs' distribution, unfortunately, was as poor as his positioning. He was presumably selected to bring guile to central areas, but even if he had managed to do so, it would not have compensated for the fact that Jones is not a surging full-back in the mould of Rafael (unlike, for example, Fabio). Devoid of width, Manchester United had therefore committed themselves to finding joy in the middle of the pitch.

The problem here, though, was that Coutinho was so elusive a runner that Tom Cleverley was utterly unable to impose himself on the game in any attacking sense, quite often resembling a deck hand bailing buckets of water from a sinking ship. Cleverley's positioning was fairly good, if indeed his passing did decline in quality toward the end of this game, but alongside a somewhat diffident Michael Carrick, he suffered the most exhausting of afternoons.

It is a sad indictment on how far marooned Manchester United's attackers were from their midfield that there was almost no creativity in the No. 10 position. Danny Welbeck was almost entirely deprived of decent supply. The England forward, unfortunately, did not make the best of the ball when he had it, on two notable occasions running with it too long and being robbed of possession. It might have been galling for him to see Daniel Sturridge, the eventual match winner, providing a fine performance at the other end, supported by the enterprising movement of his fellow forwards.

Meanwhile, Robin van Persie sprinted along the fringes of play, trying to get involved by dropping deep and wide, but failing to find too many tangible opportunities. Rarely has he been as incensed on the field, his unusually simmering fury visible throughout the game.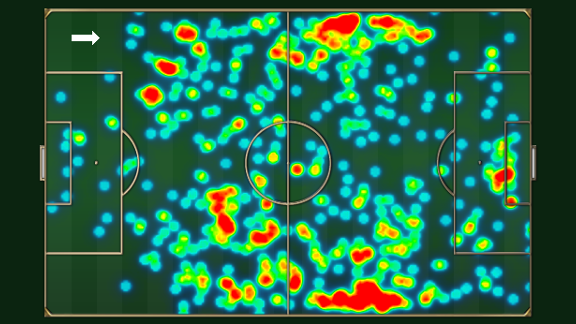 Other / ESPN statsA heatmap of Manchester United's passing against Liverpool.
David Moyes will receive criticism for his conservative approach after this result, but the largest inquest must be reserved for Manchester United's wingers. Antonio Valencia produced a spirited performance when he came on for the injured Jones, but the sad reality is that he currently produces much of his best play from a right-back position.

Young, meanwhile, has been in consistently abject form, failing to score in over 20 games last season. The former Aston Villa forward looks devoid of confidence, and most importantly, ideas. He offered little creative threat down his flank, and his crossing -- for years a hallmark of his game -- was ineffectual.

Nani rarely starts since it is difficult to know what form he will produce, and his cameo here offered little cause for optimism. It is the most revealing of statistics that, between them last season, Nani, Young and Valencia managed only four goals in 84 matches. Wilfried Zaha, who curiously did not manage even a place on the bench for this game -- perhaps Moyes felt that a match of this magnitude came too soon for the forward -- will surely see far more action in the weeks to come. By the same token, Shinji Kagawa cannot recover from whatever ailment currently afflicts him soon enough.

Manchester United have struggled at Anfield down the years, and so in the grander scheme of things, it is not a disaster to see them defeated by a single goal. However, their lack of attacking potency in wide areas may be a cause for particular concern in the coming months, since it will encourage teams with five-man midfields to overlap against them.

All in all, it will be much for Moyes to ponder, who must be relieved anew that his club did not part company with Wayne Rooney. This season, Manchester United may need him more than they might have imagined.