Evra vs. Baines: Who's better?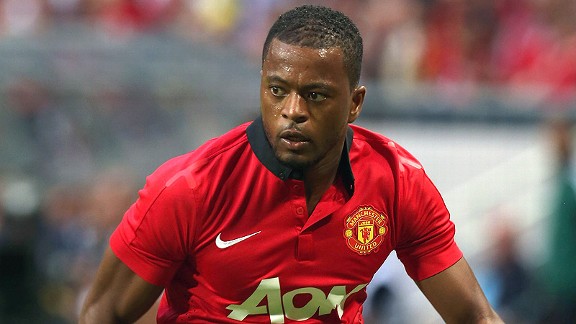 John Peters/Man Utd/Getty ImagesPatrice Evra has been at Manchester United since 2006.
David Moyes continues his pursuit of Everton's Leighton Baines, and in doing so he freshly asserts the fearlessness that has been a regular feature of his short time at Old Trafford. Moyes was unafraid to anger his former club with his argument that refusing to let Baines join him at Manchester United was holding him back. Equally, he is unafraid to unsettle fans at his new club by proposing the displacement of one of their icons. Patrice Evra, who has been at Old Trafford since 2006, has since won -- among other things -- five Premier League titles, and a UEFA Champions League. Beyond that, he epitomises the buccaneering spirit that drove forward Sir Alex Ferguson's Manchester United at their finest.

- Report: United back for Everton duo

Yet, in bidding for Baines, it seems that Moyes is looking beyond even that. It may be that he is looking at incidents like the cross-field pass in last season's Champions League game away against SC Braga which exposed Evra's positioning for the opening goal. He might also be looking at the second half of the game against Chelsea on Monday when Evra was only saved by an offside call as he failed to track a winger bursting through. Evra is loved by the supporters, and Moyes knows that well. He has also begun the season in typically committed form. However, it is telling that the two areas that Moyes has looked to strengthen are in central midfield and at left-back. The former position is undisputed by fans; the latter, perhaps largely due to their affection for Evra, is a far more contentious issue.

Baines, too, is seen by many as an underwhelming replacement. The England left-back, 28, has far less pace than Evra and so will not convey the same sense of urgency. However, he creates far more chances than the France international -- since the beginning of August 2011, according to Opta, he has made 192 chances in the Premier League to Evra's 67 -- and though his crosses lead to fewer goals (seven as opposed to Evra's nine) he has not yet worked with a strike-force as good as that of Manchester United. Though Baines probably could not expect as much of the ball at Old Trafford, given that Manchester United have a greater number of playmakers, he would arguably add more as an attacking asset.

Defensively, despite criticisms of his positioning, Opta's numbers might seem to speak somewhat in Evra's favour. Baines, for example, narrowly leads Evra by 125 interceptions to 103, while Evra leads Baines by 349 clearances to 155. (This latter figure, though, may speak to the pressure at Old Trafford due to a less defensively-minded midfield than most teams in the upper half of the table). Evra also clearly leads Baines in passing percentage (87% to 80%), and narrowly in percentage of successful tackles made (79.5% to 76.6%). For Moyes still to be entertaining thoughts of Baines, then, lies in his trust of the Everton defender to do an excellent job and to form part of a squad that can challenge both at home and in Europe. After all, if Evra is injured, then that leaves the defensively poor Alexander Buttner as a replacement; or, failing him, Fabio, who has just returned from a loan spell at QPR and whom Moyes, revealingly, has been fairly reluctant to deploy so far.

The signing of Baines would also be of benefit to Shinji Kagawa. The greater defensive cover that Baines would offer, as well as the presumably greater delivery from that flank, would allow Kagawa to drift infield, a position from which he could create more than he has at present. This lop-sided 4-2-3-1 formation would see Manchester United playing with only one genuine winger or wide forward, with Wayne Rooney and either Kagawa or Danny Welbeck alternating as the number 10 directly behind Robin van Persie.

To complicate matters, Evra has begun this season in very good form, with his assist for van Persie's header against Wigan in the Community Shield -- a cross on the run of which Baines would have been proud -- something of a statement of intent. However, the indications from Moyes throughout his career are that he is not drawn to snap judgments, and so -- if this transfer goes through -- Old Trafford is set for an intriguing battle between two of the best left-backs in the Premier League. Given the amount of times that Evra has had to thwart doubters throughout his career, this is a confrontation that he will not shirk.