Old Trafford crowd victorious as teams play out draw
Old Trafford hosted David Moyes' first home game against Chelsea on Monday and it was a warm welcome for new manager. The delicious irony of the occasion was that the contest played out against Jose Mourinho, who wanted the United job but was not considered, and Chelsea, the club trying to poach Manchester United's star striker. Despite all the superstars on the field and in the dugouts, it was the fans who stole the show.

The record books show this was a 0-0 draw. The real game was played off the pitch, though, and the result was Old Trafford 1, Mourinho 0. The home of Manchester United welcomed its new manager in raucous style and Wayne Rooney was hailed as the great footballer he is.

- Report: Rooney set to stay at United
- Evra: Chelsea lacked ambition

As endorsements go, this one was pretty emphatic. Before a ball had been kicked, before the players had emerged from the tunnel, Rooney's name rung around the stadium. The fans of Manchester United have spoken; they would like Mr. Rooney to stay.

"This must be a special club," Mourinho said in the wake of this finicky draw. For all his charisma and all of his club's money, Chelsea will never be able to match Manchester United for grandeur and scale. The Old Trafford crowd made sure he knew it, too.

"You wanted his job" they taunted the Chelsea manager as he stood near Moyes on the touchline. With every snide pronouncement the Portuguese has made in the press recently, United fans have become more relieved that he is not their manager.


Moyes has wisely not even reacted to Jose's stirring. Before Monday night, we were still waiting for the moment when United became recognizable as Moyes' team. It arrived with the teamsheet. Rooney was a starter.

This is exactly the opposite of what Sir Alex Ferguson would have done. As last season drew to a close, Rooney was omitted for not "being focused," according to Fergie. This week's speculation would have been the perfect excuse to drop him again. Moyes chose to ignore it.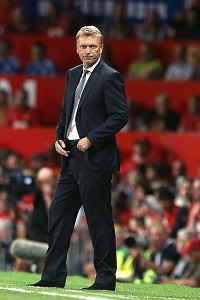 Matthew Peters/Man Utd/Getty ImagesDavid Moyes showed he is his own man with the inclusion of Wayne Rooney.
The response from Rooney was to deliver a man-of-the-match performance in which he thoroughly buried any doubts about his commitment. He was central to all of United's decent forward play, spreading passes out wide to Antonio Valencia and Patrice Evra, and flicking balls through to Danny Welbeck and Robin van Persie. He even found time to tackle back, too. In short, he looked like the perfect player.

When you stop reading about Rooney and start watching him play, it all becomes so obvious. This is a man born to compete on a football field. He is an absolute gem, chasing every ball, contesting every decision and always hungry for a sight of goal. The crowd were on their feet singing his name all night.

In light of this, it was impossible to even consider that he might leave for Chelsea. Mourinho knew it too, and shrugged his way through the post-match interviews. "We are not silly to try to get a player from a big club that doesn't sell," the Chelsea manager said after spending more than a month trying to get a player from a big club that doesn't want to sell.

It is said that Moyes is trying to get the team to adopt a more pressing style of play. He has cited Borussia Dortmund as an example of a side who are always chasing the ball. From the look of the performances from several players, particularly Welbeck, Tom Cleverley and Rooney, Moyes' efforts are staying to pay dividends.

Perhaps Chelsea were distracted by the Super Cup game against Bayern Munich later in the week. But in playing without a recognized striker or any real attacking intent, they exposed a disgraceful lack of ambition. If Rooney has any ambitions to entertain as a footballer, they will be doomed playing for Mourinho.

By all accounts, United were the more industrious side. They created more chances and had more of the play. Their game lacked cohesion at times, but for a second league game under a new manager against high-quality opposition, the signs are promising.

Late in the game, the ball ricocheted off somebody's shin and looped up towards the manager's dugout. Moyes, hands still in pockets, controlled the ball with his right foot as he stood just off the pitch and passed it to a nearby United player to take the throw-in. The crowd roared their approval.

There is no doubt they are happy he is in Manchester, and Rooney too. To paraphrase Winston Churchill: "This isn't the end. This isn't even the beginning of the end. However, this is the end of the beginning." Liverpool are up next.

Follow Mark on Twitter @markjpayne