Moyes after first blood vs. Chelsea, Mourinho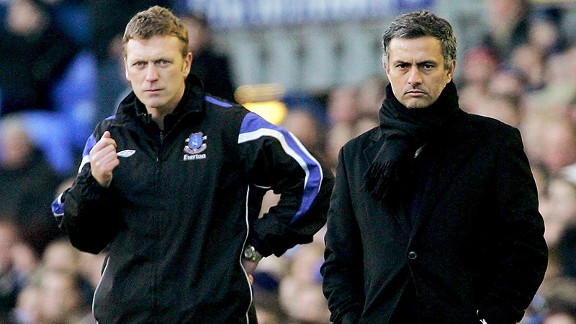 Clive Rose/Getty ImagesDavid Moyes, left, is winless in six games against Jose Mourinho, but he will have much more firepower at his disposal Monday when they meet again at Old Trafford.
The script was much the same as it had been in the past. Manchester United's manager and Jose Mourinho are the best of friends. David Moyes likes Jose and is "looking forward to seeing him," he said at his Friday briefing ahead of Monday's meeting at Old Trafford. The Scot is wise enough to smile as he welcomes his opponent to Manchester, but he is kidding nobody. This match is important for the title race, and Moyes wants first blood.

The former Everton boss is doomed to have his every move compared to Sir Alex Ferguson this year. He has wisely pitched himself as the team manager and not been excessively aggressive in claiming independence. The fact that he openly talks to Ferguson about the team from time to time absolves him from feeling threatened. It also means he gets top-notch advice.

- United keen on Juan Mata

Mourinho caught Fergie somewhat by surprise when they first met. His Porto team was lucky to beat United in the European Cup in 2004, but it won the competition that year and Mourinho has been a serious contender ever since.

Ferguson did not record a victory against Mourinho until their fifth meeting. With the exception of Sven-Goran Eriksson, it is hard to remember a manager who got the better of Fergie so often.

Moyes, on the other hand, has never sent out a team that has beaten one of Mourinho's. Their only meetings came when Moyes was manager at Everton, and the score reads four victories for Mourinho and two draws. In those fixtures, Moyes' sides scored only three goals.

Manchester United's current batch of players has experience defeating the Londoners, but the feeling is mutual. Chelsea knocked United out of two cup competitions last year and were stubborn opponents in a season when the clubs met six times. The margins in Monday's fixture will be tight.

If Fergie has bequeathed any advice to United's new manager, it might have been to flatter Mourinho and try to unsettle his players. The Portuguese excels at conflict and loves to absorb criticism that should be aimed at his team. Anybody who saw Mourinho patronise Aston Villa's Paul Lambert midweek realises that it is best to avoid a slanging match with him.

Chelsea have been coldly efficient in their first two matches of the campaign, and the players seem to be on best behaviour for their new boss. In truth, there are still two weeks remaining in the transfer window, and people could move on.

It is hardly any secret that Chelsea would like to buy Wayne Rooney, and nobody would be surprised if they sold Fernando Torres or Demba Ba. In terms of relevance, this simply means that Rooney is extremely unlikely to start Monday night. He has been sufficiently distracted, and United will be weaker for it.

In a similar fashion, details emerged Friday that United are interested in purchasing Juan Mata. The timing of this rumour is exquisite and seems almost certain to be a counterploy to the Rooney gossip. Mata is certainly one of Chelsea's most dangerous personnel, and destabilising him is good news for the Mancunians.

Both managers know they are facing a team that will challenge for the title this year, and both are still finding their feet in fresh surroundings. This makes the prematch manoeuvring subtler than it might have been in the past.

Nonetheless, this is a big test for both men, and they will be desperate for victory. It will be interesting to see if they are still great friends at full-time on Monday. The world awaits.

Follow Mark on Twitter @markjpayne.